Same Game Multi and Bet Builder
< Return to accumulator betting guideGo to in-play betting guide >
In the fast-moving world of sports betting at bookmakers like Betfair and Paddy Power, punters are frequently presented with more ways to bet. One of the more recent additions to the marketplace is the 'same-game multi' bet. But what is it? And how does it work?
What is a same-game multi?
To understand the same-game multi bet, you need to know how an accumulator bet (sometimes known as a multiple or acca) works. Accumulators have been around for a long time and are extremely popular amongst casual and seasoned bettors alike. This latest bet type is just a new incarnation of the accumulator format.
An accumulator is a selection of bets in which the winnings from each bet are rolled over onto the next bet and so on. An accumulator can consist of four or more bets. If all the selections are successful, the bet pays out, but if just one selection is wrong, the bet is lost.
In the following example, the punter picks four match-result bets from the Premier League and combines them in an accumulator.
Four-fold accumulator example:

In this example, the odds of all four results being correct is 61/2. So, a £1 stake would return a profit of £30.50 for an overall return of £31.50.
As you can see, combining bets into a sequence creates much higher odds, resulting in a large return from a small stake. This makes accumulators very attractive to bettors who are looking to land a big win rather than those who are looking for high probability bets that offer a smaller return.
You may also have noticed that our example includes bets from four separate events (in this case Premier League matches). Traditionally, accumulator bets have only been possible when combining bets from separate matches. Those matches could be from the same league or from different leagues, but if a customer wanted to place a multiple bet from selections within the same game, they would have to make a special request to the bookmaker. Recently, however, bookmakers have started to allow customers to build their own accumulators from selections in a single match, hence the name: same-game multi.
So, a same-game multi is basically an accumulator bet where all the selections are taken from the same match or event. If you need some help building an accumulator on the football, you can get free tips for all football matches in the major European leagues with Infogol.
[ TOP 3 FOOTBALL BETTING OFFERS WIDGET ]
How do same-game multi bets work?
If your bookmaker offers same-game multi bets - like Betfair and Paddy Power - the option to add selections will appear at the top of your bet slip. For example, if you add a Total Cards bet, a Total Goals bet and a Total Corners bet from the same football match to your slip, you can opt to combine them into a multiple bet or place single bets in the traditional way.
Just like a traditional accumulator, each bet needs to land - if just one part of the multiple fails, the whole bet loses. The maximum number of selections that you can choose will depend on the bookmaker that you use, but most allow up to six bets to be combined.
Same-game multi bets may be a new but they fulfil a demand for a market that has existed for some time. For those who prefer to place multiple bets, the choice is now even greater and the option to build accumulators within a single game can provide a much quicker outcome. With traditional accumulators, punters sometimes had to wait hours, or even days, to see if their bet had been successful; with a same-game multi, everything is decided within 90 minutes.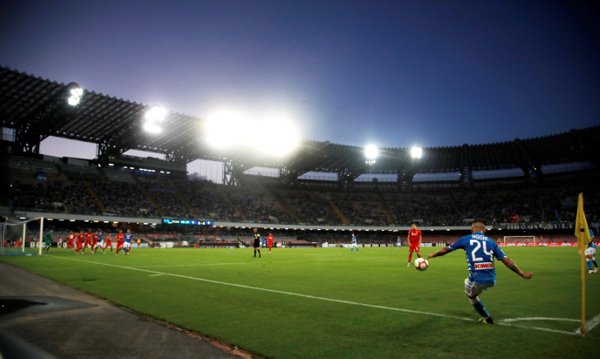 Corners, cards, shots and goal markets all commonly feature in same-game multi-bets
How to place a bet?
To place a same-game multi bet, you should navigate to your chosen event and then look for the same-game multi tab at the top of the list of markets. This is a new feature on some sites, but it should appear alongside other tabs such as 'Popular Bets,' 'All Markets' and 'Handicaps.'
Available markets
Once you click on the tab, a list of markets that are available will appear. This may include the following markets:
Win-Draw-Win
Anytime Goalscorer
First Goalscorer
To Be Booked
To Lift the Cup
Card Index
Penalty Awarded
Match Odds
Correct Score
Corners Match Bet
Both Teams to Score Markets
Bookings Odds
Red Card Markets
Handicap Betting
Alternate Number of Match Corners
Alternate Corner Handicaps
Half Time
Corner Handicap
1st Half Over/Under 1.5 Goals
1st Half Over/Under 2.5 Goals
1st Half Over/Under 3.5 Goals
Number of Corners
A Goal Scored In Both Halves
Total Corners 10.5
Total Corners 11.5
Total Corners 12.5
Total Corners 13.5
Total Corners 3.5
Total Corners 4.5
Total Corners 5.5
Total Corners 6.5
Total Corners 7.5
Total Corners 8.5
Total Corners 9.5
Corner Match Bet
Both Teams To Score
Over/Under 0.5 Goals
Over/Under 1.5 Goals
Over/Under 2.5 Goals
Over/Under 3.5 Goals
Over/Under 4.5 Goals
Over/Under 5.5 Goals
Over/Under 6.5 Goals
Over/Under 7.5 Goals
Adding selections to your bet slip
You can click on each market to reveal the full selection of bets. Once you start adding selections to your bet slip, a list of single bet and same-game multi options will be visible. If any bets are not compatible, it will be stated clearly on the bet slip. As you add more selections, the odds for the multiple are updated and the potential winnings are displayed.
Once you have finalised your selections and chosen the same-game multi option, you can place your bet.
Example bet
Using a Premier League match between Arsenal and Everton as an example, a same-game multi bet might look something like this:
Arsenal to Win
Lacazette to Score First
Total Corners Over 9.5
The odds of the individual bets are combined to give a single price for the multiple. For the bet to pay out, all three predictions must be correct. If one element fails, the bet is lost.
Same-game multi betting rules
When you are placing a same-game multi in a football match, each bet only applies to the regulation 90 minutes of play unless stated otherwise. Bet types that may still apply after extra-time and penalties include bets such as 'To Qualify' or 'Lift the Cup.' Same-game multi bets can also be applied to selected events in-play.
It is important that you understand the rules of each bet before confirming your wager to avoid any confusion. The terms and conditions can be found in the information pages on betting websites such as Betfair and Paddy Power.
Not every market can be applied to same-game multi bets. And bets that rely on conflicting results cannot be combined. For example, a Correct Score of 2-1 could not be combined with Under 2.5 Goals. If you place incompatible bets on your slip, it will not allow you to combine them.
Same-game multi bets cannot be combined with bets from other events. To combine bets from multiple events, you would have to build a standard accumulator. This would only allow you to add one bet per event to your multiple.
Unlike some other bets, the cash-out facility is not currently available on this type of bet. However, this might change as same-game multiples become more established.
With accumulator bets, bookmakers will sometimes apply a bonus which still pays out if one selection fails. For example, the bonus might state that on a six-fold multiple, the bet will pay out if five selections are correct. The odds are reduced accordingly. This offers the punter a limited amount of insurance on a large, high-odds multiple bet. The same kinds of bonuses may be offered on same-game multi bets, but punters should refer to the website of the individual bookmaker for full terms and conditions of any bet.
< Return to accumulator betting guideGo to in-play betting guide >
[ TOP 3 FOOTBALL SIGN UP OFFERS WIDGET ]