Sectional Debrief Special: Coral-Eclipse, Sandown
View
My Timeform: Three for your tracker from Newcastle, Newmarket and Windsor
View
Summer Nights 2 for 1 Race Cards 07/07
Login
Summer Nights 2 for 1 Race Cards 06/07
Login
Ratings Update: Royal Ascot 2015
View
The Timeform Knowledge: Analysis of Overall Times
View
Sectional Debrief Special: Coral-Eclipse, Sandown
Simon Rowlands examines the sectionals from Golden Horn's Eclipse win and reveals how his time compares to past champions.
If you ever needed a reminder that you don't need large-field races, or even double-figure ones, to provide great excitement and engagement, that was provided by the 2015 Coral-Eclipse Stakes at Sandown, the latest leg in the QIPCO-sponsored British Champion Middle-Distance Series.
There were just five runners, and in the event only two who mattered. But that pair were an unbeaten Derby winner in Golden Horn and the winner of the French equivalent and of the Irish Champion Stakes in The Grey Gatsby.
They were quickly in first and second, and settled down to a barnstorming scrap up the home straight. The outcome hung in the balance, with The Grey Gatsby going as short as 2.10 (11/10 in fractional odds) in the run, until Golden Horn's overdrive booted in and he forged clear in the final furlong.
It should not surprise that, in what was a tactical affair, the overall time of the Coral-Eclipse was far from good – it was less than a second quicker than that recorded by a handicapper carrying more weight later on the card – but the sectionals were far more impressive.

Those last-four-furlong times are swift, even for high-class horses with the ground riding on the fast side, and those finishing speed %s (closing speed as a % of average race speed) reflect that: par would be around 98%.
It leads to sectional upgrades to all five runners, but most of all to Golden Horn, whose strength at the finish means he was furthest of all from that par.
The record books will show that Golden Horn won the Coral-Eclipse with authority, but it needed a top-notch performance for him to do that against a good (but not quite very good) and genuine rival. A trio of smart performers were well beaten off, though it has to be said that none of them looked as resolute as the front two.
Golden Horn has taken the test that most top three-year-olds are asked to take to secure a place in the pantheon of racing – taking on his elders – and passed it with flying colours. But there are better elders around than The Grey Gatsby, and Golden Horn will have to show all the ability, speed and determination he showed here – and perhaps more besides – to put them in their place.
It is too soon to be sure just where Golden Horn will place historically, but it is an interesting exercise to see how his time and sectionals compare to previous winners of the Coral-Eclipse.
Racing UK replayed many of the great Coral-Eclipses from over the years in the build-up to this year's race, and it was possible, with some effort, to get workable last-two-furlong sectionals for most of them.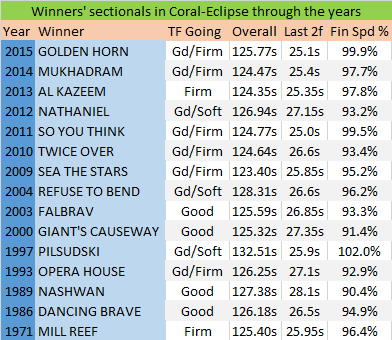 The par for the last two furlongs of Sandown's mile-and-a-quarter course seems to be around 94% (a reflection of the stiffness of the finish). Golden Horn's sectional was the second-fastest in absolute terms (behind So You Think) and in relative terms (behind Pilsudski).
It might have been imagined that a winner of a strongly-run Derby a month earlier would not have been able to run so quickly late on in a tactical race at two furlongs less: not a bit of it.
It is also interesting to see just how greatly those other finishing speed %s have varied over the years. It was news to me – even though I was at the race in question – that the finish of Nashwan's Coral-Eclipse in 1989 was so slow. It is also apparent that Giant's Causeway really did get into a war of attrition (something he seldom lost) in 2000. By contrast, recent races have tested speed far more.
He is quick, he stays well, he shows courage, he is unbeaten, and he is undoubtedly a top-notch performer: Golden Horn gives the British racing enthusiast a whole lot to look forward to in the months ahead.

| | |
| --- | --- |
| Free Race Pass of the Day | |
RIPON 8:05
Monday 6th July
3. CLASSIC WIN (IRE)
108

108.6

James Doyle
Saeed bin Suroor
---
8. SHOWSTOPPA
107

107.6

Franny Norton
Mark Johnston
---
6. MIGHTY ZIP (USA)
106

106.6

Oisin Murphy
Kevin Ryan
---