Contact Us
If you are having technical problems you may find the answer on the Getting Started page, which deals with many of the most commonly asked questions.
If you are an existing account holder please include the name and address under which you registered in all correspondence. We will answer technical and subscription enquiries by the end of the next working day.
If you wish to contact us by email, directing your emails to the relevant address will help to ensure an earlier response.
Alternatively, please call:
9.00 - 4.30 Mon - Fri; 9.00 - 11.45 Sat

---

For timeform.com / Computer Timeform enquiries
01422 398018

---

For orders, subscriptions and commercial accounts

01422 330540

---

For general enquiries
01422 330330


---

Please note that the helpdesk and the subscriptions department are closed on Bank Holidays and from noon on Christmas Eve and New Year's Eve.

---
Faxes can be sent to 01422 382917.
Please send all written correspondence to
Timeform
25 Timeform House
Northgate
Halifax
HX1 1XF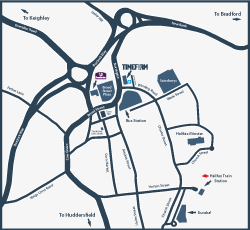 Please note that Timeform publications are not sold from our offices and may be collected only by prior arrangement.
Registered office: Waterfront, Hammersmith Embankment, Chancellors Road, Winslow Road, London W6 9HP
Registered number: 00477913 (England and Wales)
Timeform publications are printed by Charlesworth Press.
---
In the event that Timeform House loses normal telephone connections our emergency back-up number is
0344 871 0842.
---