2020 Flat mail order
The Timeform Black Book and printed Timeform Race Cards will not be available during the 2020 Flat turf season.
Timeform Race Cards for all meetings in Britain and Ireland are available to download and Timeform ratings and commentaries, identical to those found in the Black Book, can be found in Race Passes or Horse Search.
Full details of the printed products which are still available by post can be found here. Please note that we are currently accepting online orders only.
We apologise for any inconvenience caused during the disruption to our normal services.
---
Our telephone switchboard is currently closed. Please contact us by email if you require assistance.
If you are having technical problems you may find the answer on the Getting Started page, which deals with many of the most commonly asked questions.
If you can't find an answer there, please direct your email enquiry to the relevant address to ensure an earlier response. Existing account holders should include the name and email address under which you registered. We aim to answer technical and subscription enquiries by the end of the next working day. Please note, however, that we are dealing with a large number of enquiries at present and normal service levels may not always be met.
---
For enquiries about orders or technical problems
help@timeform.com
For enquiries about the Timeform App
mobiletimeform@timeform.com
For enquiries about our APIs or commercial partnerships
Visit timeform.com/commercial
For enquiries about TimeformUS (which is a wholly separate business)
tfussupport@drf.com
For all other enquiries
timeform@timeform.com
---
---
During service interruptions please check our @Timeform Twitter account for updates.
Please send all written correspondence to:
Timeform
25 Timeform House
Northgate
Halifax
HX1 1XF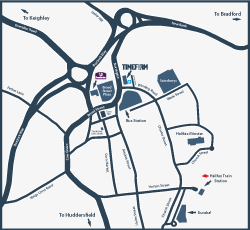 Please note that Timeform publications are not sold from our offices and may be collected only by prior arrangement.
Registered office: Waterfront, Hammersmith Embankment, Chancellors Road, Winslow Road, London W6 9HP
Registered number: 00477913 (England and Wales)
Timeform publications are printed by Charlesworth Press.
---