Check out our latest offers and promotions below. Follow the Flags, ratings and tips. Bet better for less!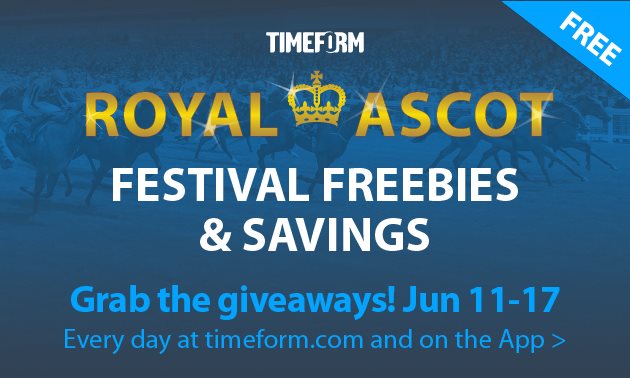 Want freebies? Offers? Features? There's something going on at Timeform every day for the Royal Ascot Countdown!
Look out for money-saving promotions on the best ratings and analysis in racing. Get winning tips from the Jury and TV Focus. Read and watch the latest previews including Timefigure and betting angles, plus in-depth handicap analysis from Simon Rowlands. Want get involved? Join in the debate on Social Media.
Grab the giveaways. There's a freebie worth £5 available every day for seven days, starting Tue 12 June.
Check out what's on offer below!
---

Tue 11th June
FREE LONG RANGER
What a way to start the countdown! Get the Long Ranger's best bets in the Diamond Jubilee Stakes and Coronation Stakes for free.


DAILY TIPS, PREVIEWS & NEWS
Stay one step ahead of the compeition, with the latest updates and betting advice at our dedicated Royal Ascot site. Add it to your favourites!
---

Wed 12th June
BLACK BOOK OUT TODAY
Still prefer the chunky feel of the Black Book and the turn of a page? The A to Z of racing is packed with commentaries on every Flat horse to have run this season, alongside Horses In Focus, Top 100s and weekend ratings. It's a massive resource for the serious punter and includes ratings for all 15 early-closing races

FREE PREMIUM FORM GUIDE AT THE MICROSITE
Racecards and form, previews and tips. Betting with our partners. There's more on hand from the Timeform team at
timeform.com/royal-ascot

ROYAL ASCOT QUIZ
Think you know your stuff? Put your mettle to the test with the free Timeform quiz – always popular, never easy.

---

Thu 13th June
FREE NEWBURY RACE CARD
GET YOUR DOWNLOAD FOR NEWBURY HERE
Grab your Ascot Cards while you're there!

ROYAL ASCOT TWITTER FOCUS
Join us at @Timeform from around 7pm, as we take a closer look at records and stats, and trace the red-hot form coming into this year's festival.
---

Fri 14th June
ROYAL ASCOT GOLD
Why not go for Gold? Save over 40% with our top package for Ascot, including Race Cards for each of five days, plus all of the tips and expert advice. It's amazing value!

FREE JURY DAILY
Our next tipping giveaway brings you the best verdict on Friday's racing!

LIVE PREVIEW WITH Q&A
Nick Seddon joins race reporters Matt Gardner and Rory King to talk through their biggest fancies for the week, and answer your questions. It'll be live on our Facebook Friday at 6pm, but you can get your questions in from now, up to and during the video preview, via Facebook and Twitter.
---

Sat 15th June
FREE SATURDAY TV FOCUS
The free tips keep on coming! The Jury's selections for the ITV Saturday action are free to all registered users.

FREE JURY TIPS WITH DAILY TV FOCUS
Just looking for tips for next week? Buy a TV Focus bundle covering every day at Royal Ascot (£25) and we'll add Jury Daily (also worth £25) for each day free.

TIPPING COMPETITION
Think you know better than our tipsters? Pick the winners of Saturday's ITV races at York, and you could win £100 in free bets from our partners, Betfair. Entry is free! Competition will open Friday evening and run until the start of racing on Saturday. T&Cs apply.

---

Sun 16th June
RACE PASSES: 7-DAY VALUE
Follow racing's best ratings and Flags with a week's Race Passes subscription and you could cover every day at Royal Ascot plus another 40+ fixtures - all for less than £1 per meeting. That's value! Subscribe today.

FREE ASCOT TRENDS PDF
Download a Royal Ascot 10-year data trends guide free at timeform.com. Get Timeform ratings of the winners, top trainer & jockey lists and much more for all of the races. Won last time out? Days since last run? It's all included free.

FACEBOOK DEPOSIT BOOST
Deposit between £5 and £20 into your Timeform account and we'll give you an extra 50%. Find the code you need at our Facebook page

---

Monday 17th June
CHOOSE YOUR BUNDLE
Save stacks, save hassle, find winners. It's your last chance to get set-up for Ascot week with our Festival bundles. Buy in advance! Follow the Flags, ratings and tips for all five days. You'll save 40% when you 'Go For Gold'.
Go for Gold - Buy Race Cards - Buy TV Focus

Gold and Race Cards bundles include free form and trends and a FREE Newmarket (23rd) Race Card. Buy TV Focus and get Jury Daily for each day of Ascot free as well!
FREE RACE CARD
GET YOUR DOWNLOAD FOR WINDSOR HERE

---
Look out for the in-depth Rowleyfile handicap previews ahead of all five days.
Visit our Facebook page for a live video preview every morning
Follow the action live with us on Twitter @TimeformLive for news, reaction and debate
---

Looking for free bet offers?