Check out our latest offers and promotions below. Follow the Flags, ratings and tips. Bet better for less!
---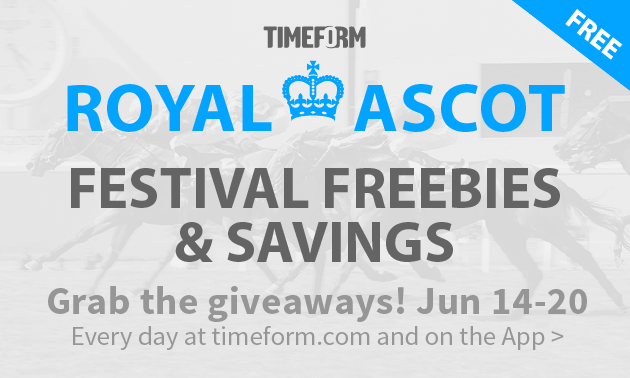 Want freebies? Offers? Features? There's something going on at Timeform every day for the Royal Ascot Countdown!
Look out for money-saving promotions on the best ratings and analysis in racing. Read the latest from Jamie Lynch and Simon Rowlands.
Get winning tips from the Jury. Pick-up some great prizes when you join in the fun on social media.
Grab the giveaways. There's one every day for seven days, starting Wed 14 June.
Check out what's on offer below!
---

Wed 14th June
BLACK BOOK OUT TODAY
Still prefer the chunky feel of the Black Book and the turn of a page? The A to Z of racing is packed with commentaries on every Flat horse to have run this season, alongside Horses In Focus, Top 100s and weekend ratings. It's a massive resource for the serious punter and includes ratings for all 15 early-closing races

Look out for the antepost previews
You'll find one every day for the next five days, starting with tips for Tuesday's action.
Read the expert advice in the Features section
FREE TIMEFORM RACE CARD
GET YOUR DOWNLOAD FOR HAYDOCK HERE
Latest: 4 winners top-rated or Horses In Focus in the freebie
---

Thu 15th June
FREE PREMIUM FORM GUIDE AT THE MICROSITE
Racecards and form, previews and tips. Betting with our partners. There's more on hand from the Timeform team at royal-ascot.timeform.com.
Have a look around, then click on the homepage banner link for your free premium form pack (pdf download), including Timeform's runner-by-runner view on key trials for every Group 1 across the five days.

FACEBOOK Q&A: 6PM
Ascot thoughts? What's in your punting plans? Ask our expert tonight on our Facebook page from 6-7pm
and watch live – with our Chief Correspondent, Jamie Lynch. Join in!
---

Fri 16th June
FREE TIPS: JURY DAILY
The first of three tipping giveaways kicks-off with the best verdict on the day's racing!
Worth £5 you'll get the absolute best bets at the prices from the expert Jury from 9:30am.

and on the App Tips page
HORSES TO FOLLOW EXTRA OUT TODAY
The best previews and analysis! Includes runner-by-runner guides and selections for every race.
Get it in a money-saving bundle with Race Cards! Published pm.

Twitter in Festival mode
@Timeform picks up the pace. Don't miss the latest news updates. Win prizes in the quizzes.
Have your say in the Polls. Join in!

---

Sat 17th June
FREE TIPS: TV FOCUS
The second of our tipping giveaways is the best verdict on the ITV racing!
Grab the Saturday selections free from 8pm on Friday.
That's worth another £5. And remember, grab a bundle for next week. Why not go for Gold?

and on the App Tips page
GO FOR GOLD TODAY
Save 40% with our top package for Ascot, including Race Cards for each of five days, plus all of the tips and expert advice. It's amazing value and available from today.

---

Sun 18th June
FREE ASCOT TRENDS PDF
Download a Royal Ascot 10-year data trends guide free at timeform.com. Get Timeform ratings of the winners, top trainer & jockey lists and much more for all 30 races. Won last time out? Days since last run? It's all included free.

7-DAY RACE PASSES VALUE
Follow racing's best ratings and Flags with a week's Race Passes subscription and you could cover every day at Royal Ascot plus another 40+ fixtures – all for less than £1 per meeting. That's value! Subscribe today.

---

Mon 19th June
FREE TIPS: STAT SELECTOR
Strike rates? Hot trainers? Top jockeys? Course Form? Who should you follow?
Get the best bets from the Smart Stats today! Try the trio of tips free from 10:30am

and on the App Tips page
GRAB A BUNDLE. GO FOR GOLD!
Save stacks, save hassle, find winners. It's your last chance to get set-up for Ascot week with our Festival bundles.
Buy in advance! Follow the Flags, ratings and tips for all five days. You'll save 40% when you 'Go For Gold'

Get Race Cards - Buy TV Focus - Choose Jury Daily
Tipping bundles include Stat Selector free for all five days. Buy all five Ascot Cards and we'll add a bonus for Newmarket on Saturday
TWITTER Q&A: 6PM
It's Ascot eve! Firmed up your plans? Any questions? Ask our expert tonight via Twitter from 6-7pm.
Tweet your punting preferences and dilemmas to @Timeform. Flat Editor, David Johnson, is on duty tonight. Join in!
---
Tuesday 20th June
FREE TIMEFORM RACE CARD
GET YOUR DOWNLOAD FOR THIRSK HERE
and grab your Ascot Cards while you are there!
DAILY COVERAGE
Look out for the in-depth Rowleyfile handicap previews ahead of all five days.
Visit our Facebook page for a live video preview every morning
Follow the action live with us on Twitter @TimeformLive for news, reaction and debate
---

---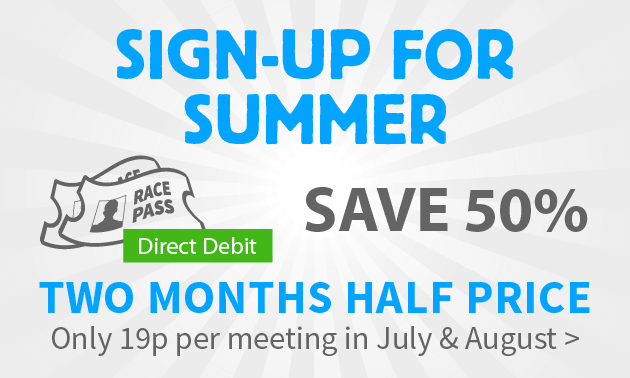 ASTONISHING RACE PASSES VALUE
Sign-up monthly by Direct Debit during June and we will give you July and August half price – including;
Coverage of the Newmarket July, Glorious Goodwood and York Ebor Festivals
Ratings and Flags for over 180 meetings EACH MONTH
At £35 per month that's only 19p per meeting!
What's more you'll save £5 every month and get 29 free days per year compared to normal 28-day subscriptions. That's worth another £135* in itself
Call 01422 330540 by June 30th
Find out more about Race Passes
---
*£70 per calendar month for 12 months compared to 13x28-day subscriptions at £75 each. Offer applies to new Direct Debit subscribers only. Timeform reserves the right to revoke without refund any half price subscriptions that are used by existing or previous members. £70 will be deducted from your account on a monthly basis after 2x£35 payments, unless cancelled in writing by you. You will be notified in advance of any changes. This does not affect your statutory right to cancel. Click here for full terms of use.
---
Looking for free bet offers?