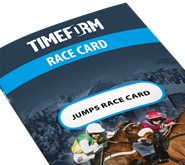 The Timeform Race Card presents everything you need for profitable betting in a clear and concise form. If you take your racing seriously it's indispensable.
Individual Timeform Rating and Commentary for every runner
Ratings Summary covering up to it's last eight starts
Unique Flags that help you quickly identify the most interesting horses in each contest
Armed with this wealth of information, the backer can take much of the guess-work out of betting. No wonder the Timeform Race Card has built up such a dedicated following.
See the Timeform Race Card for yourself - Download this sample card