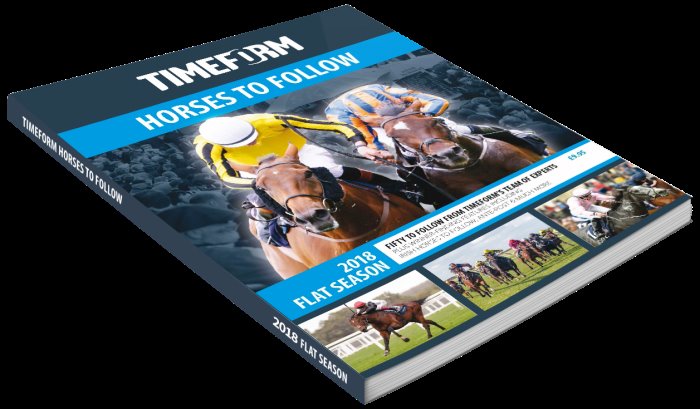 2018 FLAT ISSUE OUT NOW – ONLY £9.95
FIFTY WINNERS IN WAITING
"Did well to be placed in two hot autumn contests over a mile given his stout pedigree; sure to have more to offer when tackling 1 1/4m+"
Typical entry from the 2018 list. Two wins before May at 10f+. Progressed from 85p to 106p.
As well as the main list – which includes our top ten prospects for the season, you'll find the best of the Irish, people in profile, antepost advice, form, statistics, lists and much more over 136 packed pages. Top performers. Big prices. Dark horses. They're all in Horses To Follow - for only £9.95!
The 'Timeform fifty' kicked-off 2017 with a 48% strike rate in April - and were quick off the mark again in 2018 with three winners on Lincoln Day!
---
WHAT'S IN THE BOOK?
2018 Flat Edition Includes;
Fifty to follow from Britain, including form, ratings & profiles for each
Top ten horses to follow from Ireland
Rising Stars - profiling the up-and-coming trainers and jockeys to watch out for
Antepost Betting – Value picks for the big races
Talking to the Trainers – Stable stars, handicappers and dark horses from a host of hot handlers
Review of 2017 - including 'Timeform's View' form analysis of the biggest races
Timeform Top 100s and 'Promising Horses' lists – many more to follow!
PUBLICATION DETAILS
Price £9.95. Jumps edition out every October; Flat edition out every March. Published in softback and ready to post now from Timeform and from Amazon. Click on a button, link or scroll down to our product boxes to order your copy.
ADD HORSES TO FOLLOW EXTRA!
Get the best insight and analysis for the big meetings and festivals with Horses To Follow Extra. There are ten issues throughout both the Flat and Jumps seasons which are the perfect complement to the book. Stay in touch with a host of eyecatchers added in each edition. Available in print or to download. Find out more