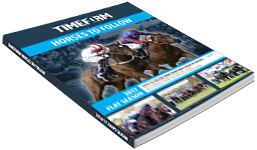 (Published 11/03/17)
FIFTY WINNERS IN WAITING
"Of all the Frankels that ran last year he was the déjà vu dynamite, looking like him, moving like him and motoring like him…the real deal, already on a path to a place Frankel never went: The Derby"…"GET ON NOW AT 25/1"
As well as the main list – which includes our top ten prospects for the season, including the above – you'll find the best of the Irish, people in profile, antepost advice, form, statistics, lists and much more over 136 packed pages. Top performers. Big prices. Dark horses. They're all in Horses To Follow!
2017 Flat Edition Features
Fifty to follow from Britain, including form, ratings and profiles for each
Horses to follow from Ireland
Rising Stars - profiling the up-and-coming trainers and jockeys to watch out for
Antepost Betting – Value picks for the Classics
Talking to the Trainers – Stable stars, handicappers and dark horses from a host of hot handlers
Review of 2016 - including 'Timeform's View' form analysis of the biggest races
Timeform Top 100s and 'Promising Horses' lists – many more to follow!
Price: £9.95
Jumps edition out in October; Flat edition out in March. Published in softback and available to order now from Timeform and on Amazon
Save when you add Horses To Follow Extra!
Get the best insight and analysis for the big meetings and festivals with Horses To Follow Extra. The first of 10 issues is out for The Guineas (May 3). You'll save at least £19.95 when you sign-up for the series. Available in print or to download. Find out more