Cheltenham Festival: "Good Things"
View
Ratings Update: Outlander lays down JLT marker
View
Supreme Novices Hurdle Preview: Sundae a Supa each-way bet
View
Ratings Update: Alan King for a day
View
Arkle Chase Preview: Have Garde up behind Douvan
View
The Timeform Knowledge: In Summary
View
Cheltenham Festival: "Good Things"
With a number of odds-on favourites for races at the 2016 Cheltenham Festival, Simon Rowlands looks back at the fate of the "Good Things" at Festivals gone by.
If you believe some of what you read, or some of what is said, Cheltenham may as well not bother to run half the races at this year's Festival as they are foregone conclusions. Such "predictability" apparently renders the whole event of limited interest to a small section of the horse racing public.
Racing has a habit of serving up surprises and of failing to follow the script, of course. Unlike in many other sports, a short-priced favourite may still be more likely to lose than to win.
Even for those horses for which that is untrue, there is the small matter of having to run two miles or more over a number of obstacles and against significant opposition to deal with. It is no mean feat to win at the Festival, and some very good horses have found that beyond them.
That said, the ante-post betting on this year's Festival has a remarkably lop-sided look to it in several races. At the time of writing, six horses are quoted at odds on over the four days of jumps racing's "Olympics", and a handful of others are not far from being so.
The 2016 Festival could have the distinction of having more "shorties" than any other (in modern times, at least), though what appears to be a turn-off for some could well have others salivating at the prospect.
The following graph shows the incidence of odds-on shots at the Cheltenham Festival since 2001: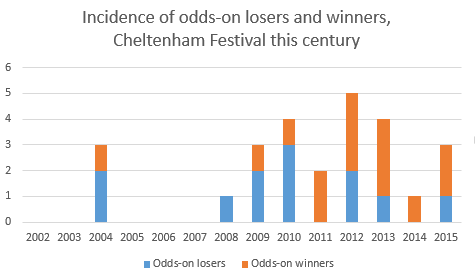 There were just three odds-on shots in the first six years after the 2001 cancellation – all of them in 2004 – but more than that number on average in each of the last six years. Something has changed.
Short-priced horses may result from a lack of competitiveness, and from spreading the racing fare too thinly: the number of races at the Festival was just 20 prior to 2005, which was when events were extended from three days to four, and will be 28 for the first time this year.
But, at the Festival at least, their presence may also denote the kind of horse fans will look back on in years to come as a true superstar: a horse that dominated its rivals in the market and not just in the race.
While it would be a mistake to imagine that the presence of a short-priced horse automatically renders something a non-event, it is true that it has been better to side with such horses than against them in recent times.
The following table shows the Return On Investment for backing horses at a specific starting price or shorter at industry odds over the last 10 Festivals. A figure above one indicates a positive return.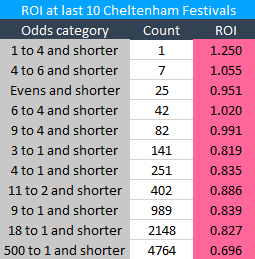 It can be seen that backing horses at 6 to 4 and shorter has shown a marginal profit – and this is at industry SP, when better alternatives exist – and that even at 9 to 4 and shorter a punter would have all but broken even.
There is a lot of variance at play in the small sample sizes at very short odds, but much less so when taking all horses at 6 to 4 and shorter and 9 to 4 and shorter.
By contrast, backing all horses that started 9 to 1 and shorter led to a loss of more than 16p in the £, and backing all horses, period, led to a thumping loss of more than 30p in the £.
The so-called favourite-longshot bias (in which longer-priced horses are shorter than they should be as insurance against a sudden plunge on one or more of them) still exists, when dealing with industry starting prices, at least.
There have been some notable successes and some unforgettable failures by short-priced horses over the years.
Who could forget the last-flight fall of Annie Power – at 1 to 2, the shortest-priced loser in the last decade – when the race was at her mercy in the 2015 Mares Hurdle, a defeat that reportedly saved those poor bookies many millions?
Sprinter Sacre at 1 to 4 (the shortest price at a Festival this century) in the 2013 Champion Chase may have seemed like buying money to some beforehand, and after it as well, as he won by 19 lengths and had the race in safe-keeping after the third-last.
This year's Festival "good things" include an opening day Willie Mullins treble of Douvan (Arkle Chase), Faugheen (Champion Hurdle) and Annie Power (Mares Hurdle again), all of them currently between 1 to 3 and 8 to 11.
Despite those cramped odds, it is around 5 to 2 against all three of them obliging. It is the Festival, after all, and it is horse racing, after all, too.
Something – including simple bad luck and the vicissitudes of chance – will scupper the best-laid plans and the most obvious "certainties" if you repeat the exercise often enough.
Those who bellyache about this year's Festival being "uncompetitive" or "boring" always have the option of siding with or against the good things. It is remarkable how doing that can suddenly rekindle an interest!