Sectional Debrief Special: Irish Guineas Weekend at the Curragh
View
The Timeform Knowledge: Assessing Form Through Ratings
View
Sectional Debrief Special: Irish Guineas Weekend at the Curragh
Simon Rowlands analyses the sectional times from Guineas weekend at the Curragh and has found an interesting Oaks contender.
The weekend just passed saw some top-class action around Europe, though not much of it in Britain, where another Sunday passed without Flat racing of any description. The Curragh was the venue of the Irish 2000 and 1000 Guineas, and the colts' and fillies' races cemented some reputations while making or denting a few others.
Due to dependable camerawork and an on-screen clock for most of the races – again, plaudits to At The Races, but why do other broadcasters refuse to follow suit? – it was relatively easy to engineer sectional times on both days and to gain an increased understanding of what went on.
The sectional-timing methodology used is that described in the free-to-download "Sectional Timing: An Introduction by Timeform", but the Letters Page of horseracing's trade paper makes it clear that there are some who still don't understand the basics, so a summary is as follows.
Horses achieve good times, relative to their abilities, by running efficiently; efficiency can be identified by establishing a horse's individual finishing speed, expressed as a % of its average race speed, and comparing this to a par for the course, distance and sectional length in question; differences between actual finishing speed % and optimum finishing speed % are used to upgrade performances in line with Timeform's unique published methodology; one strength of the approach is that by comparing finishing speeds to overall speeds and then to benchmark figures, sectionals can be compared under greatly differing circumstances and meaningful conclusions can be derived.
The circumstances of The Curragh's two classic races were by no means greatly differing – both races were run at a mile on the same course, and on consecutive days – but a drying 24 hours between the two meant that the surface, which was on the easy side of good for the 2000, was quicker for the fillies' race. Time and sectional analysis places this difference at about 21 lb for sprints but 9 lb at a mile and longer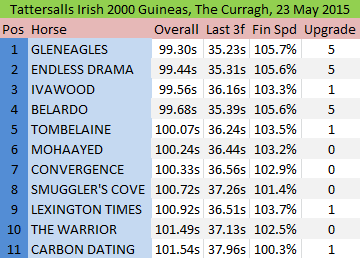 Gleneagles' overall time in winning the Irish 2000 Guineas was quicker than that of the older horses Brooch and Hasanour over course and distance on the same card, but not by much. It points to a smart time effort, rather than an outstanding one, and the sectionals help to explain why.
Sub-36-second sectionals are quite fast in the circumstances and show that the race was run at no more than a reasonable pace. Front-runner Ivawood was closest of the principals to par and seemed to receive a particularly canny ride from Richard Hughes, though it could be argued that the horse's stamina was waning at the very end.
Gleneagles, Endless Drama and Belardo all did plenty of running in the closing stages and get marked up. Sectionals imply they should be rated a couple of lengths better than the result, but, as at Newmarket, the best horse won.
Sectionals are somewhat ambiguous where Gleneagles' stamina is concerned, but the message from here and from Newmarket is that he is capable of finishing quickly at the end of a mile, especially if that mile has not been entirely truly-run. That reads like a high-quality miler – which he has already shown himself to be – rather than necessarily a horse which will be as effective at further.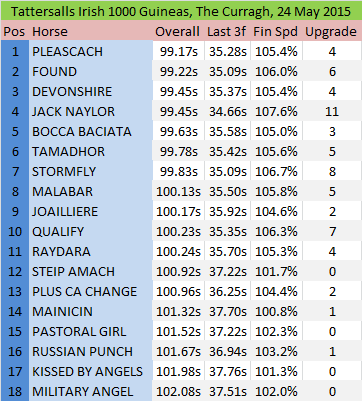 The fillies' race is a bit more complicated. The overall time (though 0.13s quicker than Gleneagles' on slower ground) looks unremarkable in its proper context, and sectionals again point to a positional advantage in being near the front. The bare form looks unexceptional by classic standards.
Pleascach, who had recorded a notably good Timeform timefigure when winning at Naas on her previous start, probably has more to give when returned to longer distances, but it could be argued that both Found (came from mid-division) and Jack Naylor (came from rear) might have beaten her narrowly in this had things panned out differently.
Jack Naylor, who took the scalp of Newmarket 1000 Guineas winner Legatissimo as a juvenile, is bred to be better at ten and probably twelve furlongs and looks a legitimate Oaks candidate on the back of this reappearance run.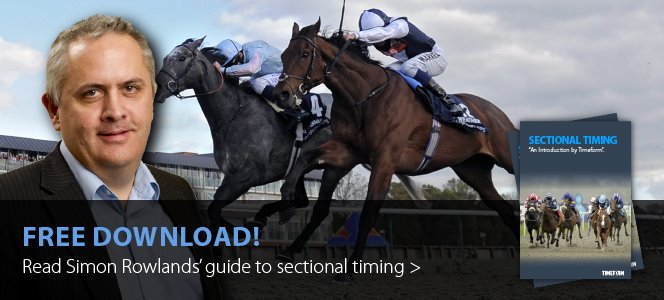 | | |
| --- | --- |
| Free Race Pass of the Day | |
KEMPTON PARK 8:40
Wednesday 27th May
4. DOCTOR SARDONICUS
108

108.6

Andrew Mullen
David Simcock
---
2. MARMALADY (IRE)
107

107.6

Ryan Moore
Gary Moore
---
11. CLOCKMAKER (IRE)
106

106.6

John Fahy
Conor Dore
---