Sectional Debrief: 2015 King George VI and Queen Elizabeth Stakes, Ascot
View
International Stakes: Bold bid assured from Elsworth's charge
View
My Timeform: Newmarket July Meeting eye-catchers
View
Summer Nights 2 for 1 Race Cards 30/07
Login
Summer Nights 2 for 1 Race Cards 29/07
Login
The Timeform Knowledge: Sectional Analysis
View
Sectional Debrief: 2015 King George VI and Queen Elizabeth Stakes, Ascot
Simon Rowlands takes a look at Saturday's King George VI and Queen Elizabeth Stakes won by Postponed, which was run at a searching gallop.
Sectional Debrief: 2015 King George VI and Queen Elizabeth Stakes, Ascot
Like Hamlet without the prince, this year's QIPCO-sponsored King George VI and Queen Elizabeth Stakes without Golden Horn threatened to be an exercise in futility. The unbeaten Investec Derby winner was a firmly intended runner leading up to the race but was withdrawn a couple of hours before the off due to his trainer's concerns about the ground.
Ascot racecourse was deluged in the previous 24 hours, with the result that the official going description was changed to "soft". However, King George day itself was bathed in sunshine and race times show that conditions were very far from desperate.
The King George time itself of 2 min 31.25s was faster than those recorded in victory by Alamshar (officially "good" ground), Doyen (good to firm), Nathaniel (good to soft) and Danedream (good) earlier this century. Timeform is likely to describe the surface as "good to soft" for its own purposes.
As it is, far from being futile, this year's contest served up a treat – in visual if not perhaps in form terms – and that relatively fast overall time also owed plenty to a race that was run at a searching gallop, as Timeform's manually-derived sectionals show.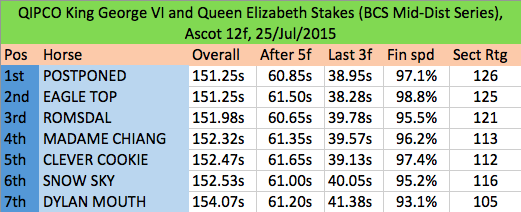 Those all-important finishing speed %s (the individual horses' late speed compared to their average speed for the race overall) are notably low, and are all below the course-and-distance par. This shows that the runners were finishing slowly on account of having gone fast earlier on.
This point can be illustrated further by a comparison with the sectionals for the concluding handicap at the same distance, in which the 78-rated winner Duretto ran the last three furlongs about 10 lengths more quickly (off an admittedly much steadier pace) than had Postponed a bit earlier.
Golden Horn's trainer seemed to fear a test of stamina for his charge as much as "soft" ground per se, and the King George did end up being a pretty gruelling affair. Whether that would have been the case had Golden Horn participated is in the realms of speculation, for it was Golden Horn's stable-companion Romsdal who made it so.
Last year's Ladbrokes St Leger runner-up went to the front from the outset and did not let up until well into the home straight. Postponed tracked him before working his way to the front with two furlongs to go, then had to withstand the challenge of Eagle Top from further back.
Eagle Top was upsides in the final furlong and even edged ahead for a while, but Postponed showed resolve aplenty to get back up on the line.
In sectional terms, Eagle Top ran closest to par of the principals, while Romsdal paid most in the end for his earlier exertions. Nonetheless, the order in looks a fair reflection on the day, with Postponed upgraded slightly more than Eagle Top and Romsdal upgraded even more but still third-best according to sectional analysis.
It was ironic, of course, that Postponed had previously shown his best form on good going or firmer, and that doubts about his own effectiveness on the ground ensured he went off at bigger odds than would otherwise have been the case.
But Postponed's trainer, Luca Cumani, rolled the big dice, rather than merely talked about doing so, and he reaped the rewards. In the process, Postponed won a big prize and enhanced his reputation and value significantly.
The finish put on by Postponed and Eagle Top did much to rescue what might otherwise have been an anticlimactic event. Many of those at Ascot will have been there because they expected Golden Horn to be running or will have had the occasion promoted to them on that basis.
It would be difficult to explain to them why the best horse in training could be withdrawn at the eleventh hour without penalty from the biggest race of the mid-summer essentially because its connections perceived its chances to have diminished since the time of declaration. There is absolutely no suggestion that Ascot's ground was in any respect "dangerous".
Perhaps it is time for racing to draw a clearer distinction between non-runners that happen for convenience (of which there were many others on Ascot's card) and those that are unavoidable. The declaration of a horse in a race could even be viewed as some sort of a binding contract between connections and horseracing, to be terminated only under agreed and exceptional circumstances.
The promotion of the sport – such as through the QIPCO British Champion Series, of which the King George was a leg – might just become easier as a result.
| | |
| --- | --- |
| Free Race Pass of the Day | |
GOODWOOD 3:10
Wednesday 29th July
6. SOLOW
136

136.6

Maxime Guyon
F. Head, France
---
1. AROD (IRE)
132

132.6

Andrea Atzeni
Peter Chapple-Hyam
---
5. NIGHT OF THUNDER (IRE)
132

132.6

James Doyle
Richard Hannon
---