Sectional Debrief Special: 2015 Qatar Goodwood Cup
View
Sectional Debrief Special: Qatar Sussex Stakes, Goodwood
View
Current Sectional Archive (May 15 -)
Login
Sectional Debrief Special: 2015 Qatar Goodwood Cup
Simon Rowlands has analysed a thrilling renewal of the Qatar Goodwood Cup from a sectional viewpoint.
If it is true that staying races on the Flat are in decline then someone forgot to tell the horses. You would have to go some way to find a more exciting finish than for this year's Qatar Goodwood Cup, the latest leg of the British Champions Long-Distance Series.
Just a neck and a short head separated the first three home in a double-figure field, and both Quest For More and Trip To Paris went long odds on in-running before Big Orange rallied to prevail.
Each of those three had shown themselves capable of very smart form previously, with Big Orange coming here on the back of a win in the Princess of Wales's Stakes at Newmarket, Quest For More aiming to follow up success in the prestigious Northumberland Plate and Trip To Paris having won no less a race than the Gold Cup at Royal Ascot when last seen.
That big win meant that Trip To Paris carried a 4 lb penalty, while Timeform's weight-for-age scale suggests that four-year-olds (which both he and Big Orange are) were disadvantaged by 2 lb against their elders in this race. Taken together, that might well have made the difference between winning and losing for Trip To Paris in a finish in which such small margins were involved.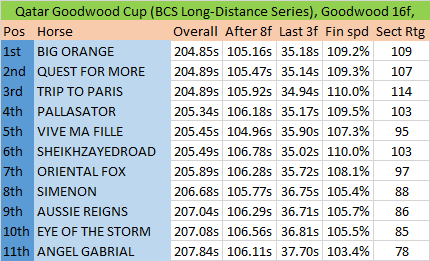 In addition, it can be seen that Trip To Paris finished quickest of the principals, at least in terms of his last-three-furlong time. His finishing speed % (late speed compared to average speed for race itself, for each horse individually) is the highest of the first five, and, when compared to the 103.2% par for course and distance, gives him fractionally the biggest sectional upgrade.
Trip To Paris may have been beaten, but he lost no caste in defeat against two stern rivals who received weight and raced closer to the pace than did he. Big Orange himself could scarcely have shown a better attitude under pressure, and Quest For More underlined that he is a Cup horse and emphatically not "just a handicapper".
In some other respects, the Qatar Goodwood Cup was not such a satisfactory contest. Those finishing speed %s speak of a falsely-run race all round, and the overall time – a sluggardly 3m 24.85s – backs that up.
Vive Ma Fille was the one who dictated matters, and her proximity come the finish (was beaten less than four lengths) calls the basic form of the race into question. For all that she went off at "only" 14/1, it should be remembered that she had been beaten off a mark of 84 at Musselburgh just two starts before.
In summary, on ground that seemed to have dried since the first two days, this year's Qatar Goodwood Cup tested speed more than stamina within the context of a two-mile Group 2 contest. The cream seemed to rise to the top, but it is a race that might have had a different outcome had it been run in a different way.
Tactics, positioning and speed count for a lot in horseracing, and not just raw ability. All those factors will be tested again, possibly with some of the same horses and jockeys, in remaining races in the British Champions Long-Distance Series, such as the Lonsdale Stakes at York on August 21 and the Doncaster Cup at Doncaster on September 11.
Data from http://www.turftrax.co.uk/tracking-technologies.html