"Investigations" – "Special" or otherwise – are all of a sudden flavour of the month in some parts of the racing Press, so I thought I would join in with what admittedly may prove to be no more than a fad.
This particular Investigation is into Industry Starting Prices – the ones which are customarily returned in betting shops and in results' services – as opposed to Betfair Starting Prices. It will look at the incidences of suspiciously high take-outs, which benefit bookmakers at the expense of punters, and at what – if anything – is being done to safeguard the interests of punters in this area.
But, first, some explanation seems necessary of the mechanics of Industry Starting Prices, else what comes in part two may be difficult to follow.
The Starting Price is used to determine the odds at which successful wagers are settled for bets for which no price was taken. Some form of it has been in existence for centuries, with an increased requirement for probity in modern times.
The current Starting Price system takes a sample of the odds available to good money at the racecourse and, in the words of The Starting Price Regulatory Commission, "are seen to be independent of the bookmakers who accept off-course bets." It would – perish the thought – be possible to rig the Starting Price to the benefit of off-course bookmakers, were that not the case.
A piece of simple arithmetic allows us to determine the mark-up involved in any given race. If you divide the numerator of a horse's odds by the denominator, add one and then divide that into 100, you get a horse's odds %. Sum these for all horses in a race and anything over 100 constitutes the bookmakers' "over-round", or theoretical edge.
As an example, in a three-runner race in which the runners go off at 5/4, 13/8 and 10/3, the calculations are as follows:
100/((5/4)+1) = 44.4%, 100/((13/8)+1) = 38.1%, 100/((10/3)+1) = 23.1%.
The sum of these %s is 44.4 + 38.1 + 23.1 = 105.6%, with the over-round being 105.6 - 100.0 = 5.6%.
The bookmakers' over-round is the cause of much discussion and of some misunderstanding. Over-rounds went down in the early days of Betfair, with an impact on off-course betting companies' bottom line. They have rebounded somewhat since, though the metric customarily used – over-round per runner – is flawed, as will be shown.
In order to conduct a study of over-rounds in British Flat racing in 2014 to the end of September, I first needed to establish what the standard over-rounds were for races of different sizes and different general types. For this, I used all Flat races in Britain from 2011 to 2013 inclusive.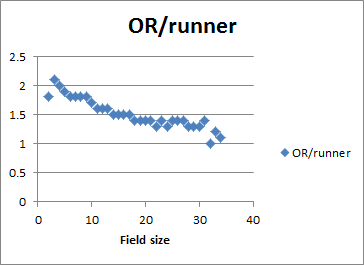 Over-rounds increase with larger field sizes, but not as a simple multiple of the number of runners. If the latter were true, then "OR/runner" would be the same across all values and that scatter plot would be horizontal: instead, they get less as field size increases and that scatter plot heads downwards. It was also apparent that there is a negligible difference between handicaps and non-handicaps in the sample.
After a bit of smoothing of the data, I carried those par over-rounds forward to an investigation of recent incidences where betting %s have, indeed, been miserly to punters. And, having identified such instances, I considered why this had been occurring and what – if anything – was being done about it.
But that is for part two of this Investigation.
New Timeform customers get £10 FREE downloads! Click HERE and simply enter code TFF10 when you register.