HORSE RACING FIXTURES AND RESULTS
Not Started
Starting Soon
In-Play
Result

HORSE RACING FEATURE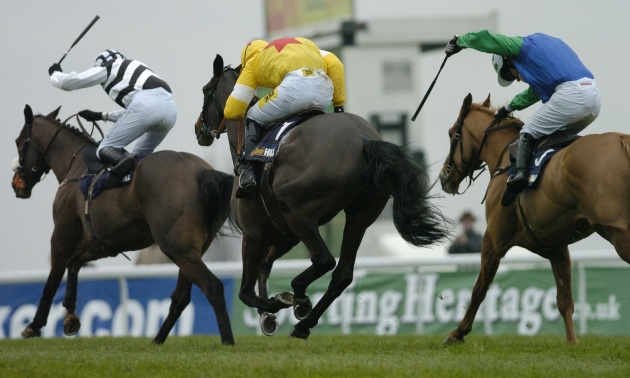 Moscow Flyer: The Timeform View
Moscow Flyer - one of the outstanding two-mile chasers in history - has passed away aged 22. We look back on the career of Jessica Harrington's star with an essay from the 2005/06 edition of Chasers & Hurdlers.
Moscow Flyer, Azertyuiop and Well Chief had been the three outstanding two-mile chasers of 2004/5, dominating the finish of Britain's two most important races in their division, the Tingle Creek Chase and the Queen Mother Champion Chase. At Sandown Moscow Flyer beat Azertyuiop by a length and a half, with Well Chief a short head away in third, the trio finishing twenty-five lengths clear in what was the race of the season. Over three months later at Cheltenham, Moscow Flyer won back the Champion Chase title he had lost to Azertyuiop, when unseating his rider the year before, with a two-length defeat of Well Chief, Azertyuiop this time third after a bad mistake at the water. The rivalry between the three gave unaccustomed strength to the two-mile chasing scene, but it had to be enjoyed while it lasted. Well Chief joined Azertyuiop on the injury list before the latest season had properly got under way, while old age seemed not so much to creep up on Moscow Flyer as to overwhelm him, preventing him from taking advantage of the absence of his younger rivals.
In the end, the decision to retire Moscow Flyer virtually took itself, an announcement made just minutes after he had finished fifth of the six finishers in the latest Champion Chase. But up to that point, with the weight of his magnificent record behind him, it was difficult for most of those who had anything to do with Moscow Flyer - be it his connections or supporters, or even those who had to write about him - to bow to the inevitable and accept that an outstanding career was drawing to a close. With the benefit of hindsight, of course, that's a lot easier to do. Moscow Flyer's first defeat in twenty completed chases, when beaten a short head (after a lengthy and not altogether conclusive photo-finish deliberation) by Rathgar Beau in the Kerrygold Champion Chase at Punchestown shortly after the end of the 2004/5 season in Britain, proved to be the first signs of Moscow Flyer's decline. There had been no signs prior to Punchestown. Indeed, Moscow Flyer looked better than ever when winning all six of his chases in the 2004/5 British season, following up his Queen Mother Champion Chase win with an exhibition round in the Melling Chase at Aintree, his second successive victory in the race.
With his Punchestown defeat easily pardoned at the time (he made a terrible blunder two out), Moscow Flyer was long odds on when returning in the autumn in the Fortria Chase at Navan, a race he had won in the two previous seasons. What looked another routine return proved anything but. Going less well than Central House in a share of the lead from four out, Moscow Flyer tired once headed at the last and went down by three and a half lengths. Again, it was easy to find reasons to excuse Moscow Flyer's defeat. He gave the impression the race was needed against a race-fit and very smart rival, and, when the pair met again on the same terms in the Dial-A-Bet Chase at Leopardstown after Christmas, Moscow Flyer again started odds on_he had, after all, beaten Central House by thirty-three lengths when winning his second Queen Mother Champion Chase. Since Navan, Central House had won at Cork (beating Rathgar Beau), while Moscow Flyer had had to miss the Tingle Creek due to a lung infection, though he had reportedly worked well in the run up to the Dial-A-Bet Chase which he had won in both 2002 and 2003. Moscow Flyer's third successive defeat - he finished only fourth of the five runners - was perhaps the most significant story of the race, though one that was inevitably overshadowed in the immediate aftermath by Central House's rider throwing away almost certain victory by mistaking the winning post and handing the race to Hi Cloy. It was still possible to give Moscow Flyer the benefit of the doubt, however, not least because his stable was going through a particularly poor spell. When Studmaster won the Pierse Hurdle at Leopardstown in mid-January, it was the yard's first success since the end of October - an amazing dip in form for such a powerful yard, which saw its string expand to one hundred and twenty-seven horses in 2005/6. Moscow Flyer went to Cheltenham without another run after Leopardstown. A gallop at Punchestown at the end of February raised hopes that Moscow Flyer might still be as good as ever, though a schooling session at Leopardstown ten days before the Champion Chase was reportedly disappointing. Even so, Moscow Flyer still had his supporters and was sent off the 5/1 third favourite at Cheltenham behind Kauto Star and the Dial-A-Bet Chase runner-up Fota Island, again ahead of Central House. Moscow Flyer was the senior runner in what was his fourth Champion Chase, and he was attempting to become only the second twelve-year-old winner after Skymas in 1977. Although hampered when Kauto Star fell early on, Moscow Flyer was beaten on merit, outpaced when it mattered and ridden out to pass the post nearly a dozen lengths behind the winner Newmill. Denied a final rapturous return to the unsaddling enclosure, despite the efforts of his rider to get him in the frame, Moscow Flyer had at least been given what turned out to be a valedictory round of applause as he circled the parade ring beforehand.
View