In part one of this "Special Investigation", I briefly explained the purpose of the Industry Starting Price and established benchmark values for over-rounds.
Those over-rounds are important for horseracing, for they will partly determine how quickly off-course punters lose their money. Excessive over-rounds may be lost in an immediate sense on many Starting Price punters, who, almost by definition, are unlikely to be especially price-sensitive. But if their money recycles for a shorter time the entertainment they gain from betting will suffer and they may look elsewhere. It is in the sport's best interests not to kill the golden goose through greed.
In a healthy market place, over-rounds would be self-correcting: if one bookmaker tried to crank up the over-rounds then others would step in to undercut them. But the on-course market in Britain is anything but healthy in some instances. Some all-weather meetings have but a handful of on-course bookmakers, and the potential for short-term gaming of the system is increased.
It might be imagined that something as important, and as potentially corruptible, as the Starting Price system would have numerous safeguards and an attentive governing body in place, but that is not the case.
A body called The Starting Price Regulatory Commission has existed since 2004, but it only recently acquired itself a website (http://www.thesprc.org/) and e-mail address, and it has failed to acknowledge, let alone respond to, three separate approaches by me over the years.
Indeed, I am unaware of anyone who has ever elicited a reply from the SPRC, a body which does a good job in producing Annual Reports recording a dearth of complaints while warning against "complacency".
I wrote most recently to the SPRC in September, following a race at Wolverhampton in which the favourite (and winner, as it happens) Belgrade was shortened from 13/8 to 5/4 despite going from 2.4 to 2.99 at the same time on Betfair. The over-round for the eight-runner maiden was 20.8%, well in excess of the 14.7% that might be expected for a race of this nature.
Besides pointing out what I felt were suspicious circumstances in this instance, I asked the SPRC which forensic tools it used so that it would be alerted to anomalous Starting Prices on an ongoing basis.
In the absence of a response, I devised a couple of my own, namely: instances in which a race over-round was at least double the benchmark over-round established in part one of this investigation; and instances in which an individual horse's Industry SP exceeded its Betfair SP by more than 10% as well as that ISP % being at least 1.5 times its BSP %.
Regarding the latter, if a horse is, say, 6/4 ISP and 4/1 BSP the former is 40% and the latter 20%. As 40% is more than 10 bigger than 20% it qualifies on part one, and as 40% is more than 1.5 times 20% it also qualifies on part two: therefore, it qualifies.
The following are the most anomalous examples I unearthed: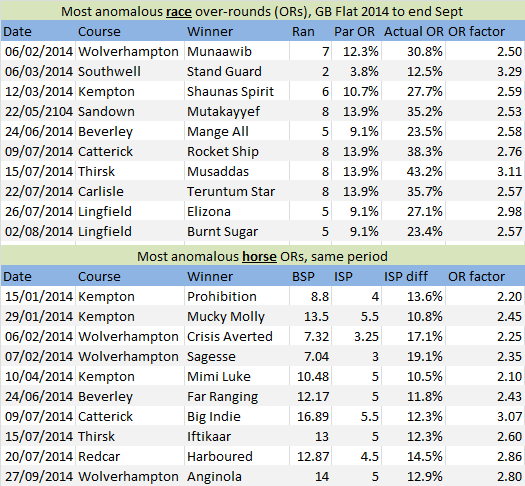 The point is not that this is necessarily the best way in which to flag up anomalous – or downright suspicious – over-rounds for races and individual horses, but that it is a way. It is unclear whether anyone, anywhere (including the SPRC), is undertaking this sort of exercise, let alone investigating matters further when alarm bells are triggered.
Some themes are apparent. In particular, there was a high incidence (in the wider study, not just the above top-10s) of eight-runner races and of all-weather tracks.
This will come as no surprise to those well-versed in these matters: eight-runner races sometimes feature place terms (derived from win SPs) which are advantageous to the punter, and all-weather tracks often feature weak on-course markets which may be thrown out of kilter by large and late bets.
That this should come as no surprise is not the same as saying that it is acceptable.
Remember that SPRC quote from part one of this Investigation: "[Starting Prices need to be] seen to be independent of the bookmakers who accept off-course bets". It should not be the role, unwitting or otherwise, of on-course bookmakers to arrive at prices which are remarkably convenient for off-course bookmakers, with "bad each-way races" marked up greatly and individual "hot" horses allowed to halve in price with little or no adjustment to the prices of other horses.
Since undertaking this Investigation – and while waiting ever-so patiently for any sort of response from the SPRC – another anomalous instance cropped up, when a horse called Grenade went off at 2/1 at Kempton, as against a Betfair SP of 7.4 (about 13/2). The race over-round was 25.6%, as against a par of 12.3% for a seven-runner race, and the incident was so extreme that even the Racing Post eventually picked up on it.
A spokesperson for off-course betting firm Coral stated that it had "adopted standard bookmaking practice" by hedging the running-on sum from a large accumulator back into the ring.
Bookmakers will do what they can do, but the questions need to be asked "who is protecting the wider punters' interests in all of this?" and "in what respect does this reality reflect a healthy disconnect between bookmakers on- and off-course?"
But perhaps the question which needs to be answered above all is "what are the SPRC doing about any of this?"
New Timeform customers get £10 FREE downloads! Click HERE and simply enter code TFF10 when you register.