We've all been there. "I was going to back that next time but didn't notice it was running." "I think that horse was a bit unlucky. I need to make a note of that somewhere I won't miss it." The My Timeform Tracker is the answer.
You can make your own notes on any of the horses in the Timeform database and, if you wish, choose to receive alerts when the horse is declared to run in Britain or Ireland.
There are no excuses for missing a winner now!
You can view your notes on any of the areas of the site linked to Race Passes or via the Tracker button on the My Timeform homepage.
And you don't even need to be a paying customer to use the features - the only requirement for My Timeform is that you are registered and logged in.
There are notes buttons on Race screens and Horse Search screens, and if you look at one of our Results pages you can immediately add your own comments to any of the runners.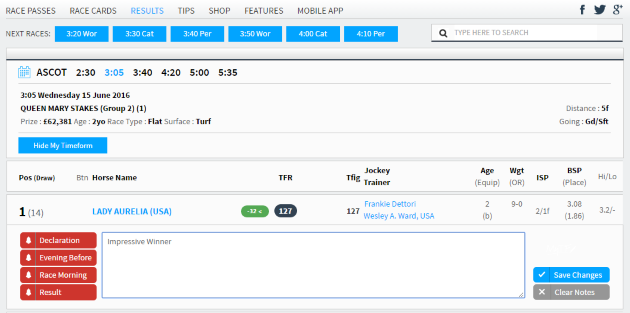 We've also made it easy to manage your records.
Click the 'Tracker' symbol in the header of any page on the Desktop Site or the App and you can immediately see a full, sortable list of your horses.
Alerts can be sent at a variety of times according to WHEN you're ready to act on them, choose all, some or none of the options to tailor the My Timeform Tracker to your specfications.
The first reminders are sent at lunchtime on the day of Declaration. If you place most of your bets when you get home from work then the 'Evening Before' option (around 9pm) should suit, or if you're a day-of-the-race punter a 'Morning of Race' alert might be better. And if you just want to know how your horse gets on we can send you a Result alert an hour or so after the race went off.
You can also choose HOW you get your alerts.
You can have an email sent to your personal email address, a message placed in your Timeform mailbox (these will be automatically removed after 5 days) and, if you have signed into the Timeform Mobile App, you can get a push notification direct to your device. You can manage these settings on the My Timeform Tracker screen on either the Desktop site or the App.

And that's pretty much all you need to know to get started. Play around and see the difference the My Timeform Tracker can make to your betting.

New to Timeform? Click on 'Register' in the header, then enter your details along with any promotional codes you have seen. Full conditions of use