Timeform Flags
Horse In Focus

Noted in positive terms on its previous outing by our race analyst, marking it out as a horse to look out for.

Warning Horse

Pinpointed as potentially representing poor value, primarily on account of doubts as to the strength or reliability of its recent form.

Horses For Courses

Determines the suitability of this track for the horse by comparing its lifetime record against the Timeform digital course data.

Trainer Uplift

Highlights a noteworthy stable switch in that the horse's new trainer has a significantly higher Timeform Trainer Ranking than the one for whom it last ran.

Jockey Uplift

The engaged rider has a notably higher Timeform Jockey Ranking than those who've ridden the horse on its most recent starts.

Sectional Timing

The horse is of particular interest based on its recent sectional times.

Trainer Form

An assessment of the trainer's recent form, based on Timeform ratings-related measurement.
Find out more
About the Horse In Focus Flag - About the Warning Horses Flag - About the Horses For Courses Flag - About the Trainer & Jockey Uplift Flags - About the Sectional Timing Flag - About the Trainer Form Flags
Explore our Interactive Guide to studying form with Race Passes here
Predictive Rating
Predictive ratings appear as part of our pre-race premium ratings service and are shown italicised in brackets. They are an attempt to anticipate the first-time out performance of a two-year-old (or a three-year-old up to the date of the Newmarket July Sales) and are on the same level as the established performance ratings they are comparable against. More than 15 pedigree and non-pedigree variables involved in the calculation of the ratings.
Pace forecast
Uses early positional figures (as noted by Timeform's race analysts) from all of the horses' recent records to establish the likely pace of a race.
Running note
A factual description of how a horse ran in the race, e.g. 'held up, stayed on before last, led close home, found plenty'.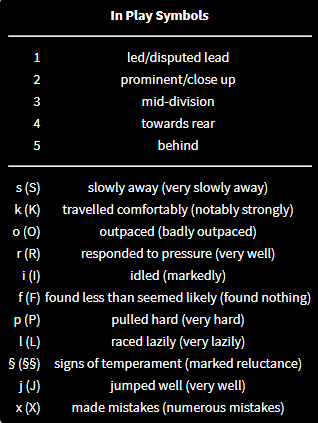 In-Play Hints categories
"General hints" take in-play price data from the course in question, identifying significant examples of predictability or unpredictability over a sizeable length of time and large number of cases.
"Pace forecast hints" use early positional figures (as noted by Timeform's race reporters) from the horses' recent records to establish the likely pace of a race.
"Specific pace hints" identify individual horses that may be suited or unsuited by the forecast pace scenario.
"Individual price hints" identify horses that have a recent record of trading low in-play and losing, or trading high in-play and winning.
"Short-priced hints" identify horses forecast as likely to go off at low odds (in the context of the field size) and display pertinent price and run-style information about their recent efforts.
Headgear Abbreviations