Royal Ascot 2023 Free Bets
Royal Ascot is the crowning jewel of the UK flat calendar, with world class horses and the most prestigious racing of the year.
Royal Ascot starts on Tuesday 20th June and runs for five days with some of the best betting races the flat has to offer.
Not only that, but the best betting races bring the best betting offers and free bets – and Royal Ascot is a great time to get free bets with some of the best offers of the year being available.
Royal Ascot free bets and betting offers vary per bookmaker, but are certainly plentiful so you will have plenty of decisions to make before you even start picking winners.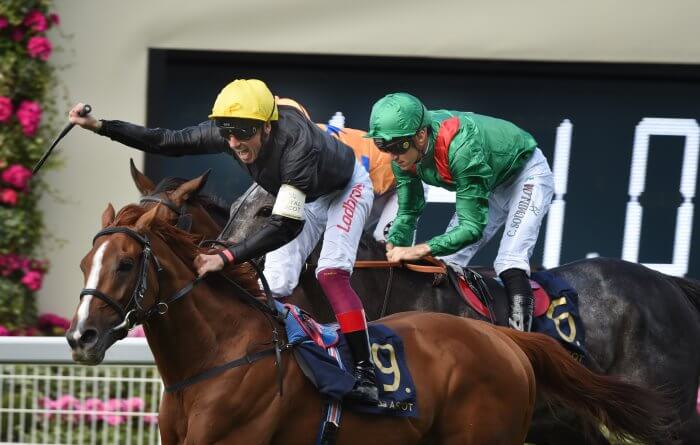 Royal Ascot Free Bet Feast
Bookmakers compete with each other throughout the year, trying to get you to bet with them rather than a competitor. There are free bets available all year round, but Royal Ascot is an extra special time of year if you're looking for free bets.
At this time of year, a standard sign up often changes and becomes more generous, such as going from 'bet £10, get £30' to 'bet £20, get £70'.
Gold Cup Free Bets and Betting Offers
The race that everyone is looking forward to, the most prestigious event in the entire National Hunt calendar – the Gold Cup. Naturally, given its popularity, there will be Gold Cup free bets and betting offers – but they may not start to surface until the third day of the Festival.
So you might have a decision to make if you only want to sign up with one bookmaker, whether to take one of the week's earlier offers or wait to see what offers the Gold Cup brings.
Royal Ascot boosted odds betting offers
Around Royal Ascot you also see more betting offers that, rather than giving you free bets give you a great enhanced price on a horse – normally an odds-on favourite.
These offers are plentiful when the Festival comes around, so keep an eye out for one that includes your NAP for the Festival.
Royal Ascot bet through the card betting offers
This is one of our favourite types of offer. A bet through the card sign up offer allows you to sign up with a bookmaker ahead of the days racing, and then gives you a free bet for each race on the card once you place a bet on the first race of the day.
This is a great way to get to know a bookmaker, learn how their website or app works, and decide if you like them or not. It isn't just one bet, win or lose, but something that can turn a day's racing into something more fun. Plus, it takes the pressure of you having to put as much money into the account for the days racing.
Royal Ascot Non-Runner No Bet
Well before the Festival starts, there are offers to be had – not quite free bets, but perfect for the ante post punter, non-runner no bet is offered by some bookmakers from the beginning of the year.
As the Festival draws closer, look out for bookmakers doing non-runner no bet and, if you have an ante post fancy, take the opportunity to reduce your risk and get better odds.
Royal Ascot Existing Customer Offers
If you're an existing customer with a particular bookmaker, then unfortunately you won't be able to make the most of their big sign up offers, however – there are still things for you to look out for.
One of the most common existing customer offers is faller insurance on certain races – it certainly takes the edge off that bitter taste when your horse looked like a challenger for the win. Other such offers you may see, are refunds and free bets based on what horse wins or by what distance they win by.
Paddy Power commonly run an offer where, if the named favourite wins the race, then bets on all other runners are refunded. It's just another tool in the battle against the bookies, allowing us to back someone other than the favourite at reduced risk.
Also not to be missed out on, some bookmakers have previously run offers where the refund all losers on the first race. Meaning you can have a bet on the first race of the day with no risk.
Still want more? Then look out for this one. Some bookmakers offered the opportunity to double your winnings if your horse wins – a great offer if you're feeling particularly confident about your choice in a race.
How to use your Royal Ascot Free bets
If you've selected your free bets but you're unsure what to do with them, then you're in the right place.
Formed in 1948, Timeform have been collecting and analysing data, before delivering it to customers for 70 years.
We've got a whole host of content to help you pick a bet, whether you're just looking for a Gold Cup tip – or a tip for every race on TV.
The first stop is to check out the rest of our Royal Ascot microsite, head over tips to have a glance at what we're backing. Or, you can go premium, with one of our tipping services – such as TV Focus – delivered by the Timeform Jury, it is the ultimate betting guide to the racing on ITV.
Also not to be missed out on, some bookmakers have previously run offers where the refund all losers on the first race. Meaning you can have a bet on the first race of the day with no risk.
Here are some key links to help you navigate our site and make the most ahead of, and during, the Festival:
Betfair Royal Ascot 2023
Betfair are on the world's leading bookmakers, and probably best known for their innovative betting exchange. Ahead of Royal Ascot, Betfair will undoubtedly be looking to bring in new customers as well as reward existing ones with great offers.
For the 2021 Royal Ascot Betfair ran a bet through the card for the racing on ITV for each day of the Festival. During the week they ran plenty more offers and may do the same for new customers. For existing customers, Betfair also offered non-runner no bet on all Festival races and that will likely be on offer again.
Paddy Power Royal Ascot 2023
Paddy Power is a titan of the sports gambling which is partly in thanks to their daring and provocative marketing – from their entertaining social media accounts through to their great welcome offers. Paddy Power will be looking to make Royal Ascot a greatly successful period in the year, and will be running lots of offers for new and existing customers alike.
Coral Royal Ascot 2023
Coral are another well establish bookmaker who will be rolling out plenty of offers for Royal Ascot.
Coral's Royal Ascot offers last year included a selection of boosted odds for new customers. Plus, for existing and new customers alike, they were offer non-runner no bet. We expect it to be similar this year, so keep an eye out for Coral's Royal Ascot betting offers.
Ladbrokes Royal Ascot 2023
Ladbrokes have a great reputation as a bookmaker, so if you don't already have an account it's a great time of year to look for their best new customer offers.
Not only do they sometimes provide some great odds-boosts on some odds-on favourites, they also provided a variety of offers that allowed you to get an edge.
Bet Victor Royal Ascot 2023
BetVictor are another bookmaker with a great reputation and was originally founded in 1946 – 2 years before Timeform but has seen several rebranding's over the course of its history. You won't see them doing as many offers, but there will certainly be some quality offers to look out for. They're a big advocate of the bet through the card offer, running one for each major day of racing to great effect – and giving people the opportunity to experience their product more deeply.
888sport Royal Ascot 2023
888sport are yet another bookmaker who won't be slacking when Royal Ascot comes around. Whilst their offers are often less numerous than some of their competitors, and the odds not quite as long – the terms and conditions are often very favourable – with one of the key differences being that often it is max bet £5, rather than the £1 max bet you see with many other bookmakers on lengthened odds.
Generally they will run an offer for each day's racing, where you can sign up with enhanced odds on that days favourite.
Betfred Royal Ascot 2023
Betfred are a well-known and respected name across racing, as well as being owners of the Tote. When Royal Ascot comes around, they may not be as aggressive as some of their competitors, but there will be offers to look out for that are more generous than usual.
Around the time of the Festival, looking for a more generous than usual sign up offer – as they don't tend to get involved with enhanced odds offers.
Totesport Royal Ascot 2023
Totesport is steeped in racing history – a brand that has become very familiar to horse racing fans over the year. Totesport is known for its pool bets – such as Scoop6, and is the only company in the UK allowed to run pool betting on horse racing.
The appeal of Totesport is that, in its different pool products, lie opportunities to win big money from small stakes – if only you can pick the winners. Keep an eye out for some great sign up deals as we get closer to Royal Ascot.
William Hill Royal Ascot 2023
William Hill are another long standing bookmaker who have a great reputation in the betting world. And they certainly won't be slacking when Royal Ascot comes around.
Whilst not aggressive with their offers as some of the other brands that we are partnered with, there will be offers worth looking out for if you fancy joining William Hill.
Bet365 Royal Ascot 2023
Bet365 are one of the new kids on the block – founded just a year after Betfair. They are one of the early entrants to the Royal Ascot offers market with the non-runner no bet, which they normally launch at the turn of the year alongside Paddy Power.
They are unlikely to run any special sign up offers like enhanced odds during the Festival, but will have a strong standard sign up offer, as well as plenty of existing customer offers to enjoy.
Unibet Royal Ascot 2023
Unibet are a well-known name in racing, one of the reasons being their relationship with four-time British Jump Racing champion, Nicky Henderson – who is an ambassador for their brand.
It's hard to say what sort of offers they will be running by the time the Royal Ascot arrives, so watch this space for their latest offers.
Casino bonuses
There has never been a wider variety of choices for players when it comes to online casinos, with great bonuses available across a plethora of platforms.
Healthy competition between the growing number of online casinos means they are always innovating, looking for new ways to attract new players and to keep their current members happy – and entertained.
So we're bringing all the offers together in one place.
Click here to check out our Casino Bonuses page →
Free Spins No Deposit
Free Spins No Deposit offers provide a great entry point for playing new games or trying an online casino that you are new to.
They are a zero-cost way of getting to grips with a game you've never played before or a casino you were previously unfamiliar with.
Keep up to date with the latest free spins offers.
Click here to check out our Free Spins No Deposit offers page →