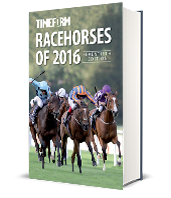 (Published 08/10/16)
Features
An individual entry for every horse trained in Britain that ran during the season, including a Timeform rating and commentary, plus the best of the Irish
Extended essays on the leading performers
More than 1000 pages and over half a million words
Lavishly illustrated with action and posed portrait photographs
Examination of the wider issues in the sport through the essays and forthright introduction. It doesn't pull its punches!
Price: £75
Annuals Availability
Racehorses (£79) is published in March and is part of a series which dates back to 1948. Available direct from Timeform. Chasers & Hurdlers (£75) is published in October as part of a series which dates back to 1975/76. The 2015/16 edition is available to order now, from Timeform and on Amazon.