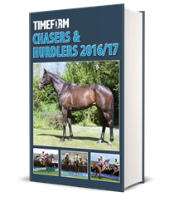 CHASERS & HURDLERS 2016/17 - OUT NOW
The 1,056-page masterwork 'Chasers & Hurdlers 2016/17' is the forty-second in the series of Timeform Jumps Annuals which have come to be regarded as the definitive record of the winter game. The latest edition was published on Saturday October 7th.
'Chasers & Hurdlers' deals individually, in alphabetical sequence, with no fewer than 8,890 horses, including every one that ran over jumps in Britain in the 2016/17 season. The individual commentaries range from a few lines on some of the lesser lights to multi-page essays on the top horses (the extended entry on Grand National winner One For Arthur, for example, stretches to nineteen pages). The Timeform commentaries supply a potted analysis of each horse's form and its racing character, as well as giving valuable pointers to the future, while the essays on the best horses provide more detailed accounts of their career, as well as discussing current issues and recalling historical achievements. >>
Features
An individual entry for every horse trained in Britain that ran during the season, including a Timeform rating and commentary
Extended essays on the leading performers
1,056 pages and over half a million words
Lavishly illustrated with action and posed portrait photographs
Examination of the wider issues in the sport through the essays and forthright introduction. It doesn't pull its punches!
Price: £75
Annuals Availability
Chasers & Hurdlers (£75) is published in October as part of a series which dates back to 1975/76. The companion Racehorses (£79) for the Flat is published annually in March and is part of a series which dates back to 1948. Both are available direct from Timeform, post free in the UK.

or order direct below
It's informative, it's insightful, it's indispensable. So try it today!
Click here and below to read a free sample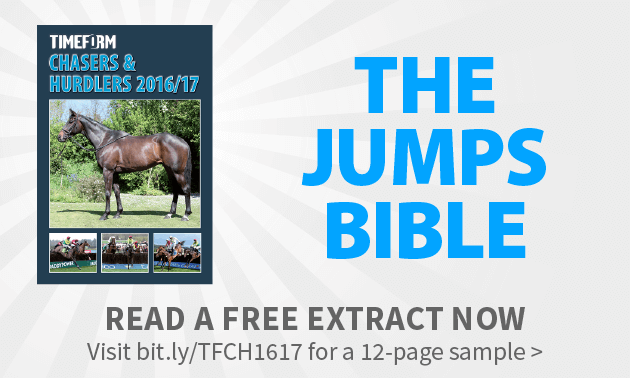 Entries on three of last year's stars - My Tent Or Yours, Native River and Neon Wolf - emphasise the highs and lows of the jumps game...
PLEASE NOTE: SEVENTIETH EDITION OF RACEHORSES SOLD OUT