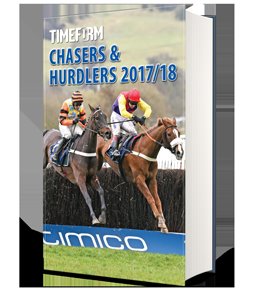 CHASERS & HURDLERS 2017/18 – OUT NOW
A JUMPS FAN'S DREAM
The 1,024-page masterwork 'Chasers & Hurdlers 2017/18' is the forty-third in the series of Timeform Jumps Annuals which have come to be regarded as the definitive record of the winter game. Lavishly illustrated with photographs of the top races and leading performers in Britain and Ireland, 'Chasers & Hurdlers' also deals individually, in alphabetical sequence, with over 8,500 horses, including every one that ran over jumps in Britain in the 2017/18 season. The individual commentaries range from a few lines on some of the lesser lights to multi-page essays on the season's stars – up to fourteen in the case of Grand National winner Tiger Roll.
As well as being a permanent record, and a source of entertaining reading, 'Chasers & Hurdlers' is also designed to be of practical value in winner-finding. Look up any horse and you have a unique insight in just a few seconds into its form – measured by the all-important Timeform rating - and its racing character, including its distance and going requirements. The commentaries give valuable pointers to the future, while the extended essays provide more detailed accounts of champions' careers, as well as discussing current issues in racing and recalling similar achievements from the past. Chasers & Hurdlers' has something for everyone, whether you're the champion trainer or a keen amateur who follows the game as a hobby. It's a jumps fan's dream!
Features
An individual entry for every horse that ran over the Jumps in Britain during the season and the best of the Irish, including a Timeform rating and commentary
Extended essays on the leading performers
1,024 closely-printed pages
Action and posed portrait photographs
Examination of the wider issues in the sport through the essays and forthright introduction. It doesn't pull its punches!
Top 100s, promising horses lists, France review & more
Price: £75 Try a free sample first below!
Annuals Availability
Racehorses (£79) for the Flat is published annually in March and is part of a series which dates back to 1948. The companion Chasers & Hurdlers (£75) is published in October as part of a series which dates back to 1975/76. Both are available direct from Timeform, including checkout by PayPal, post free in the UK, and from Amazon*. Click on a button, link or scroll down to our product boxes to order your copy.
*Please note availability on Amazon commences from publication date. Pre-orders direct from Timeform only
It's informative, it's insightful, it's indispensable. So try it today!
Click here and below to read a free sample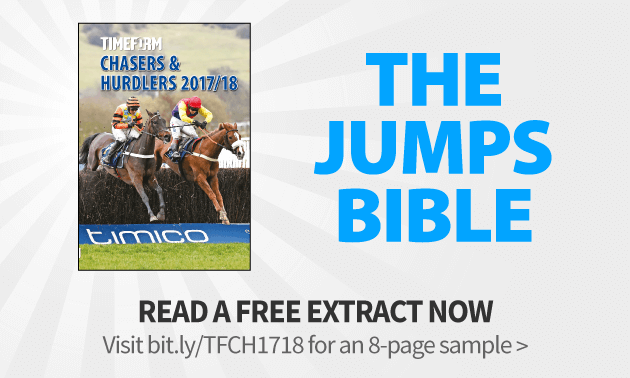 Read about the remarkable Edwulf and a 'controversial' Elgin essay online today in an 8-page freebie...