Timeform Jury
A team utilising the skill and experience of Timeform experts in specific areas of racing is responsible for seeking out outstanding betting opportunities. All the action comes under its scrutiny, be it turf or All-Weather, Flat or jumps, in Britain or in Ireland.
The Jury was officially launched in September 2008 and has secured profits for members in each of the five years since, at an average over £350 per month to £50 stakes. It's like a second income! You can download complete bet-by-bet accounts for each of the five years below.
Total return (to 04/03/14)
475.25 POINTS PROFIT
Equivalent to 12% profit
on a total stake of 3782.5 points
Join to the end of March
ONLY £129
Order online now
THE JURY IN DETAIL
How does the Jury operate? Click here to read a comprehensive guide to the service.
Every Jury bet since launch.* The complete record of all proofed bets is here.
* Proofing conditions for the Racing Post include sending timed screen shots of the relevant bookmaker's web site to show that the prices quoted were available at the time the message was recorded. All bets must be proofed before the selections have run.
TV FOCUS IS ALSO PROVIDED FREE FOR ALL JURY SUBSCRIBERS!
Visit the TV Focus page for more information. The free message is delivered with the day's Jury selections in the same call.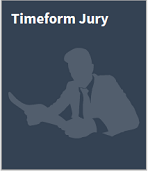 Subscribe to the Jury now
Jury to 30/04/14
Jury to 30/04/14

Login
Jury to 31/05/14
Jury to 31/05/14

Login
Cheltenham Day Four Preview: Only one match of the day
Jamie is looking forward to Gold Cup day at Cheltenham, but the big event isn't even the race of the day as far as he's concerned....
View
Horses To Follow Extra Cheltenham
Horses To Follow Extra Cheltenham
Login
Meydan 08/03 Race Card
Timeform Race Card for Meydan 08/03/2014 Saturday
Login
Racehorses of 2013
Racehorses of 2013, published 29/03/14
Login
Horses To Follow 2014 Flat
Horses To Follow 2014 Flat, posted 03/03/14
Login
7-Day Race Pass
7-Day Race Pass
Login