Radio
Changes to Betfair/Timeform Radio service – Friday 17th April
On Friday 17th April Betfair changed the Timeform Radio offering to a race commentary-only service.
This new commentary service will cover all UK & Irish horse racing, as well as UK Greyhounds.
Listen now >
Have you tried the NEW TIMEFORM MOBILE APP?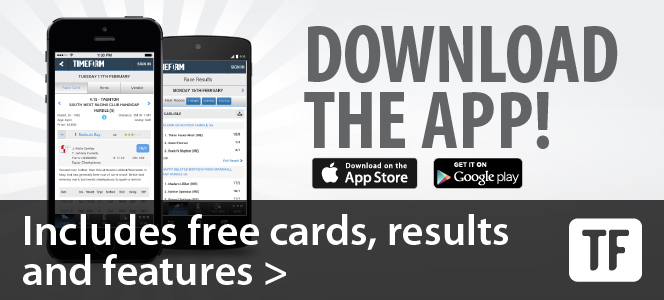 Jamie Lynch's Weekend Preview: A Golden Eclipse in a rider's twilight
Jamie Lynch looks ahead to Coral Eclipse weekend and reflects on both Golden Horn and the resurgent Frankie Dettori.
View
Summer Nights 2 for 1 Race Cards 04/07
Carlisle & Nottingham 04/07 for £5
Login
Ratings Update: Royal Ascot 2015
Keith Melrose provides a full round-up of all the most significant performances at Royal Ascot 2015 and lays out what they might mean for the season ahead.
View
The Timeform Knowledge: Analysis of Overall Times
In an extended edition of the Timeform Knowledge, Simon Rowlands explains how Timeform analyse overall race times.
View
Current Sectional Archive (May 15 -)
Current Sectional Archive, last updated 3/7
Login
28-Day Race Pass
28-Day Race Pass
Login