What the jockeys said after the 2021 Grand National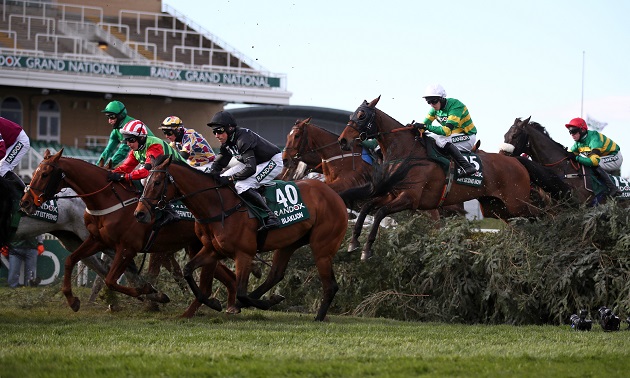 By Timeform, Saturday 10 April
Jockeys react to the 2021 Grand National, won by Rachael Blackmore on Minella Times.
Rachael Blackmore (Minella Times - WINNER)
"I just got such an unbelievable passage through the race. Minella Times just jumped fantastic and brought me from fence to fence. I thought jumping two out I was trying to hold on to a bit as it is a long way home."
Aidan Coleman (Balko Des Flos - second)
"I couldn't be happier with him. He was super. He jumped brilliantly and travelled into it really well. He did everything right but just didn't win. All credit to him."
Mark Walsh (Any Second Now - third)
"He was very unlucky, he very nearly got brought down at the third-last and he's done great to finish third."
Patrick Mullins (Burrows Saint - fourth):
"I had a fantastic spin and he did everything right. We got a lovely position and he jumped fantastic. I was chatting to Rachael (Blackmore) going past the stands with a circuit to go and we were both very happy with where we were. We were side by side all of the way, and I was trying to get onto her boot and get a lead off her, but from the second-last I just couldn't go with her. He got very tired and maybe he didn't stay, but it was nearly the perfect ride."
History Maker!

Minella Times wins the Randox Grand National Handicap Chase @AintreeRaces for Rachael Blackmore! 🏆#ITVRacing #GrandNational pic.twitter.com/tARVJi5Sv9

— ITV Racing (@itvracing) April 10, 2021
Jack Kennedy (Farclas - fifth)
"I was absolutely delighted with him. He jumped and travelled great but probably just didn't see out the trip. I had a brilliant time on him."
Harry Skelton (Blaklion - sixth)
"He gave me a brilliant spin. He just doesn't quite stay. He was a pleasure to ride, he has great enthusiasm for racing at 12 years old. He just loves the game."
Sam Waley-Cohen (Jett - eighth)
"He came alive. He jumped and travelled so well and I didn't want to break his rhythm, so I just let him stay where he was and keep jumping. He probably didn't quite get home today, but that was a lot of fun for an amateur to go and do that, he looked after me and we had a lot of fun."
Sean O'Keeffe (Cabaret Queen - ninth)
"She ran great and jumped super. She loved it and just got a bit tired. She ran a very good race."
Kevin Sexton (Shattered Love - tenth)
"She was flat out for the first circuit and we were going nowhere, but she jumped brilliant. After a circuit she started latching on to a few and she ran a cracker in the end."
Jody McGarvey (Alpha Des Obeaux - 11th)
"I had a lovely run around and avoided all of the trouble. He jumped very well but didn't have the legs to get me home."
Gavin Sheehan (Hogan's Height - 12th)
"My lad was an absolute pleasure, he loved jumping those fences. He jumped from fence for fence and he was a bit further back than I'd have liked, but that was just a joy to ride in that race and I can't wait to go over those fences again in the Becher and the Sefton."
Tabitha Worsley (Sub Lieutenant - 14th)
"He's run a blinder. They were always going a bit too quick for him but we had a lovely run around and he stayed on well."
Brian Hayes (Class Conti - 15th)
"Class Conti jumped great, travelled ok early on, but just didn't get home."
Notable non-finishers
Tom Scudamore, on 11/2 favourite Cloth Cap who was pulled up at the 28th
"We had a great ride for a long way. We got to the canal turn and a lot came by me and we struggled from there. He got very tired after the last ditch so we pulled-up."
Darragh O'Keeffe, on Chris's Dream who unseated at the 27th
"I got a lovely run round and a good spin and he just got in a bit too tight to the ditch. Other than that a good spin."
Conor O'Farrell, on Vieux Lion Rouge who fell at the 20th
"It's just very unfortunate really, he jumped his way into a lovely position going out onto the second circuit and it was unlike him around here. He's just got in too deep and didn't get the landing gear but thankfully he's up and lives to fight another day."
Sean Quinlan, on Takingrisks who was pulled up at the 17th
"He was a bit too careful and never really enjoyed it, so I pulled him up with a circuit to go."
Jonjo O'Neill, on Mister Malarkey who was pulled up at the 17th
"He didn't want to have a cut at it today and got a bump, but he can throw in a run like that sometimes."

Grand National 2022 News
News for the 2022 Grand National at Aintree. Stay up to date with the latest stories on the horses and the betting.