Race of Champions: a guide to the runners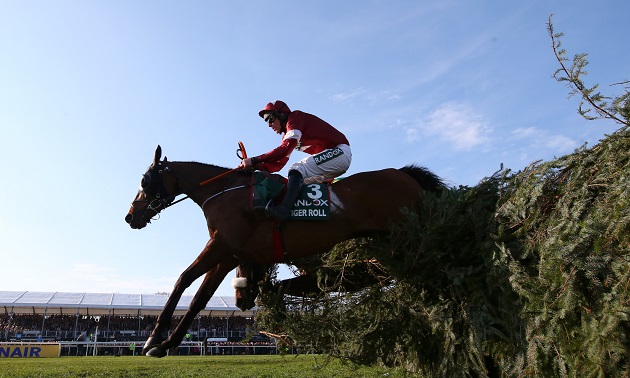 By Phil Turner, Friday 03 April
The Race of Champions, a simulated race between 40 Grand National winners, will be shown on ITV on Saturday. Timeform's Phil Turner outlines the achievements of the past champions.
1 – LOTTERY
Punters didn't find it a lottery to find the very first Grand National winner, as Lottery was sent off the 5/1 favourite for that 1839 edition and proved far too strong for the six other finishers. That proved to be as good as it got for Lottery at Aintree, though - he failed to complete when well fancied for the next three renewals and then finished seventh in 1843.
2 - THE LAMB
Diminutive grey The Lamb was one the best National performers during its early history and arguably unlucky not to have won more than twice. He was only six when winning in 1868 but subsequently suffered a wasting disease that kept him off the course for two years. He returned to win in 1871 (1869 & 1870 winner The Colonel was only sixth) and also finished fourth on his only other National attempt.
3 – MANIFESTO
Manifesto is the one National winner who can view Red Rum as a part-timer! Manifesto's National career stretched to eight appearances over a decade straddling the turn of the 20th century. He won back-to-back editions in 1897 and 1899, whilst he made the frame on a further four occasions - his finest hour arguably came when third under 12-13 aged twelve in 1900.
4 – MOIFAA
The first National winner not to be trained in Britain or Ireland was the Kiwi raider Moifaa in 1904. A prolific winner in New Zealand, Moifaa didn't enjoy a straightforward voyage to Europe – he reportedly had to survive being shipwrecked off the coast of Ireland! A strong puller, Moifaa led from the fourth for his National win and was a hot favourite twelve months later, but crashed out at Becher's Brook on the second circuit.
5 – JERRY M
The giant Jerry M was the leading chaser on both sides of the English Channel early in the last century, winning the Grand Steeplechase de Paris in 1910 shortly after shouldering 12-7 into second place in that year's Grand National. He was lightly raced subsequently, but returned to Aintree better than ever in 1912, this time defying top weight (again 12-7) for a famous win.
6 – TROYTOWN
Emulated Jerry M by completing the Grand Steeplechase de Paris-Grand National double, his Aintree win coming eleven months after a stunning all-the-way success at Auteuil. The world looked at Troytown's feet at this stage but, sadly, he fell fatally (aged just seven) when bidding to repeat his French win.
7 – GOLDEN MILLER
The leading chaser of the 1930s, Golden Miller defied 12-2 to win the 1934 renewal in course record time (which stood for 39 years) and remains the only horse to have completed the Cheltenham Gold Cup-Grand National double in the same season. Alas, he failed to complete on all four other tries in the National, including three times at the eleventh (refused there on final two occasions).
8 – REYNOLDSTOWN
Became just the third back-to-back National winner in 1936, his feat particularly noteworthy given it occurred during a vintage era in the race's long history, when leading chasers were habitually aimed at it. He did need the help of 100/1 outsider Davy Jones running out at the last for that second win, though.
9 – BATTLESHIP
The pint-sized American raider Battleship represented high-profile connections – his owner Marion Scott was married to film star Randolph Scott – and there was more than a hint of Hollywood about his 1938 National win. He was ridden by the youngest jockey (seventeen-year-old Bruce Hobbs) and prevailed in a dramatic grandstand finish, with connections of runner-up Royal Danieli even claiming they should have been declared winner.
10 – NICOLAUS SILVER
The second of a record four Grand National winners for Fred Rimell (the others included Gay Trip and Rag Trade), the grey Nicolaus Silver made the most of a light weight when defeating 1960 winner Merryman II to spring a 28/1 surprise in the 1961 National. He managed only seventh when higher in the weights twelve months later.
11 – JAY TRUMP
Expertly handled by rookie trainer Fred Winter for his one season on British soil, American raider Jay Trump just held off popular Scottish chaser Freddie (who was conceding him 5 lb) for a famous win in 1965, the pair pulling well clear. A notably sound jumper, Jay Trump also won three Maryland Hunt Cups and is one of the most notable jumpers in the US Horse Hall of Fame.
12 – FOINAVON
Arguably the luckiest winner in Grand National history, 100/1-shot Foinavon was a genuine no-hoper in the 1967 renewal. Indeed, he was already well adrift when a pile-up occurred at the twenty-third – only to find himself well clear (an advantage he successfully defended) having navigated a passage through that mayhem. His luck ran out in 1968, though, when he was brought down at the Water Jump.
13 – HIGHLAND WEDDING
There weren't many stouter stayers in the 1960s than Highland Wedding, who won the Eider Chase at Newcastle three times and finally came good in the National aged twelve in 1969 (he'd been unplaced in 1966 and 1968). Indeed, it was a race dominated by veterans, with Highland Wedding chased home by outsider Steel Bridge and thirteen-year-old Rondetto.
14 – GAY TRIP
A two-and-a-half mile specialist early in his career (dual Mackeson Gold Cup winner), Gay Trip coped surprisingly well with the demands of the National when winning impressively in 1970. A first-fence fall in 1971 proved to be a blip as Gay Trip returned to finish a fine second twelve months later, when he steered a much wider course than the lightly-weighted winner Well To Do.
15 – RED RUM
The greatest National performer in the race's long history, with a record of three wins (1973, 1974 & 1977) and two second places (1975 & 1976) from five successive appearances in the 1970s. Two of those victories came under top weight, his runaway success in 1974 arguably the high watermark in terms of form, though it's also worth noting that his final National appearance saw him end up with a higher Timeform rating than that season's Cheltenham Gold Cup winner.
16 – L'ESCARGOT
A quirky individual, L'Escargot nevertheless racked up plenty of notable achievements during his career. He was voted the 1969 American Champion Steeplechase Horse due to a transatlantic win, won back-to-back Cheltenham Gold Cups in the early-1970s and, having been placed in 1973 and 1974, finally lowered Red Rum's colours to win the 1975 National – he remains only the second horse to have won both the Gold Cup and National.
17 – RAG TRADE
A sometimes-clumsy jumper who changed yards several times, Rag Trade really clicked under the care of Fred Rimell in 1976, winning the Welsh National prior to lowering the colours of Red Rum (conceding him 12 lb) at Aintree. Struggled on his other National attempts in 1975 (last) and 1978 (pulled up), though.
18 – ALDANITI
Placed in both the Cheltenham Gold Cup and Scottish National in 1979, Aldaniti broke down so badly the following season that it was feared he'd never race again (jockey Bob Champion, of course, was also battling health issues at the same time). He returned better than ever to win the 1981 National, though got no further than the first twelve months later.
19 – GRITTAR
A former crack hunter chaser (whose wins included the 1981 Fox Hunters' at Aintree), Grittar made a very successful transition to the professional ranks, notably when winning an eventful renewal in 1982 in a fast time. Struggled to make the same impact in 1983 (fifth) and 1984 (tenth).
20 – CORBIERE
Jenny Pitman became the first female trainer to win the National when Corbiere (also winner of that season's Welsh National) gamely held off Greasepaint's strong late rally in 1983. Corbiere finished a fine third under big weights in the next two renewals and, following an uncharacteristic early fall in 1986, was past his best when only twelfth in 1987.
21 – WEST TIP
Arguably the best Grand National performer of the 1980s, West Tip looked the likely winner when falling at Becher's Brook on the second circuit in 1985. That proved to be just about the only jumping blemish out of the 172 fences West Tip tackled in six consecutive National appearances – he won this 1986 edition, was fourth the next two years and then finished a fine second in 1989.
22 – RHYME N' REASON
Name the only horse to fall and still win the National? Rhyme N' Reason can lay claim to this as he effectively fell at Becher's Brook on the first circuit in 1988, doing the splits on landing and sliding onto his belly. Jockey Brendan Powell somehow maintained the partnership and the pair gradually recovered that lost ground for a famous win, beating Durham Edition after a game late rally.
23 – MR FRISK
An unrelenting fast gallop on unseasonably firm going suited the bold-jumping front runner Mr Frisk down to the ground in 1990. After being left clear when fellow pace-setter Uncle Merlin departed at Becher's Brook on the second circuit, Mr Frisk held off a late challenge by Durham Edition, smashing the course record in the process. He was pulled up under more testing conditions in 1991.
24 - SEAGRAM
A small New Zealand-bred gelding, Seagram proved the party pooper in 1991 when his strong late rally deprived runner-up Garrison Savannah of a famous Cheltenham Gold Cup-Grand National double. Seagram was a smart and thoroughly genuine performer in his prime, though largely struggled after his Aintree win (failed to complete on both subsequent tries over the fences).
25 – PARTY POLITICS
Thought to be the tallest horse to win the National, Party Politics was a topical winner in the election year of 1992 and could well have dominated the race for several years but for wretched luck in 1993 (void race) and 1994 (missed season through injury). A fine second place at the age of eleven in 1995 gave a taste of what might have been (he was an early faller in 1996)
26 – ROUGH QUEST
Top-class chaser who exploited a lenient handicap mark hot on the heels of his second place in that year's Cheltenham Gold Cup to run out a smooth winner of the 1996 National. He failed to complete on his three other tries over the big fences, though, including heavy falls in the 1994 Topham and 1999 Fox Hunters'.
27 – RED MARAUDER
Smart chaser but not a good enough jumper for Aintree (early faller in 2000 National) and he owed his memorable 2001 win to some freak circumstances – a loose horse wiped out half the field at the first Canal Turn, whilst further carnage early on the final circuit meant there were just two runners left by the twentieth! Red Marauder ran out a wide-margin winner despite several further hairy leaps.
28 – MONTY'S PASS
Smart chaser who took very well to the big Aintree fences, finishing runner-up in the Topham twelve months before his career-defining win in the 2003 National. An honourable fourth under a big weight followed in 2004, whilst he was past his best when down the field in 2005 (his final race).
29 – AMBERLEIGH HOUSE
Supplied Red Rum's trainer Ginger McCain with a record-equalling fourth National win in 2004, finishing with a flourish to overhaul old rival Clan Royal, who had proved wayward early on the run-in. Had numerous other good efforts to his name over the big fences, notably his win the 2001 Becher Chase and third in the 2003 National.
30 – HEDGEHUNTER
Proved a natural over the National course, his last-fence fall in 2004 down to exhaustion more than anything else. Ruby Walsh took over in the saddle thereafter, steering him to an impressive win in 2005 and fine second place under top weight in 2006 (runner-up in Cheltenham Gold Cup in between). Also completed the course when past his prime in 2007 and 2008.
31 – SILVER BIRCH
Put Gordon Elliott on the map when winning the 2007 National, though he already had a win to his name over the famous Aintree fences by that stage, having landed the 2004 Becher Chase when with Paul Nicholls. Fell at famous obstacles when tackling the National in 2006 (Chair) and 2009 (Becher's Brook), though.
32 – COMPLY OR DIE
Very smart chaser whose two career-best efforts both came at Aintree, namely when winning the 2008 National (from Irish raiders Kings John Castle and Snowy Morning) and then his fine second under a big weight twelve months later. Past his prime when making little impact in the 2010 and 2011 editions.
33 – MON MOME
Mon Mome is one of only five 100/1 winners in National history, although those odds were rather misleading as he'd been sent off favourite for the Welsh National merely months earlier and there was no fluke about his twelve-length win in 2009. His other Aintree efforts were less inspiring, however, finishing down the field in 2008 before failing to complete in 2010 and 2011.
34 – DON'T PUSH IT
Ended Tony McCoy's long wait for Grand National glory in 2010, which meant the achievements of Don't Push It got rather overlooked in the resulting blanket media coverage. In fact, Don't Push It was one of the best post-war National winners, a view which was backed up by his fine third under top weight twelve months later.
35 – BALLABRIGGS
Donald McCain, the son of Red Rum's trainer, made his own piece of National history when saddling Ballabriggs to win the 2011 renewal. A big and strong gelding, Ballabriggs had been a prolific winner until then and seemed set to carry on in a similar vein but never won another race, managing only sixth in 2012 and failing to complete on two further tries over the big fences.
36 – NEPTUNE COLLONGES
Multiple champion trainer Paul Nicolls recorded his sole National win when 33/1-shot Neptune Collonges claimed a last-gasp success in 2012. The grey wasn't a conventional outsider as he'd been a top-class chaser in his younger days, making the frame in two Cheltenham Gold Cups, and his Aintree defeat of Sunnyhillboy represented a similar level of form.
37 – MANY CLOUDS
One of the classiest National winners, Many Clouds produced a sure-footed display when winning in 2015, showing his usual display of guts and stamina to hang on. A breathing problem was cited for his flop in 2016, but he looked better than ever when being readied for the 2017 edition only to tragically die after winning the Cotswold Chase at Cheltenham.
38 – RULE THE WORLD
Was still a maiden chaser when springing a 33/1 surprise in the 2016 National, though that doesn't tell the whole story as Rule The World had looked an exciting Grade 1 prospect during his younger days over hurdles. Injury setbacks (he twice fractured his pelvis) got in the way of that and, given that backdrop, connections opted to retire him soon after his Aintree win.
39 – ONE FOR ARTHUR
Bucked the recent trend when coming from well off the pace to land the 2017 National, staying on strongly to beat Cause of Causes by four and a half lengths. Those hold-up tactics haven't worked so well on his other tries over the big fences, including when sixth in 2019 National (he's also finished a never-nearer fifth in two Becher Chases).
40 – TIGER ROLL
Became the first back-to-back National winner since Red Rum when landing the 2019 renewal and, as with his legendary predecessor, showed top-class form in doing so. His prowess over the cross-country course at Cheltenham (two wins) suggests he'd have held his own in most eras of National history.

Grand National 2021 News
Find out all the information about the runners and riders in the 2021 Grand National