Jersey Stakes 2020 Racecard
The Jersey Stakes is a Group 3 flat horse race in Great Britain open to three-year-old horses. It is run at Ascot over a distance of 7 furlongs (1,408 metres), and it takes place each year in June on the third day of Royal Ascot (Thursday).
2:25
Thursday 18 June
Distance: 7f 0y Age: 3yo O Prize: £60000 Going: Soft
Analyst's Verdict
MOLATHAM had excuses in the Autumn Stakes at Newmarket on his final start and the form of his listed win at Doncaster prior to that reads very well. He remains a very smart prospect and is narrowly preferred to King Leonidas, who looked a pattern performer in the making on his comeback at Newmarket. Monarch of Egypt, Celestin and Final Song also need considering back down in class.
The race was established when a three-year cycle of races called the Triennial Stakes was discontinued shortly after World War I. The Triennial Stakes had comprised a race for two-year-olds over 5 furlongs, a race for three-year-olds over 7 furlongs, and a race for four-year-olds over 2 miles and horses would return each year to compete over the increasing distances.
The Jersey Stakes replaced the second leg of the Triennial Stakes in 1919, and was named after the 4th Earl of Jersey, who served as the Master of the Buckhounds in the late eighteenth century.
The race is now run on the final day of the five-day Royal Ascot meeting (Saturday).
No trainer has trained more winners of the Jersey Stakes than Sir Michael Stoute, who has six winners to his name, Etienne Gerard (1977), Hard Fought (1980), Zilzal (1989), Among Men (1997), Jeremy (2006), and Expert Eye (2018).
Sir Gordon Richards: Rattlin the Reefer (1929), Medieval Knight (1934), Theft (1935), Cave Man (1938), Nebuchadnezzar (1947), Rhinehart (1953), and the great Lester Piggott: Favorita (1961), The Creditor (1963), Young Christopher (1964), Gay Fandango (1975), Hard Fought (1980), Rasa Penang (1981) are the joint leading jockeys in the race with six wins each.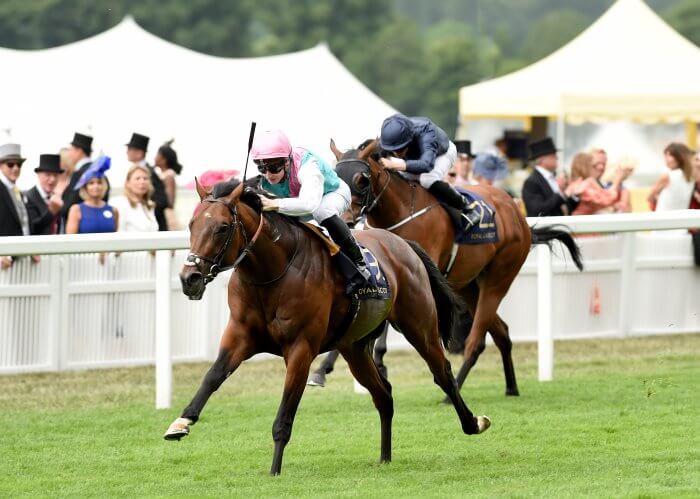 Jersey Stakes 2020 FAQs
What distance is the Jersey Stakes?

7 furlongs
What day of the Royal Ascot meeting is it on?

Thursday
What time is the Jersey Stakes?

14:25
What weights are carried in the Jersey Stakes?

9 st 1 lb. 5 lb penalty for Group 1 and Group 2 winners. 3 lb penalty for Group 3 winners
What is the purse for the Jersey Stakes?

£60,000 (2020)
Who is the leading jockey in the Jersey Stakes*?

Sir Gordon Richards (6) & Lester Piggott (6)
Who is the leading trainer in the Jersey Stakes*?

Sir Michael Stoute, with six wins
Who won the Jersey Stakes?

You can check out our Jersey Stakes results page here to see a List of previous winners.