Race Passes are the ultimate form guide, providing Timeform analysis, Flags and ratings for every runner in every race in Britain and Ireland.
Enjoy the flexibility of race-by-race purchases, or bring the cost down to the equivalent of just a few pence per race by subscribing.
Subscribers have access to additional features that add extra levels of insight, including complete performance histories, an extensive form archive and unlimited use of the Horse Search facility.
Subscribe below or Contact us to find out how you could save £135 per year by paying by Direct Debit.
Daily rate shown is equivalent price. Subscriptions must be paid in full at time of purchase. Timed access begins at the time of purchase unless a valid order is already in progress, in which case the new purchase takes effect immediately following the end of the existing one.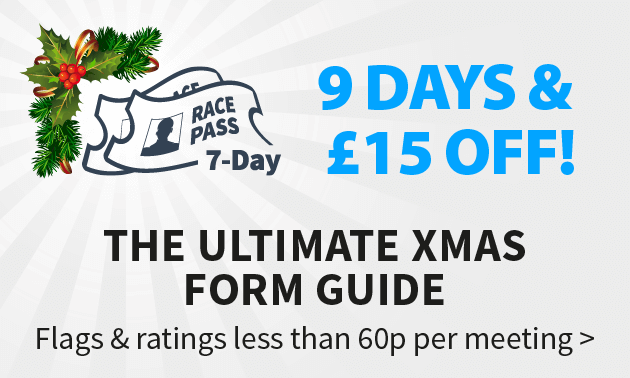 Cover all of the festive racing with our special offer on 7-Day Race Passes. First we're extending passes to 9 days – a great deal whether you buy before or after the racing break. Then we're reducing the price by 37%. That's £15 off! You could get Timeform data for less than 60p per meeting.
STARTS FRIDAY 22ND DECEMBER 10AM
*Offer valid from 10am Friday 22nd December to 10am Friday 29th December. One offer purchase per customer and per household only during the period stated. Additional subscriptions purchased in error will be cancelled and credit refunded as appropriate.