The action came at you thick and fast if you were a British racing enthusiast on so-called Super Saturday.
In one, crazy, 90-minute period there were the John Smith's Cup and a Listed race at York, the Group 2 Summer Mile at Ascot, and the Bunbury Cup, the Group 2 Superlative Stakes and the Group 1 July Cup at Newmarket, not to mention several lesser events elsewhere.
The action in the last-named race could have been expected to be fast and furious, too, but that was true only late on.
This was very much a race of two halves, and that is important to understanding what went on and why the overall time of this year's race of 1m 11.25s was so slow in relative and historical terms. The Timeform timefigure is unlikely to be anywhere near the kind usually associated with top sprinters.
Here are the sectionals for the race, derived manually in the continued absence of funding from British racing to provide official ones on even its flagship occasions.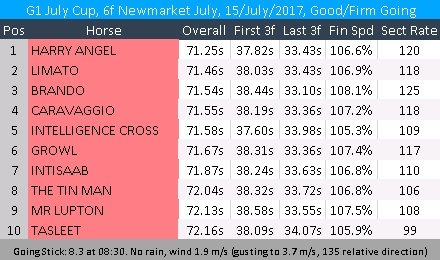 The second half of this year's July Cup was a good deal quicker than the first half, with the resulting finishing speeds (average speed in the closing stages compared to average speed for the race overall) well above 100%. Limato had won the race 12 months earlier in a quick overall time and with a 35.62s first half and 34.35s second half, resulting in a near-perfect 101.9% finishing speed.
This year's race was much more tactical, with a steady pace early and a flat-out sprint after halfway. Very few horses break 34.0s for the last 3f at Newmarket under any circumstances: all bar last-placed Tasleet managed that in this race.
As such, a prominent position at halfway will have been an advantage, all other things being equal, and the winner Harry Angel had a prominent position while some of his rivals did not. Then again, he won by a clear-cut margin for a sprint race, so did it really matter all that much?
In order to unravel the race from a sectional point of view, it is necessary to compare those (fast) finishing speeds with par for the course and distance and to upgrade individual performances according to how near to optimum efficiency they were. This process is described at length in the free-to-download Sectional Timing: An Introduction by Timeform.
The proximity of 100/1 chance Intelligence Cross immediately becomes easy to explain, for he was most favoured by the run of the race having led for a long way at nothing like the "solid pace" some have suggested elsewhere.
Harry Angel, Limato and Caravaggio all get major upgrades, but the horse with the biggest upgrade of all is third-placed Brando, who had a near-impossible task from a position in rear for much of the way.
Brando's calculated last 3f of 33.10s (40.8 mph) is the fastest at the track in the entire Timeform Sectional Archive, and it suggests he might well have been unlucky on the day. Watch the race back, with the preceding in mind, and see if you concur.
That said, Harry Angel had not needed the run of the race to smash the clock at Haydock in May and run the fastest timefigure of the season so far of 127, and Limato posted a 126 timefigure when winning this race in 2016. Both of them can run faster than they did here, in other words: this looks a missed opportunity for Brando.
Harry Angel is very fast, even as top sprinters go, and a race like this – which tested out-and-out speed and good jockeyship/positioning – played out perfectly for him.
Caravaggio, meanwhile, looks one for whom a good pace at 6f is required, or possibly a step up in distance. His finishing sectional is fast, but not a lot happened with him until the final 1f, which Brando ran faster (almost certainly under 11.0s) in any case.
You will notice some wind and related details at the foot of the race, courtesy of Newmarket's go-ahead Clerk of The Course Michael Prosser, who provided a superb racing surface and communicated extensively with the public through the media over the three days.
Those details (including wind direction, with 180 degrees being a tailwind, 90 degrees and 270 degrees being side-on from right and left respectively, and 0 degrees being a headwind) are from a nearby location at the time the race was run and make for ready comparison with those for the other major 6f races earlier in the meeting.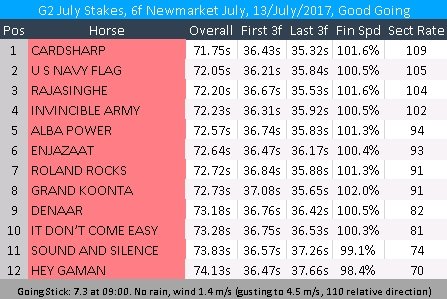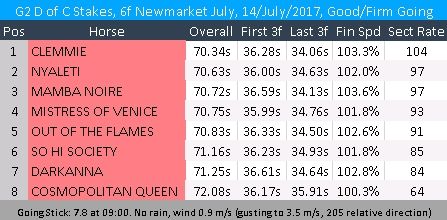 Every horse in the July Stakes and the Duchess of Cambridge Stakes ran the first half of Newmarket's 6f faster than every horse in the July Cup, and all of them were juveniles!
Clemmie managed to run quite a bit faster overall than did Harry Angel 24 hours later, but that also serves to underline the effect a significant tailwind had on times on Friday. She broke the juvenile track record but did not run especially fast compared to other winners on the day (notably the nursery winner Tangled).
They went a fair pace, rather than a strong pace, in Clemmie's race, and the principals came home slightly quicker than par. The best filly won on the day, though Nyaleti seemed not to be in quite the same form as she had been at Royal Ascot.
What you see is also largely what you get with the July Stakes, which took place on the opening day. Cardsharp's win might have been rather unexpected, but sectionals suggest it was merited. This time, Rajasinghe seemed not quite as effective as he had been the time before: Newmarket's July Course is somewhat easier than Ascot.
The other Group 1 was the Falmouth Stakes on Friday, a weak race of its standing.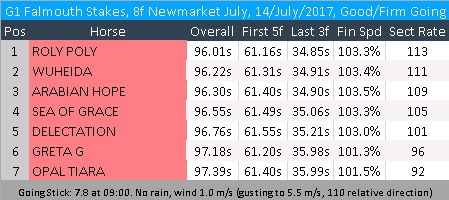 Plenty was made at the time of a good ride by Ryan Moore on winner Roly Poly, with some justification. But Roly Poly ran faster than all of her rivals both early and late, and superior ability rather than making the running was the crucial difference.
The majority of races across the three days at Newmarket went to the "right" horse once sectional upgrading is taken into account.
The possible exceptions are: the Bahrain Trophy on the opening day, in which Sofia's Rock paid for doing plenty up front; the Princess of Wales's Stakes on the same day, when Frontiersman "did well" to run Hawkbill close in a tactical race (while looking an unreliable proposition); the 5f handicap on that day, when runner-up Top Boy got going a bit too late; the first division of the 7f 2yo maiden on Friday, when both Doswell and Dukhan ran better sectionals than winner Being There; and, of course, the July Cup itself, in which Brando particularly shone in sectional terms.
Full details can be found in Timeform's unique Sectional Archive, covering each runner in nearly all flat races in Britain and Ireland. There is no need to leave the basic facts of the matter to guesswork.
Read the July Festival Ratings Update