Despite being in the age of big data, analysing two-year-olds provides challenging and unique problems. These generally arise from the fact we sometimes only have tiny data, in the form of a couple of performances, from which we have to estimate a horse's ability and chances. This is no more apparent than at Royal Ascot, where the majority have raced only a couple of times, but have shown themselves to have potential.
We can, of course, use data from previous seasons performances by two-year-olds to help us get a clearer picture of this year's crop - which is something this post is going to try to do. Using the last nine seasons of two-year-old performances (UK/Ire only) up until the end of Royal Ascot (for each season), we'll look at what it takes to win at the Royal meeting, what improvement we can expect from previous performances, as well as the leading trainers (the usual suspects) to look out for.
First, it makes sense to visualise previous winners at Royal Ascot; splitting Listed races from Group races, it shows Lady Aurelia's 127 performance in the Queen Mary well clear of the next best performances. These two performances both came in the Coventry, and were by War Command (120) and Dawn Approach (119), in 2012 and 2013 respectively. Meanwhile, Frederick Engels' 115 performance in the Windsor Castle rates as the highest performance in Listed races.

The following visualisation shows the distribution of peak performances prior to Royal Ascot by the winners in the plot above, as well as every other runner; the deeper the red, the greater the number of horses who recorded this peak performance. As you'd expect, Royal Ascot winners had typically run to a higher peak performance, however there is still a fair amount of overlap between the two groups, virtue of the fact there are 950 horses running in just 54 races. The vertical line shows the average rating (108.8) for winners of Group races, which highlights (if it needed highlighting), that Royal Ascot winners will – more often than not – need to improve on what they've done previously.

There were only five horses over the past nine seasons who had previously recorded a performance greater than the average winning rating in Group races. These included a trio of Coventry Stakes winners - Caravaggio (115 prior to Ascot), Dawn Approach (110) and Buratino (109) - as well as a couple who were beaten at Ascot, Shumoos (109) and Sir Prancealot (109). The lowest peak rating prior to winning at Royal Ascot was Richard Pankhurst who finished fourth on debut, running to 76, before winning the Chesham.
While there aren't any two-year-olds in 2019 who have reached the level to win an average Group race at Ascot - Visinari's debut win at Newmarket (106) ranking as the best performance this year – but the majority are obviously open to improvement. A few are still worth mentioning here, though, as while they've not got a performance in the bank at the required level, their times and sectionals suggest they could be capable of such an effort.
Spartan Fighter and A'Ali fought out the finish at Ripon in early June, each recording a fast timefigure (103), which looks even more outstanding when looking at their closing three furlongs, with both horses warranting significant upgrades. Ger Lyons' Siskin isn't a certain runner at Ascot, but his performance in the Marble Hill Stakes at the Curragh saw him record a good time with fast closing sectionals.
When we lack data about individual horses and their ability, as we do with two-year-olds, we should try to inform and support our opinions by utilising other data. For lightly-raced horses, this typically involves pedigree analysis, which can help with estimating the potential ability of the horse, and we can also look at trainers. The visualisation below shows the average performance rating for trainers' two-year-olds at Royal Ascot (minimum of 14 runners, so as to include John Gosden who has had a surprisingly small number of juvenile runners there), as well as the inter-quartile range, which shows the ratings to which 50% of their runners have run to.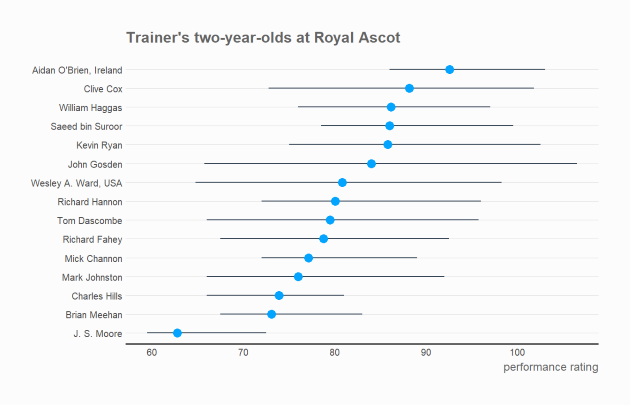 There should be no surprises, with Aidan O'Brien top of the pile, though his dominance over the rest is not as pronounced as it is later in the season, with 50% of his two-year-olds running to ratings between 86 and 103. Gosden has only sent 14 horses to Royal Ascot, but it's usually pretty significant when he does, with five winning. Wesley Ward's average is perhaps not as high as many might have expected. Despite having a number of high profile two-year-old winners, including Lady Aurelia (127), Acapulco (116), Hootenanny (111) and No Nay Never (109), a good number have failed to fire, pulling his average down.
The other important thing to remember is that horses are more than likely going to have to improve, if they're to win at Royal Ascot, which is another area that requires us to analyse trainers. There are, however, a couple of things that we need to consider. If we simply split every horse's performances into two groups, pre-Ascot and Ascot, and establish the difference between their peak ratings achieved within each group, the majority of trainers would see negative improvement - it's far easier to run poorly than run well.
Instead, we should try to first estimate how likely we are to see improvement given the horse's previous performances. The visualisation below shows a simple model analysing debutants that should be quite intuitive to interpret - those debutants whose performance is towards the lower end are more likely to improve (though not always) on their next start, while those that run to higher ratings on debut are slightly less likely to find improvement on their next start.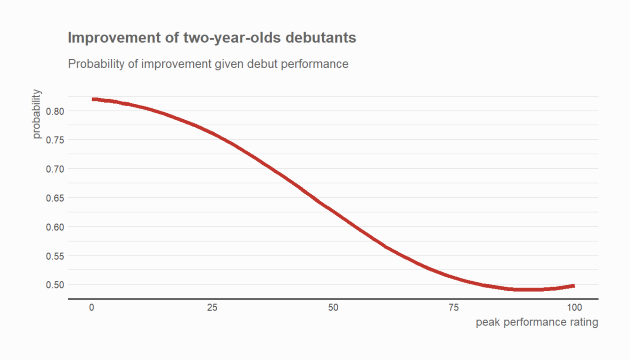 The model estimates that the probability of a horse improving from a debut rating of 50 in its first two starts is roughly 0.626 (or 63%), while the probability of a horse improving from a debut rating of 75 is just 0.511. Using this model, which looks at all horses, as a baseline, we can then establish which trainers are more likely to improve their horses on their next start, similar will apply for horses having their third start at Ascot.
This is done below for a select number of trainers from the visualisation above; it shows the same curve estimating the likelihood of improvement as above, but also whether a trainer's debutant is more likely to improve (green) than the baseline given their debut performance, or less likely to improve (red).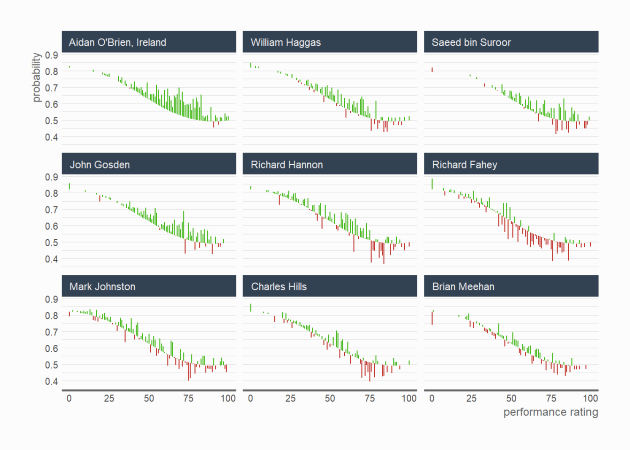 The visualisation confirms that Aidan O'Brien two-year-olds are more likely to improve compared to the baseline model (which can be thought of as the average trainer), almost regardless of their debut performance. We are dealing with small samples when looking at individual performance ratings, so patterns are worth looking for – John Gosden is similar in that his two-year-old debutants are more likely to improve. At the other end of the spectrum, Richard Fahey's two-year-olds who run to ratings between 50 and 80, and Richard Hannon's two-year-olds who run to 75 or more on debut, are less likely to improve compared to the baseline model.