Monday saw the welcome return of TurfTrax electronic sectional times at Lingfield, an initiative backed by the course's owners, Arena Racing Company, and the British Horseracing Grant Scheme. Sectionals will be provided at the track through to All-Weather Finals Day on April 3 and will hopefully soon be reinstated as a live feature of broadcasts on At The Races racing channel.
The full figures can be accessed here: http://www.turftrax.co.uk/tracking.asp?t=lingfieldAWT2014_2015
These Sectional Debriefs will, for the time being, concentrate on racing at the track while picking up any particularly noteworthy efforts that take place elsewhere.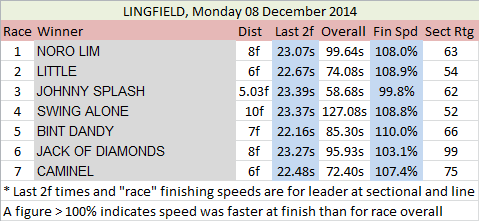 Even a cursory glance at the headline figures shows that a surprisingly large number of the races were steadily-run and resulted in quick finishes, as indicated by all but two of those finishing speeds being well in excess of 100%.
The exceptions were the races won by Johnny Splash and by Jack of Diamonds. The former resulted in an unexceptional overall time for a five-furlong contest run on a surface a bit quicker than standard, with a few of those further back suffering a bit as a result of the competitive early pace, but the latter stands out as a good time for the grade.
Jack of Diamonds was in no sense flattered in coming from behind, his individual last-two-furlong sectional of 22.61s (106.1% finishing speed compared to average race speed) earning him the biggest sectional upgrade in the field.
As the saying goes, "the best place to be in a slowly-run race is on the back of a sprinter". It might be added that the sprinter needs to have conserved its energy by settling as well, and only given those prerequisites is a position near the front the advantage it is often imagined to be.
The first three in the opener occupied the first three positions throughout, with all of them breaking 11 seconds for the sectional from three furlongs out to two furlongs out. It was actually fifth-placed Down To Earth who ran fastest from there (23.00s), and overall the form looks neither especially reliable nor especially good.
Two of the later winners went even better and broke 22 seconds for the last two furlongs – Bint Dandy running 21.93s and Caminel 21.80s – something which does not happen especially often here. Caminel seemed to do remarkably well to run down her rivals having got outpaced on the home turn (ran third-last furlong slowest in entire field) but has been less than reliable to date.
Suspect form or not, sectional analysis suggests the various winners were best in their respective races, with one exception. Swing Alone might have been a shade fortunate to hold off Brocklebank in a tactical affair for the 10-furlong handicap, having quickened best from three furlongs out to two furlongs out then been fourth-fastest and second-fastest for the remaining two furlongs. He could well be vulnerable off a higher mark next time.
To oppose: Swing Alone
Tried My Timeform yet? You can add detailed notes, keep your eye-catchers organised and decide when you receive e-mail alerts when your horses run. And best of all, it's FREE! Find out more