A new QIPCO-sponsored British Champion Series and a new Stobart-sponsored British Flat jockeys' championship got under way at Newmarket on Saturday. As grand beginnings go, 2000 Guineas Day at Newmarket and the first classic of the year itself are pretty grand. In Gleneagles, the latest 2000 Guineas looks to have produced an up-to-scratch winner.
The going was officially "good to firm", though times were slower than might be expected. A headwind will have made some difference, but it seems as if watering did to no small degree, too.
For the second year running, the field in the big race split into two groups and sectional times can help us to make better sense of what went on. The times quoted below are derived from the electronic ones provided by TurfTrax. Individual furlong-by-furlong times can be found here.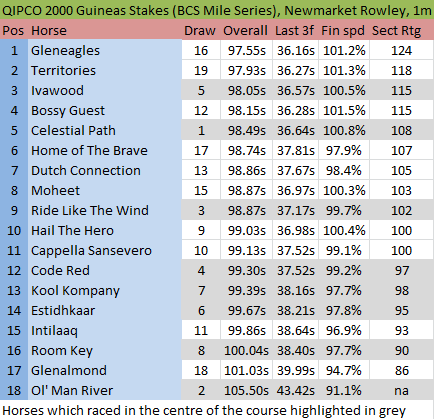 Overall, the 2000 Guineas was a remarkably truly-run race. The finishing speeds (of the last three furlongs compared to speed in race overall) of the principals were all quite close to the 99.7% par. Sixth-placed Home of The Brave paid slightly for forcing things and gets upgraded the most, but not enough to make a significant difference to his position.
Gleneagles himself came home in 36.16s (101.2% finishing speed), 24.58s (99.2%) and 12.97s (94.0%) for the last three, two and one furlongs respectively. This is only fractionally quicker than par and is remarkably similar to the figures posted in the race in 2001 by Golan (comparisons with selected past Guineas winners can be found on page 32 of the free-to-download "Sectional Timing: An Introduction by Timeform"
Gleneagles registered a good overall time and gets upgraded slightly on it for the speed of his finish. On the face of it, the result is a fair one and he was a thoroughly deserving winner. However, there was one complicating factor in this year's 2000 Guineas result, and that is that horses drawn 8 or less raced towards the centre while those drawn higher raced separately and close to the stand rail.
Sectionals show that there was little between the two groups until halfway (median times for the two groups were less than 0.10s apart), but that the centre group came off worse thereafter. By the line, the median time for the stand group was 0.48s faster than the median time for the centre group.
This may, or may not, be evidence of a small but meaningful track bias of in the region of three lengths. Interestingly, if you reduce the centre-group's times by 0.48s, Ivawood would have been just a nose behind Gleneagles, though the latter gets upgraded by slightly more; it would also promote Celestial Path one position from sixth.
Gleneagles looks a solid, but not exceptional, 2000 Guineas winner, and one who may have more to come. But, just to be sure, it would be good to see a rematch between him and Ivawood, and with perhaps an on-song Estidhkaar thrown in for good measure.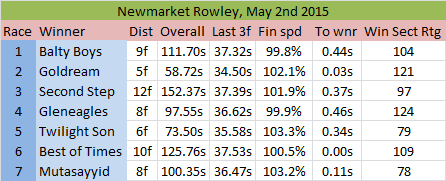 Some of the other overall times on the day were disappointing and not totally excused on the grounds of the run of the race.
The most notable exception was the win of Goldream in the Pearl Bloodstock Palace House Stakes. The six-year-old gelding ran fast from the outset (second furlong of 10.42s, or 43.2 mph, was fastest individual furlong on the card) and kept going well to record a good time. He is of proper Group calibre – of that there is no doubt – but still stiffer tasks presumably await him.
The overall time of the Dunaden at Overbury Jockey Club Stakes was a poor one, with sectionals confirming an uneven pace. Runner-up Telescope went for home after three furlongs out, putting in a 23.94s quarter of a mile, but could not sustain his effort on what was his seasonal return. Second Step was stronger when it mattered, and a 12.90s final furlong by him was actually slightly quicker than that posted by Gleneagles at half a mile shorter 40 minutes later.
The six-furlong handicap won by Twilight Son resulted in the fastest finish on the card (the winner ran just 12.18s for the concluding uphill furlong), and in that context third-placed Magical Memory deserves extra credit for coming from behind.