In-play betting is such a major feature of horseracing in Britain and Ireland in the modern era that it is easy to forget that it did not exist until relatively recently, while it still does not exist in plenty of other jurisdictions around the world.
The emergence of the internet, and especially the advent of high-speed connections, meant that betting on a race as it unfolds, with prices updated numerous times, became both possible and, to many, highly appealing.
In-play betting caught on quickly, especially on the Betfair Exchange. But it has plateaued since the days of its exponential growth, and the reasons behind that need to be acknowledged up front.
The difference between a high-speed connection and a super-high-speed connection may be measured in nanoseconds, but the latter can make the difference between getting to the front of the queue for a tasty price and being left high and dry.
However, it is as nothing compared to the difference between witnessing an event live, or nearly live, and witnessing it on a delay that may be several seconds or even more behind, as is the case with some broadcasts.
That potential asymmetry in information and technology has turned off some potential players in the market, as well as those who dabbled only to find they were the small fry swimming with sharks.
When striking an in-running bet, you should be aware that there could be (indeed, almost certainly will be) someone out there with access to faster pictures than you, a faster internet connection than you, or who is at the event itself, and you should act accordingly.
This does not invalidate the whole concept of in-running betting. But it does mean that you should seek to find other strengths to play to and exercise appropriate caution.
Those other strengths include: betting at junctures at which the aforementioned asymmetry is likely to count for less (if you bet a few strides before a fence then don't be amazed if someone else "anticipated" the leader's falling at it); utilising sectional times to establish whether horses are going too fast, too slow, or about right, before that may be clear to others; and doing extensive homework about not only individual horses but jockeys, courses and opposition as well.
The remainder of this module will concentrate on that last point. You would be mistaken if you thought that big in-running players merely leverage their timing and technological advantage without any consideration of such matters. But they are not necessarily going to know the idiosyncrasies of a horse, jockey, or course, better than you, if you are prepared to work at it.
One reason why in-running betting continues to be popular, and why there are still some very good bets to be struck in this area, is that most punters have a degree of risk-aversion and may aim to "insure" their bet along the way.
If your 10/1 shot comes up just short, it can be galling to realise that you could have laid off at odds on and guaranteed a profit come what may.
That may be a worthwhile strategy in any given circumstance, or it may prove to be a worthwhile strategy taken overall. But there is a distinct possibility of a good-value bet being insured by a bad-value bet, and one person's bad-value bet provides an opportunity for another person somewhere else.
"Knowing your horses" in this context specifically involves knowing if their run-style or other idiosyncrasies may mean that the market will offer them at good or bad value once the race is underway.
Some horses tend to flatter to deceive, while others have a habit of snatching victory from the jaws of defeat. Others may have unproven stamina or stamina in abundance. You can be sure that the in-play market will adjust for this, but possibly not immediately, and possibly not accurately, either.
In more general terms, a horse's run-style can be inferred from its Timeform Early Position Figures (graded from 1 for a front-runner through to 5 for a horse out the back) and in-play symbols.
The following summarises the performances of horses in 2015 whose most recent efforts also came in 2015 by those in-play symbols.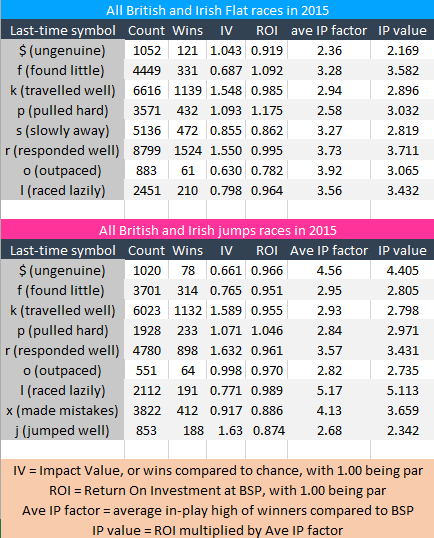 It can be seen, for instance, that horses which had travelled well (k) or responded well ( r), or both, on their most recent starts won more than one and a half times as often as chance (which is dictated by field size), whether that was Flat or jumps. However, such horses showed a slight loss in terms of return on investment at Betfair SP using level stakes.
More interestingly, with this in-play Timeform Knowledge module in mind, the latter category resulted in winners which averaged an in-play high which was quite a bit in advance of the former.
Last-time "travelled wells" – who are more likely to travel well again this time – averaged a high of just under three times their BSP in play when successful, while last-time "responded wells" averaged over three and a half times their BSP.
The in-play market tends to be seduced by sweet travellers more than grinders and finders to this day.
The "IP value" column – which multiplies ROI by this average in-play high – has last-time "responded wells" as the best proposition for backing in play on the Flat, but over jumps this category is surpassed by three others.
Interestingly, last-time "ungenuines" fare poorly in-play on the Flat but much better over jumps, where the market possibly overcompensates for their perceived "dogginess".
Punters cannot magically identify sure-fire in-play winners – let alone get on them at the highest possible price, of course – but the above serves as some sort of an illustration of which types of horses tend to go big in-running and still win, and which tend not to.
It should be remembered – in this, as in other things – that general information is nearly always trumped by specific information, where it exists.
Last-time "responded wells" may be attractive propositions on the Flat, taken overall, but "knowing your horses (and courses, and jockeys)" should be about being more discerning than that again.
A brief analysis of the effect of courses on in-play betting will appear in the Betfair version of this module.