The annual jamboree of the Cheltenham Festival is finally upon us, and, in amongst everything else, we should be prepared to be bombarded by facts, stats and trends, a few of which will prove useful.
The main problem with the prevailing treatment of such things is that they measure performance crudely – such as by wins only – and fail to contextualise findings in terms of what could be expected given opportunity.
This series of trends-based previews of big handicaps on each of the four days of Cheltenham will attempt to overcome that by looking at places as well as wins, and at % of rivals beaten as well as both, then comparing those to expectation.
First up is the Ultima Handicap Chase at 2:50 on Tuesday, for which 24 runners plus two reserves have been declared. A nice easy one to start with then!
The following are the key trends from the last 10 years, with higher figures in the last two columns being best.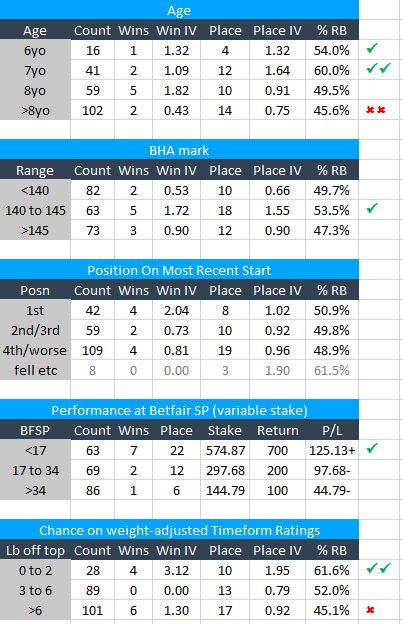 Youth is an advantage, but that would not be apparent by looking at winners only. Horses under the age of eight have provided only three of the last 10 winners, but they have also provided only 26% of the runners in that time. The figures are more impressive for places (40% from 26%) and % of rivals beaten.
There are no six-year-olds in Tuesday's race, but there are four seven-year-olds: Mister Whitaker, Crucial Role, Coo Star Sivola and Catamaran du Seuil.
There has been a positive return with shorter-priced horses (those under 17 Betfair SP, equivalent to 16/1), if not greatly. "Variable stake" is a stake to return 100 points, so proportional to a horse's odds and therefore less likely to be skewed by freak results.
There has also been a good performance from horses high up on Timeform weight-adjusted ratings. Hooray!
Other factors to consider include the current form of trainers – as measured by %RB in handicaps since January, with Nick Williams (Coo Star Sivola) on an eye-watering 77% and Paul Nicholls (Give Me A Copper) on 61% best – and the likely pace profile.
The latter could be an extreme scenario, with eight of the main field and one of the reserves having consolidated Timeform Early Position Figures of 2.2 or less, indicating habitual front-runners or pressers. The three miles and one furlong could take some getting on what is likely to be fairly soft ground, and hold-up horses could get a proper look-in if avoiding traffic along the way.
It is no great surprise to see Give Me A Copper as the early favourite given his stable's form and the promise of his last start, though he does lack experience and could get caught up in the battle up front.
Among those aforementioned seven-year-olds, all bar Catamaran du Seuil make appeal in some respects or other, with Mister Whitaker and Coo Star Sivola past winners at the Festival, which is something that has stood for plenty over the years.
Mister Whitaker won the Close Brothers Novices' Handicap Chase a year ago, is an assured jumper who has been performing creditably recently, and who is likely to be played late, though there is a doubt about his stamina for this longer trip. Coo Star Sivola won this race 12 months ago but has been as out of form since as his trainer has been in-form lately.
Crucial Role is a likeable type, who could still be well-treated off a BHA mark of 150, but he lacks experience in a race of this nature, which cannot be said of Mister Whitaker and Coo Star Sivola.
Given the negatives, as well as the undoubted positives, I see the last two as more win-only propositions than each-way propositions despite races like this mathematically favouring the latter.
Coo Star Sivola needs to run a whole lot better than he has been doing, but ticks all the boxes if he does, while Mister Whitaker needs to prove his stamina but could well have an ideal set-up otherwise.
Given the even bigger ifs and buts about the majority of their rivals, they will do for me.
Recommendations: 1 pt win MISTER WHITAKER at 17/2, 1 pt win COO STAR SIVOLA at 12/1