As impossible-to-solve 22-runner handicaps go, Saturday's William Hill-sponsored Portland Handicap has more angles in than most. Whether or not that means we will land on a winner or placed horse remains to be seen, but at least the battle seems less unequal than usual.
The best place to start is with an analysis of the effect of the draw from the past 10 renewals of the race, alongside a pace prediction, for it throws up some interesting findings.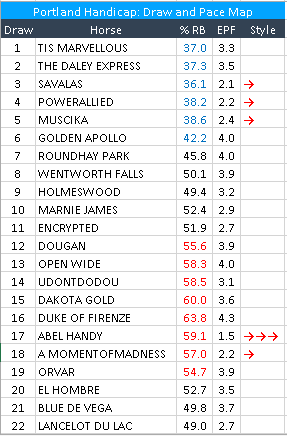 Those figures for % of rivals beaten are remarkably poor for those drawn right against the far side on this straight 5f and 143y and remarkably good for those drawn middle to high and quite close to the stand side. The reason for this is not entirely clear, but there you go.
It is also the case that there is surprisingly little pace in Saturday's race as judged by Timeform's unique Early Position Figures. Only one horse – Abel Handy (drawn 17) – has been a habitual front-runner, but a few others tend to press, including three among those low stalls.
There are also some thought-provoking "trends" in other areas, with Place Impact Value (factor by which horses in a given category have made the first four compared to chance) along with %RB being the most meaningful measures.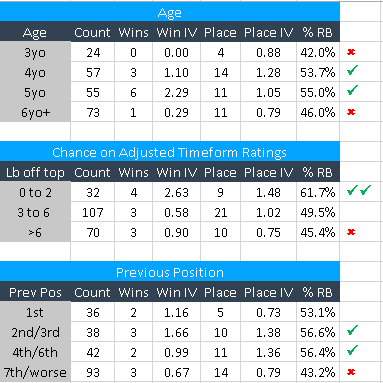 Four-year-olds and five-year-olds have done best by age-group, as have horses which finished second to sixth inclusive on their most recent starts, having run between three and five times in the season in question (no declared horse on Saturday has run less often than that), and with a good chance on Timeform weight-adjusted ratings.
That first finding is especially interesting given there are five three-year-olds in this year's Portland, more than double the 10-year average. Three-year-olds tend to do well in open-aged handicaps more widely, right through until around now, but much more so at longer distances than shorter.
For followers of "trainer form", Amanda Perrett (63%, Open Wide), Nigel Tinkler (60%, Roundhay Park) and Michael Dods (58%, Holmeswood and Dakota Gold) come out best in terms of %RB in handicaps in recent weeks.
After going through the runners' credentials more closely, I found myself particularly interested in those two Dods-trained four-year-olds, both of whom look like they could have a decent handicap in them before long.
But, while the talented if somewhat frustrating Holmeswood (neutrally drawn in stall 9) is an overwhelming favourite, Dakota Gold (better off in stall 15) is a double-figured price. That looks tempting.
Equally effective at 5f and 6f, Dakota Gold has turned in a couple of fine efforts in sizeable fields on his last two starts, second to Gunmetal in the Great St Wilfrid at Ripon then third off today's mark at Thirsk despite seeing more daylight than probably ideal.
In addition to being a well-drawn four-year-old, from an in-form yard and with a recent placed effort to his name, Dakota Gold has a good chance on Timeform form ratings and an even better one on timefigures.
He goes off the same mark as at Thirsk, 1 lower than at Ripon, and fully 6 lower than when placed twice at this time last year. He seems as good as ever, and there is plenty to like.
It is also the case that the Portland is an attractive race to tackle from an each-way point of view: the win book is 126% but the place book is just 104% per-place at early prices, and the latter may be improved upon if shopping around.
The others I thought should be towards the front of the market are Golden Apollo (though his draw may not be ideal), last-time winners Orvar and Encrypted, Blue de Vega and the aforementioned Holmeswood.
But Dakota Gold looks more over-priced than those and is the sole selection as a result.
Recommendation:
1 pt e/w DAKOTA GOLD at 12/1, one quarter the odds first 4 places