There have been mutterings about field sizes at Doncaster this week, with over three quarters of the races across the four days attracting fewer than 10 runners.
Countless races over the years have shown that you do not need big fields to make for exciting racing, or intriguing betting, but the "more is more" brigade are at least indulged on Saturday, when the Portland Handicap has a maximum field of 22.
Such a long-established race – Wikipedia claims it was first run in 1855 – lends itself to trends analysis, as well as more conventional forms of enquiry, and between them I think they help quite a bit in narrowing down the options.
Perhaps most impressive of all are the figures relating to draw bias in the last 10 years, which can be viewed alongside pace (as measured by Timefom's unique Early Position Figures). The % of rivals beaten figure is for that stall and the stalls on either side, but only after the draw had been recoded for non-runners.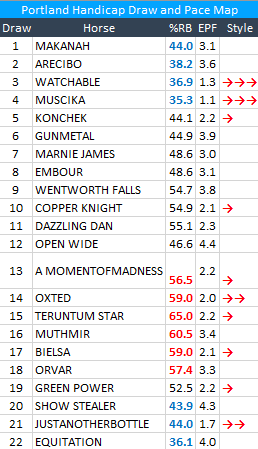 It is not clear precisely why, but there has been a substantial bias in this race over the years, in favour of those drawn middle-to-high and against those on either flank (especially those drawn low). Stalls 14 to 17 have been best of all, but the advantage bleeds over into nearby stalls.
Against that, there is at least plenty of pace in the lower stalls this year, but there looks to be plenty of pace overall. Timeform's pace prediction is the seldom-seen "extreme". Trying to pick your way through from the rear past numerous rivals comes with its own problems, but a fair few of those rivals could be emptying late on judged on run styles.
Trends throw up some interesting findings also, with impact values being the factor by which horses in a specified group placed or won compared to chance.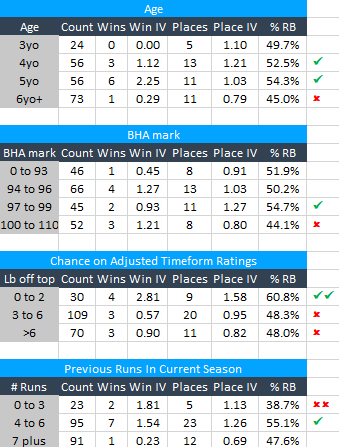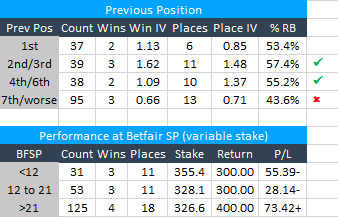 There is not a huge age bias, though four-year-olds and five-year-olds have between them been responsible for nine of the last 10 winners. A BHA mark in the middle-to-high range has overperformed in the same period, but by only a bit.
"Number of runs in current season" suggests there is something of a trade-off between becoming jaded through too much racing and having too little in the way of experience. Bielsa, the ante-post favourite (and nicely drawn in stall 17), is the only one to fall foul of the latter, having had just three runs in all and two this year.
Interestingly, a creditable run – finishing between second and sixth – on a horse's most recent start has been more positive than a winning one (the opposite would usually be the case in handicaps).
Performance at Betfair SP shows that there has been little between favourites, outsiders and in-betweeners in terms of profitability over the last decade.
However, those figures for "chance on Timeform Ratings" are worth noting: four of the last 10 winners have come from the small cohort that is within 2 lb of top-rated, and they have beaten more than 60% of their rivals (where 50% is par).

Timeform give last year's winner, A Momentofmadness, a good chance of following up, and it is easy to see why. He is 4 lb lower than he was 12 months ago, and showed clear signs of a return to his best when beaten little more than a length into sixth of 22 by the flying Dakota Gold at York last time, having mixed it with the winner for a long way.
If he is back to where he was this time last year, and if he avoids getting dragged into a dogfight with pace-forcers, then he must be there or thereabouts: he is one for the shortlist.
The other is Open Wide, who fails to fit the trends in having had a lot of racing, but who shapes up well in other crucial respects.
Even more to the point, he is a hold-up merchant, who does well in races like this in which a strong early pace allows him to come through at the business end, and he is in the form of his life at present.
Open Wide had a Timeform squiggle – denoting unreliability – until fairly recently, and he does take some finessing. He has won only once in each of his active seasons – this year's was at Windsor in June – but he has shown an aptitude for getting placed, even when circumstances are less favourable than here.
The shape of this race lends itself to each-way betting – with the per-place book better for punters than the win-only book – but the smart thing to do, given the horses' profiles, may be to side with A Momentofmadness for the win and Open Wide each-way. That is the recommendation, anyway.
Recommendation: 1 pt win A MOMENTOFMADNESS at 12/1, 0.5 pt e/w OPEN WIDE at 16/1