What used to be known as "Timeform Charity Day" – the Saturday at York before Royal Ascot – was once a red-letter day for employees of the form organisation on whose pages this preview is being read.
While charitable gestures were very publicly being made by the top brass elsewhere at York, "the workers" needed no second invitation to engage in the kind of excess that might make a Roman emperor blush. Yet, somehow, everyone made it onto the coach in time to return to Halifax for more of the same.
In one famous year, everyone – from editorial to the typing pool (a thing back then), to the printing works (ditto) – lumped on Sheikh Albadou at fancy prices for the big 6f three-year-old handicap and roared the colt home like the good thing he indeed was.
Everyone, that is, other than the jumps handicapper at the time (me), who had inexplicably missed the memo, and who may have been the only one not drinking champagne on the return journey.
It is most unlikely that there is a future Nunthorpe Stakes, King's Stand Stakes, Sprint Cup and Breeders' Cup Sprint winner in Saturday's equivalent race, but there are certainly plenty of promising types and the race looks rather more difficult to crack than was the case in 1991.
The first thing worth looking at is the likely effect of the pace and the draw.
For this, I established the % of rivals beaten for each stall and for the stall on either side in the last 10 editions of this race (%RB1 column), as well as the same for the last 10 six-furlong handicaps of 10 runners or more at the course on ground softer than good (%RB2 column). The forecast ground at York is "good to soft".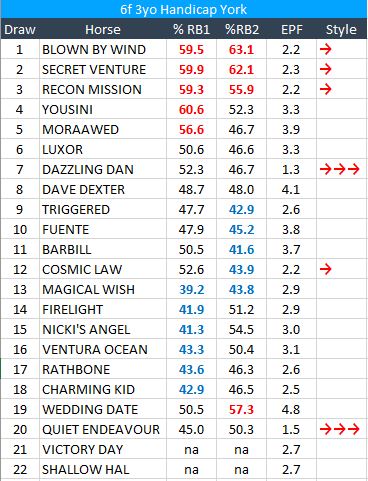 The apparent effect is similar in both cases: lowly drawn horses have been favoured, while a disadvantage in being drawn high moves to a disadvantage in being drawn in the middle when the ground turns soft. All of that was news to me.
The likely pace, as predicted by consolidated Timeform Early Position Figures, could prove less frenetic than you might expect for a race of this type, but there looks to be more of it low than elsewhere, also.
It is worth looking at more conventional "trends" from the last decade of this race, though I struggled to find much of consequence.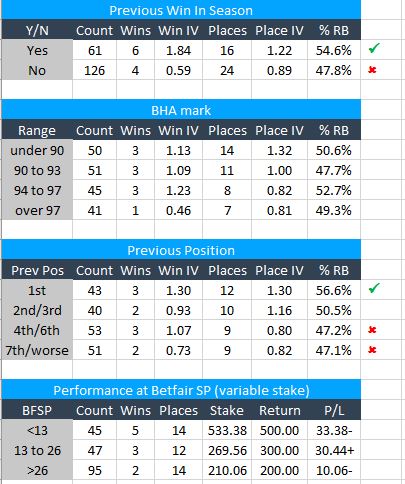 A win in the season in question, not least on a horse's most recent start, can be considered a positive. There was no real difference in weight range (or BHA mark, not shown), and fancied horses, outsiders, and whatever we call those that are neither, have performed much as you would expect.
We can also consider "trainer form" as measured by the % of rivals beaten in handicaps since the beginning of May of trainers with runners in Saturday's race. Pam Sly (79.4%, Dazzling Dan) and Roger Varian (70.9%, Moraawed) are well clear, though the former involves a sample of just nine runners.
Dazzling Dan and Moraawed come from a key race with regards to this one, the Betway Handicap at Newmarket on 18 May, when Dazzling Dan won and Moraawed was fourth.
On just 4 lb worse terms for about two and a half lengths, the former "should" confirm placings here, but it is not quite that simple. Dazzling Dan was up with the pace throughout that day, whereas Moraawed was the only one of the first seven home still in the second half of the field at halfway.
Sectionals show that there was not a huge pace bias, but Moraawed deserves to be rated closer, not least because the undulations at Newmarket seemed to count against him when he attempted to make up ground.
York is as flat as the proverbial, and Moraawed additionally has blinkers on here for the first time to counteract any laziness early on. He is nicely drawn in stall 5, with pace to aim at immediately on either side of him.
There is plenty to like about Moraawed, and about Dazzling Dan and one or two others, to be fair. This is a decent race mathematically for an each-way bet, especially if you can secure an additional place and/or there are a few (but not much more than a few) non-runners.
The advice is to side with the Roger Varian-trained gelding in that market.
Recommendation: 1 pt e/w Moraawed at 8/1, one quarter the odds first four places