What could be more quintessentially English than a summer's afternoon at a race meeting backed by a major local brewery, with many of the smartly-attired crowd sampling the sponsor's product to an immoderate degree, and perhaps a fracas or two to round things off?
John Smith's Cup Day at York in mid-July has been a staple of the Northern racing scene for many years, during which time it has become associated with much good-quality sport as well as those occasional drunken scuffles.
Saturday's renewal has to be one of the best in recent years, with several possible improvers among the field of 20 useful-or-better performers, plus two reserves. The revelry can wait until the weekend: for now, we need to take a sober and considered look at the evidence.
As usual, I considered some of the trends and other effects in recent years – the last nine in this instance, as the 2007 edition was at a shorter distance – using Impact Values (success expressed as a factor of chance) and % of Rivals Beaten, alongside more conventional measures. These were some of the results: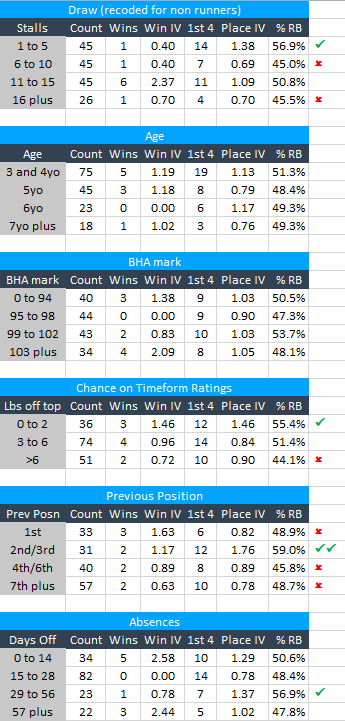 Neither age nor BHA mark counted for much, which is a finding in itself, and there were no major effects other than that notably positive one for horses which finished second or third (but not those which won) on their most recent starts. Majeed and Victory Bond are the only two qualifiers on that score.
That draw information deserves a bit more investigation and explanation, however. Judged on wins only, middle to high is the place to be. All recent winners bar Master Carpenter (drawn 1 in 2015) have come from stalls 10 or higher, though none of them quite as high as an official record which ignores the influence of non-runners might have you believe.
Stalls 11 to 15 have provided six of the last nine winners, but a much more standard 11 of the first-four places and an almost bang-on-par 50.8% of Rivals Beaten. Those last two measures are more robust than the first-named, which may well be down to variance in what is a small sample and the use of a crudely binary measure.
Being drawn middle to high has been no disadvantage, to be sure, but being drawn on the inner has been better when viewed in a more sophisticated manner. That is not always a given in a big field on a course with bends, though the York bends are longer and more sweeping than most.
I also looked at the current stable form of the contenders, as measured by %RB in handicaps since the end of May. Jeremy Noseda (70.2%RB, Sixties Groove) came out top but with a small representation, while Roger Varian (67.8%), Eve Johnson Houghton (65.4%) and William Haggas (59.9%) came out well with much bigger ones.
At the end of the day, all that matters is whether or not the odds offered about a horse are thought to justify the risk involved in backing it: value, in other words.
The aforementioned Sixties Groove, who has shaped extremely well in both his starts this year, probably deserves to start favourite, but favourite is indeed what he is in the early shows, and if there is value at around 13/2 then it is minimal.
Indeed, I found my "tissue" mirrored the bookmakers' to a large degree, but with one exception near the front of the market.
There is a good deal to like about Victory Bond in addition to the fact that he is with a trainer in form, was placed last time and will be coming from the equivalent of stall 15 assuming the absence of the reserves.
He looked a very smart performer in the making – a classic contender even – early last year but was not seen after finishing fourth in the Prix Daphnis at Chantilly in June until showing up in the valuable Hambleton Handicap here in May.
That Victory Bond could finish third of 17 to Here Comes When that day off an 11-month break at a trip of a mile that may very well prove too short for him showed he could cope with a large field despite his lack of experience and augured well for the season ahead.
Victory Bond's further absence since then might be thought to be a negative, but not where the patient and skilled William Haggas is concerned, and not given that this race looked tailor-made for him by that point already.
Big Country, Ballet Concerto, UAE Prince and Majeed are others who come right into the reckoning, but the odds compilers have not missed them, and arguably none of them has the potential of the selection.
Regular readers will not be surprised to see Victory Bond put up as an each-way proposition: the win book is about 119% at the time of writing but the place book is a bet-inducing 99% per-place for four places. It is just possible you will get better terms still than that nearer the time.
Recommendation: 1 pt each way VICTORY BOND at 10/1, ¼ odds first four places
Read Jamie Lynch's preview of Super Saturday