In a week in which British racing finally threatened to drag itself into the 21st century in terms of data provision, we can still expect some depressingly "old school" takes on existing information sources this coming weekend.
So-called "trends" analysis has led a charmed life in some quarters, using crude measures and small sample sizes with gay abandon. By doing so, it is easy to imagine an effect where none exists or miss one that does.
Saturday's John Smith's Diamond Jubilee Cup at York at 3:50 is a good case study.
If you look at results over the last 10 years from the point of view of winners only, without any regard for opportunity or the many different shades of losing – an approach which remains frustratingly popular – then you get a very different message to the one you get from a more nuanced approach.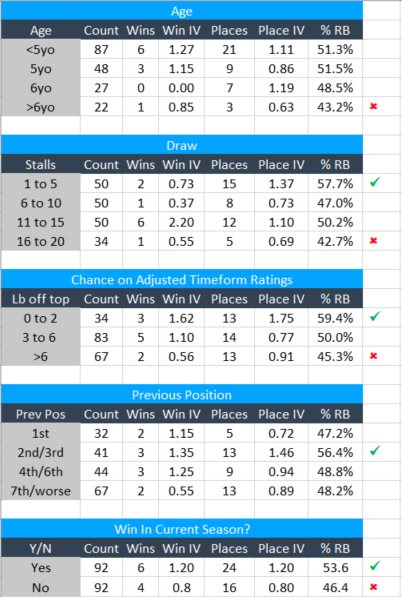 Judged by winners alone, horses younger than five have been easily best, providing six such in the last decade. But they have provided very nearly half of the runners in that time and therefore over-performed only marginally, as they have too by the far more meaningful measures of place impact value (factor by which places have occurred compared to chance) and % of rivals beaten.
There is a similar story with the draw, with "wide but not very wide" horses providing six of the last 10 winners. That is over twice what could be expected by chance (win IV is 2.2), but only a little better than par when measured by other means.
There is little in it with age, once you realise there is only one veteran in the field, but inside stalls have been much better than outside stalls, with those in between close to neutral, looked at in this way.
There are also good returns for horses high up on Timeform weight-adjusted ratings, for those who finished second or third on their most recent starts, and for those with a win already to their name in the season under review.
Other factors I looked at included weight carried (8-12 to 9-00 slightly positive), BHA mark (mid-range of 96 to 100 ditto), previous runs in season (two to four runs inclusive, ditto), days since last run (a confused picture) and performance by Betfair Starting Price (nothing to see here, move on).
Among other things to consider are trainer form – William Haggas, Roger Varian, David O'Meara and John Gosden are good, in that order – and the likely pace dynamics.
The latter is quite interesting, I think, for there is only one horse out of the 22 declared (plus two reserves) with a Timeform consolidated Early Position Figure under 2.2, and that is Aasheq on 2.1, which is hardly Kachy-like trailblazing territory.
There are a few on that 2.2 figure, associated with horses who race close-up without necessarily leading, so the pace is unlikely to be false. It just seems unlikely to be strong, either. A prominent position in such a big field may be no disadvantage.
On closer individual inspection, quite a few in the field may not be well suited by the trip (an extended 10f, though how much it will be extended has not been decided by the course executive yet) or going (good to firm, writing on Thursday afternoon). Rain could change the latter.
The draw may count against Afaak, Setting Sail and Mordin, who could all be fancied a bit otherwise. Stylehunter looks to have strong claims, for all that being held up (which seems likely) could have its problems, but his odds look fair rather than better. And rock-solid Mountain Angel is nonetheless short for what he has achieved.
In the end, I came down on the side of Aasheq, mentioned earlier, in a race in which running to his previous rating may be enough to get him in the mix.
That rating has been achieved in victory at Pontefract and in third place at Epsom and Chester, all at around this trip, and on ground ranging from soft to good to firm. Some doubts were raised internally at Timeform about his resolution last time, but there can be little regarding his consistency.
He has a reasonable draw in stall 8, that go-forward style, and ticks the boxes of having won this year and figured prominently, but not too prominently, last time.
The shape of this big-field handicap is mathematically conducive to an each-way bet, and that is the way to go. But small stakes, in what is a tough race to unravel.
Recommendation:
0.5 pt e/w AASHEQ at 25/1, ¼ the odds first four places