The calm before the storm that is next week's Cheltenham Festival is not much of a calm in either literal (high winds, rain) or metaphorical terms.
In case you fancied a nice easy day of building up your confidence in advance of some tough punting tasks, there is the small matter of the 16-runner Matchbook-sponsored Imperial Cup Handicap Hurdle at Sandown at 14:25 on Saturday to attend to.
"Cracking the Imperial Cup" has a history, and that history may help to steer us in the right direction. The race was first run in 1907 but a look at the last 10 editions should suffice here.
As usual, performance in each category is measured by runs, wins, places, win and place impact values and % of rivals beaten. Those last two are the best guides, as they take into account opportunity and look beyond the crude "did it win, or did it not?" approach.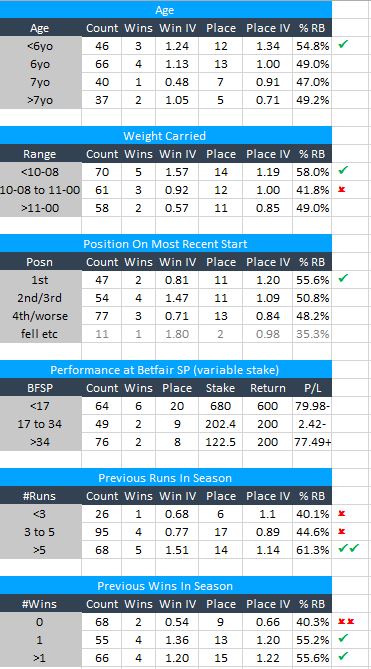 There is plenty of interest there. Younger horses have fared better, if not by a lot; last-time winners, ditto. Don't be put off backing an outsider, though those Betfair SP figures (in which stake varies in proportion to odds, in order to lessen the effect of freak results) are not especially conclusive.
There is a surprisingly strong performance from horses with more than five races under their belts in the season in question (half of the winners from roughly a third of the runners and 61%RB), and having a win among those runs has been markedly superior to having none.
Those "weight carried" figures are not strictly as helpful as they might be due to the abnormal distribution of weights in Saturday's race, in which Call Me Lord will carry 11-12 and nothing else more than 10-12.
The BHA-mark figures (not shown) were even more powerful in favour of horses off lower marks, but Call Me Lord's presence means that nothing runs off less than 134.
Nonetheless, that there has been a bias towards lower-weighted horses due to run off lower BHA marks is worth bearing in mind. The bottom four are "out of the handicap" (they are carrying more weight than the handicapper's assessment of their ability) but by no means out of consideration, the way I look at it.
Those are some of the trends, but there are a few race-specific factors that are undoubtedly meaningful, also.
First and foremost, there is a preponderance of pace-forcers among the 16 runners, as reflected by no fewer than six of them having Timeform Early Position Figures of 2.2 or less. We can expect a contested pace and a proper test on ground that is already "soft" in the main.

Then, there are the identities and current "form" of the trainers involved. Only two have surpassed 60% of rivals beaten in handicaps since January with a minimum of 10 runs, and they are Paul Nicholls (60%, Malaya) and Fergal O'Brien (63%, Benny's Bridge).
Both those horses – if not their trainers – have youth on their side, and Benny's Bridge also has a last-time win to his name. He is fully 8 lb out of the handicap, which would usually rule him out for me, but there are reasons to think that will be much less of an obstacle to success than usual.
The form of Benny's Bridge's last-time win at Cheltenham in January is strong – third and fourth won and finished second next time respectively – and is backed up by a solid timefigure.
Both he and the runner-up have a "p" on their Timeform rating, indicating the likelihood of further improvement. Benny's Bridge has run only four times over hurdles in all, which is another reason to think that call will prove justified.
That Cheltenham race was also run at an unforgiving pace in deteriorating conditions, as illustrated by a mere 98% race finishing speed. Benny's Bridge travelled strongly and finished with a wet sail to win emphatically. Something similar could easily unfold on Saturday.
The make-up of the Imperial Cup presents the punter with a familiar challenge of whether to go each-way or win only. If all 16 stand their ground then mathematically the former is a better proposition (I will be going into this in more detail in a Timeform blog after Cheltenham), and that is the recommendation.
Strong finishers who pick up the pieces as others wilt are also often good place-bet material. Benny's Bridge is such a horse, but I wouldn't be putting him up if I didn't think he could win as well.
Recommendation: 1 pt e/w Benny's Bridge, ¼ the odds first 4 places at 9/1