You might imagine that a race over two and a quarter miles on a track with the longest straight in the game would be unaffected by draw bias – I know I did – but you would be wrong, and I was.
The Betfred-sponsored Cesarewitch at Newmarket on Saturday is that race, but it is unique in having the largest field of any Flat race in the Calendar – 34 have been declared, plus two reserves – and it also features a sharp 60-degree right-handed bend before halfway which would disadvantage anything still wide on the track at that point.
Still sceptical (I was)? Then here's the evidence from the last 10 years (with the draw recoded for non-runners and the change to numbering before the 2011 edition):

Just one winner of the last 10 has been drawn very high, while lowly-drawn horses have over-performed in terms of Place IV (they have been placed 1.64 times chance) and % of Rivals Beaten, both of which are superior measures.
Wins only are a particularly bad way of gauging these things, unless you factor in opportunity (and even then…), as can be illustrated by the figures for age groups over the same period:

Just one winner for three-year-olds, compared to six for older horses, might seem unimpressive for the former and impressive for the latter, but it is not in view of the fact that older horses had more than 10 times as many opportunities to win.
That is a small sample of three-year-olds, whichever way you look at it. But %RB is far less affected by that than some other "popular" measures, and %RB shows that the youngest age group has over-performed down the years.
There are also some other Key Trends to consider, the following being the most notable of several looked at: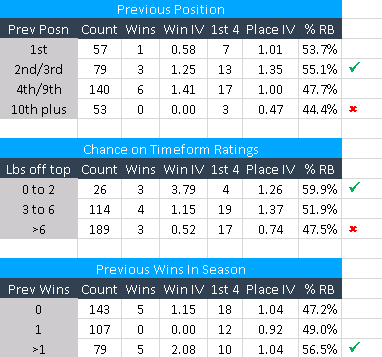 A good performance by multiple winners and by horses high up on Timeform weight-adjusted ratings is to be expected, but the marginally better performance by last-time seconds and thirds compared to last-time winners bucks the usual trends.
There were a large number of trainers with runners in Saturday's race "in form" as judged by %RB in Flat handicaps since the end of August: Tony Martin (71.8%), Ian Williams (66.1%), Willie Mullins (63.8%), Alan King (63.6%), Andrew Balding (61.6%) and Roger Charlton (61.4%) are all going well; Jim Goldie (33.7%) and Rod Millman (39.3%) less so.
There looks like being a decent amount of pace on – seven of the declared have Timeform EPFs of 2.2 or less, indicating that they usually race close up – though plenty of that can be found among high-numbered stalls. Perhaps high stalls will not be as disadvantaged as usual, but suspect stayers almost certainly need not apply.
One man's "suspect stayer" may be another's "horse that will come into its own at a longer trip", of course, and Time To Study fits that bill and a number of others, also.
He has yet to run beyond 14.5f, so will be going nearly half a mile further than previously at the weekend. Against that, he is a son of Motivator, who is one of the biggest influences for stamina around, and he has been galloping on dourly at the end of the majority of his races.
That attitude saw him to success in the Mallard Handicap at Doncaster last time, though he will have to be better again – possibly a lot better again – to follow up in this under a 4 lb penalty: runner-up Byron Flyer is that amount better off for a defeat of just a head.
But Time To Study undoubtedly does have potential, not least because he is a lightly-raced three-year-old (the only one of that age group to have been declared), and a three-year-old tends to be a good proposition in the Cesarewitch, as we have seen.
Time To Study has run just eight times and made the first three on all but one occasion. He is thriving and should be fresher than the majority of his rivals. While he struck for home some way out at Doncaster, he has been adaptable enough to date that his jockey should be able to put him where he wants.
The main dangers are the several decent hurdlers to be found running off decent Flat marks. If one or more of them transfer all their ability to this discipline then the others will be in trouble. Swamp Fox, John Constable, Snow Falcon and Lagostovegas (in that order) would be top on Timeform hurdle ratings.
But it often enough doesn't work out that way, and there should be places to be had even if it does this time.
In terms of the maths behind the betting market, this is a better race for an each-way bet than a win-only bet, especially so with some bookmakers competing on place terms. Time To Study has been a reliable, rather than a win-or-bust, type to date, so that matches up well.
The recommendation is to split each-way stakes between those bookmakers offering five places and those offering eight (yes, EIGHT!) places in this instance.
Recommendation: TIME TO STUDY at 14/1, 0.5 pt each way ¼ the odds first FIVE places plus 0.5 pt each way 1/5 the odds first EIGHT places