The Lord giveth, and the Lord taketh away, or at least that is how it seems where big-race trends are concerned.
No sooner do you spot a trend in favour of a particular type of horse than a different trend seems to crop up to counterbalance it. It is rare indeed that a runner "ticks all the boxes" in trends terms.
Saturday's Dubai £500,000 Cesarewitch Handicap at Newmarket is a case in point, as can be seen from the following "Key Trends" from the race over the last 10 years, with place impact value and especially % of rivals beaten the best measures as usual.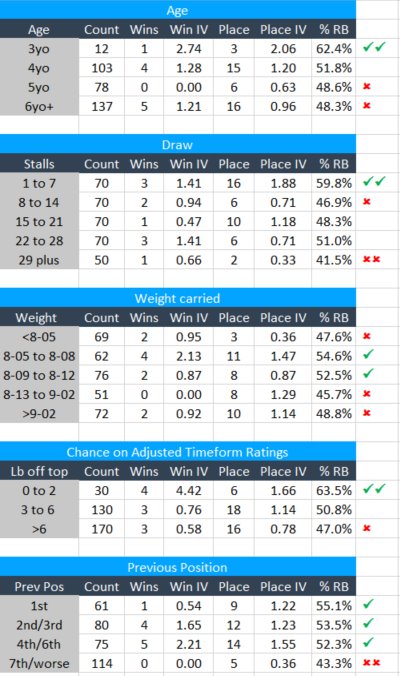 Few three-year-olds have contested the race in the last decade, but they have won once and been placed three times, both of which are more than twice as often as chance. Even more significantly, the three-year-old cohort has beaten 62.4% of its rivals on average, where 50% would be par and anything over 60% can be regarded as a strong effect.
There are two three-year-olds in this year's Cesarewitch – Southern France and Making Miracles – and they are drawn 24 and 31, which will become 23 and 30 in the presumed absence of the two reserves.
Aaah. The evidence is that the latter in particular will be disadvantaged by his draw, in a race in which a berth in stalls 1 to 7 has been best.
That may seem to be stretching it in a race run over two and a quarter miles with only one bend, at around halfway, but that is what the evidence says. Highly-drawn horses have won and run well, but a lot of them have performed poorly also.
A massive field of 34 means getting across before the bend may involve steering a wide course and/or racing less than efficiently. Not many horses have enough in hand to overcome that.
The weight bracket between 8-05 and 8-12 includes 18 of the 34 non-reserves declared. A last-time position of seventh or worse accounts for eight horses in all.
Perhaps the most impressive stat of all is the one for horses with good chances on weight-adjusted Timeform ratings, a group which has won more than four times as often as chance, placed 1.66 times as often as chance and beaten 63.5% of their rivals. Law Girl, Southern France and Theglasgowwarrior show up best here.
Top on trainer form, as measured by %RB in handicaps only since August, are Sir Mark Prescott (66%, Melinoe), Ian Williams (64%, Stars Over The Sea, Speedo Boy and Blue Rambler) and John Gosden (64%, Precious Ramotswe). Few of their rivals have been in the doldrums however.

Willie Mullins sends a contingent of seven from Ireland, and the majority of them can be fancied, not least the very smart hurdler Limini, the mare she beat last time, Law Girl, and the long-time race favourite, Stratum.
The last-named carries the Tony Bloom colours of last year's runaway winner Withhold, and bookmakers have taken few chances with the gelding. Where Withhold went off a "gimme" (at least with hindsight) BHA mark of 87, Stratum is number 5 on the racecard and off 102.
Instead, I am going to go for one mentioned earlier in this piece, and that is Southern France. Not only have three-year-olds done well in this race, they do well in open-aged staying handicaps generally, and genuine listed/Group performers may have a slightly bigger class advantage over exposed handicappers than is widely perceived.
Southern France is not any old Group performer, either: his last run resulted in a third in a strong and well-run St Leger at Doncaster, from which the winner, Kew Gardens, has gone on to be a relatively close seventh in the Arc.
Southern France shaped at Doncaster, not to mention previously, as if an even longer trip will suit him, and an even longer trip is what he gets here. It is not difficult to envisage him becoming a genuine Cup candidate next year, but he carries 9-02 in this.
There is that draw to overcome, of course, and his odds of 9/1 look reasonable rather than a gift. But Southern France has class that none of his rivals can boast.
This is a race in which an each-way bet is a credible approach – the place book is better value than the win book at the time of writing, if not hugely so – but I think Southern France is best sided with on the nose.
It is possible that events will conspire against him early on, but with the rub of the green there is every chance of him being right in the mix when it matters.
Recommendation: 1 pt win SOUTHERN FRANCE at 9/1