This preview starts with a question: how many horses that started at 5/1 or less for handicaps in Britain with 25 runners or more since 2010 do you think won, given that there have been 21 such horses and that their combined odds would give you an expectation of just under 4?
While you are figuring out your answer, I will point out that this could be considered to be relevant with regards to Saturday's Wokingham Handicap, which has 28 runners and a favourite – Dreamfield – currently at 4/1.
The answer is two, for a return at SP of very close to half of level stakes, though it should be acknowledged that with such a sample size just another two quick winners would restore the situation to something like parity. These hotshots have not been a licence to print money in recent years, and that is a fact.
Some more facts follow, starting with a draw and pace map, in which the draw (after re-categorisation for non-runners and changes to numbering) is expressed as the % of Rivals Beaten for the stall in question and the stalls on either side, and Early Position Figures are, as usual, from 1 for confirmed front-runners to 5 for horses held out the back.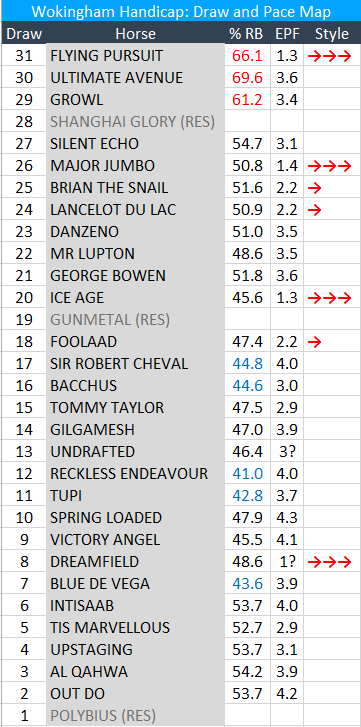 Interestingly, nearly all of the pace is drawn high, with the exception being Dreamfield himself, who may have to do a loner from stall 8 (becomes 7 assuming Polybius does not go).
That would not fill me with joy if I was already on Dreamfield, but if I was already on Dreamfield I would presumably think he is a Group winner in the making, and I might even be right.
Then there are a few other facts to consider, such as those relating to age, last-time position and chance on Timeform adjusted ratings (other "trends" were considered but threw up little of note).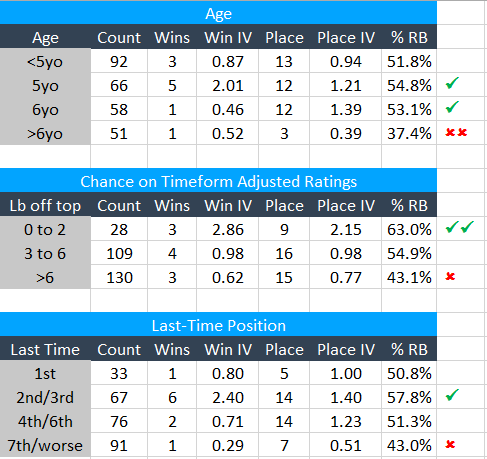 Five-year-olds and six-year-olds have fared best in the Wokingham in the last 10 years, as judged by Impact Values (success compared to chance) and % of Rivals Beaten, but four-year-olds (which Dreamfield is) have not done badly. However, older horses have underperformed in that period, despite the win of then-eight-year-old Out Do last year.
Horses with a good chance on Timeform weight-adjusted ratings have performed very well, and Dreamfield is most certainly one of them this year, but last-time winners have done surprisingly modestly compared to last-time seconds and thirds. It may be a race in which you don't want to show your hand too much in advance.
I am going to put up a couple against Dreamfield, one of them a nice fit on those trends, the other a strong contender on sectionals and form, with both likely to come from off a pace that should be strong enough.
First up is GROWL, who has an attractive draw, is a six-year-old who finished second last time, and who was beaten less than a length when fourth off a mark 7 lb higher than this in the Stewards' Cup at Goodwood last year.
He is certainly well enough treated to win or go very close in this, and that last-time second – behind Kachy at Chester – came against a horse who is a star under such conditions, and it was at the very least something to build upon.
Growl's trainer, Richard Fahey, is operating well at present, but it should be pointed out that the selection is one of four representatives from the yard in Saturday's race.
Then, there is VICTORY ANGEL, who may be more of a hostage to fortune from stall 9 – the adjacent stall to Dreamfield's – but who has a lot to recommend him otherwise.
He caught the eye, and more importantly ran some smart late splits, when fourth to Gifted Master at Newmarket on his only start, has done all of his winning and most of his racing at 6f, on a straight track, and on top of the ground. Roger Varian is the top-performing trainer with a runner in the Wokingham judged on %RB in handicaps in the last month.
Despite a few ifs and buts, the Wokingham is a better race to tackle each way than win only, all other things being equal (though it is not particularly good for either!). The win book at best early prices was 135% and the place book was 114% per place. You may do better than that if you shop around.
Recommendations: 0.5 pt each way GROWL at 16/1, 0.5 pt each way VICTORY ANGEL at 16/1, both ¼ odds first four places