The King George V Handicap may lack the glamour of some of the other races at Royal Ascot, but it sometimes takes a future Group horse to win it and that possibility exists again this year. Which of the 19 declared runners (plus two reserves) that winner might be is the tricky bit!
In terms of pointers from the last 10 years, the following trends may help to sort the wheat from the chaff.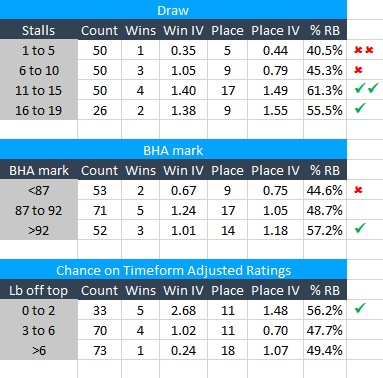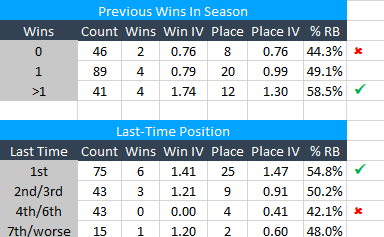 It may come as a surprise that low-drawn horses have underperformed – notably in terms of Impact Values and % of Rivals Beaten – given that such horses are nearest to the rail and 12f is anything but a sprint trip. But that effect has endured in big-field handicaps at the course for some time now. Those on the inside tend either to have to go too fast to get a position or get carried back as others come across.
Less counter-intuitively, multiple winners, especially last-time winners, higher up the handicap and with a good chance on Timeform weight-adjusted ratings, have tended to do well. It may take a while for the cream to reach the top, but it should be heading that way by this stage.
In terms of the current form of the various trainers, there is plenty of cream also. Aidan and Joseph O'Brien are top in handicaps in the last month with 71.5% and 71.1% Rivals Beaten respectively, followed by John Gosden (61.3%), Andrew Balding (59.1%) and Hughie Morrison (58.5%).
That list does not include Mark Johnston, who is responsible for six of the declared runners, but he is on 57.7% and doing pretty well also.
Charlie Appleby – rampant earlier in the year – is now operating at an unremarkable 52.9%, but had no problem getting the job done with Blue Point on day one. He has two strong contenders for this at the top of the weights in Dubhe and Cross Counter.
The latter in particular appeals, having come second in a strong minor contest at Sandown last time in which he was heavily penalised and unsuited by the steady pace, making late gains but unable to get in a blow at the highly-promising Elwazir.
Cross Counter is not a copper-bottomed stayer at this longer trip, but his style certainly suggests it may benefit him. He is drawn in 11 (becomes 10 in the presumed absence of the reserves) and deserves to be favourite in my book.

It is a job in itself to figure out which of the Johnston sextet will come out on top, but my preference would be for Making Miracles, drawn in 14 (becomes 13), who looks a typical stable grinder in the making.
He took a while to get going at York but actually put in some sharp late sectionals that day when just denied by stable-companion Baghdad (who was more favourably placed approaching the closing stages) then trotted up in a small contest at Leicester a few days later.
That York race could be one of the key pieces of form going into this, for it resulted in a decent timefigure, despite an early pace that was less than demanding, and took place on ground that may have been even firmer than that which will obtain at the Royal Meeting this week.
What seems likely is that the pace in the King George V Handicap will be honest enough to bring out Making Miracles' (and others') stamina. Baileys Excelerate and Elegiac go from the front and plenty else in the field may not be far behind them.
In terms of how to play the race from a betting point of view, this is one of several handicaps during the week in which each-way is more optimal than win only (assuming the same amount in total is staked in each instance). The win book at early prices was a giving-nothing-away 133%, but the place book was 107%.
This is not a race to play big in light of those numbers, and it certainly looks one of the tougher contests this week to unravel, but having both Cross Counter and Making Miracles on your side should give you a fighting chance of picking up something at the end of the day.
Recommendations:
0.5 pt each way CROSS COUNTER, ¼ the odds first four places
0.5 pt each way MAKING MIRACLES, ¼ the odds first four places