The "fastest 5f in the world" at Epsom is going to take a bit more getting than usual in Saturday's Investec-sponsored 'Dash' Handicap on account of soft ground. But pace, pace and a bit more pace is still going to be at a premium.
Even the slowest Dash this century – in 2003, on good to soft going – resulted in a decidedly swift 56.68s winning time. That race also resulted in a win for a horse coming from stall 1, though there were only 11 runners that day.
Overall, very high or very low has been best over the years, though draw analysis is a tricky matter when field sizes vary.
The stall nearest to the stand rail has always been occupied, with that precise stall number dictated by field size, which requires a recoding exercise on the data. In effect, stall 1 has only been occupied when there has been a maximum field of 20, as is the case this year.
A summary of the findings, along with an assessment of run style based on Timeform Early Position Figures, seems the best place to start. The % of rivals beaten figures are for the stall in question and the stalls on either side.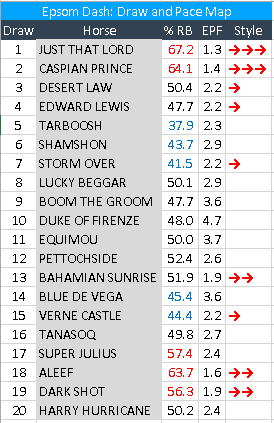 As it happens, the strongest expected pace coincides with where the best draws have been historically.
Indeed, there is an abundance of pace (as you might expect given the nature of the race) and an increased possibility that something will come through late to grab the spoils. However, coming through late in a field of 20 usually involves riding for luck.
There are many other factors to consider, of course, and some of the more meaningful ones from the last 10 years are as follows. As usual, high figures in the place impact value and % of rivals beaten should be viewed favourably.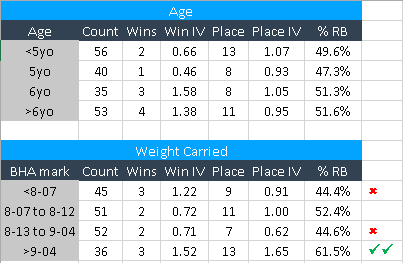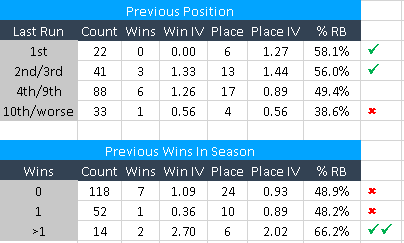 There is nothing much going on with age profile, in contrast with many handicaps, but higher weights and multiple wins in the season already have been clear positives over the years, as has a prominent last-time position.
Ultimately, though, the only test that matters is whether or not you consider a horse to be at odds which make striking a bet worthwhile. Bearing all the above in mind, I came down on two runners: one of them obvious, the other less so.
Dark Shot is the former and ticks many of the right boxes, not least in terms of draw and run style. He was quick enough to track the flying El Astronaute at York last time, and even to edge past him before he rallied.
Nonetheless, Dark Shot held onto second, beaten just a neck, on what was his first start for Scott Dixon, and he gets to go off the same mark here. Soft ground should not be a problem for him: indeed, it may even help as he has not run on it since scooting up by six lengths and the same in a maiden at Windsor in 2016.
Dark Shot is disputing favouritism in the early betting for the Dash, but rightly so. All told, I think he deserves to be a point or two shorter.
The other selection is more speculative. Storm Over does not look especially well drawn and has a poor reappearance run at Newmarket to explain away. But he was notably well-backed that day, which is information that tends to be under-valued, and has strong form in the mud if the ground at Epsom has indeed gone that way.
He won a 14-runner event at Catterick on his final start in handicaps in 2017 readily on heavy ground and is now only 5 lb higher.
As much to the point, Storm Over's early odds seem to focus on his reappearance defeat much more than on his good overall record. Timeform ratings identify him as having a leading chance in the Dash at his best, and it is not going to take much to find out at the price.
Plenty can happen in a 20-runner sprint handicap, not least at Epsom, but having this pair on your side will hopefully give us a fighting chance of hitting the bullseye.
Recommendations:
1 pt win Dark Shot in Saturday's Epsom Dash at 7/1
0.5 pt win Storm Over in Saturday's Epsom Dash at 25/1