It says something about the world we live in that the great Albert Einstein is in danger of becoming better known for the statement "the definition of insanity is doing the same thing over and over again and expecting different results" – one he may not even have made – than E=mc² or his wider work on relativity.
Nonetheless, if that quote can be considered to be Einstein's General Theory of Insanity then I propose a Special Theory version which involves explaining – at first calmly, then with increasing exasperation until the end of time – why a racehorse's master rating arises from an essentially objective assessment of the best of its performances and does not necessarily define its "greatness".
The Special Theory of Insanity is often in evidence at this time of the year, when annual assessments are finalised and received with various degrees of outraged disbelief by "fans" of specific horses.
Master ratings have traditionally been derived from the maximum figure in an array of performance ratings over a defined period (such as a calendar year), and it can be proved that a recent maximum should have great bearing on any summary of what a horse is currently capable of.
If handicapping practice dictated that horses' master ratings were to be "marked up" for consistency, versatility and durability, it would be punishing them for the very virtues that we should be encouraging.
But there is nothing to stop the onlooker from deciding that their own definition of greatness will be, say, the number of instances on which a horse surpasses a certain ratings threshold, such as 125 on the Flat, thereby utilising all of a horses performance ratings and not just its maximum.
By that measure, the likes of Winx – top-class and repeatedly so – fares better than Cracksman, who had just one superlative effort in 2018, but what an effort it was. Was Cracksman's best better than Winx's best? You can make a case for it, certainly. Did Cracksman contribute as much to the 2018 Flat season as did Winx? No, and the ratings – all of them, not just one of them – tell you that, too.
History - Winx wins the @CoxPlate for the fourth time! @TheValley pic.twitter.com/eXqBfpeKRq

— At The Races (@AtTheRaces) 27 October 2018
Ratings can be used for many things other than to define performance and to spark ill-informed debate, of course. One of these is the idea of "race strength", which is in essence a mirror of the race standardisation procedures which go into defining sophisticated assessment in the first place.
The concept has been acknowledged by the World's Best Racehorse Rankings – a composite of the assessments of official handicappers around the world – which nowadays identifies a "World's Best Horse Race" each year for an award.
Curiously, however, the WBRRs do not use long-established handicapping practice in this area but prefer to judge a race's worth by the crude measure of the average end-of-season rating of the first-four finishers. It does not matter what ratings horses ran to in the race in question, just that they ran in it and finished in the first four.
So it is that a horse like Frankel could run uncharacteristically badly and trail in a distant fourth, but his presence would ensure the same high rating for a race itself as if he had won rather than been beaten by a significantly inferior rival.
It is better practice (as handicapping itself tells us) to go deeper into the race, to consider what figures the horses have actually run to, and to weight the results, such as according to the finishing position of each horse. With that in mind, the following are the leading races around the globe in 2018 according to the weighted performance ratings of the first-five finishers on Timeform ratings.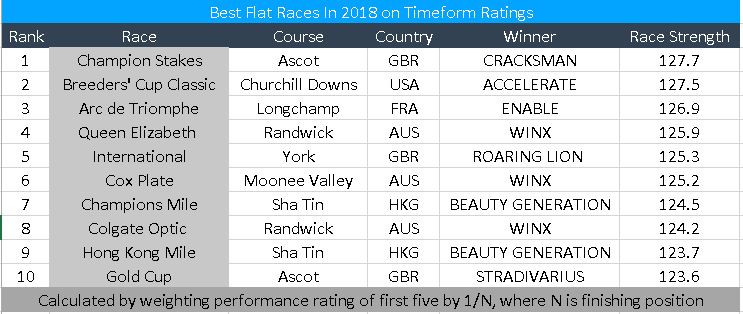 In order to get a high race-strength rating, a race needs more than just to have been won by a good horse at the top of its game: there needs to be support from not-so-good horses running pretty well also.
Cracksman won the Champion Stakes at Ascot by six lengths, running back to his previous best of 136, but the next four home (Crystal Ocean, Subway Dancer, Capri and Rhododendron) are all deemed to have run between 123 and 115 on Timeform performance ratings.
Winx may have been deprived of top spot by this measure, but she contested – and won – more top-10 races in the world in the year than any other horse, followed by the outstanding Hong Kong miler Beauty Generation.
For information, the strongest British sprint (fourth in Britain, nineteenth in the world) was the Diamond Jubilee Stakes at the Royal Meeting on 122.7.
This exercise got me wondering how that 2018 Champion Stakes figure compares with leading ones in Britain over the years. The findings are like a trip down Memory Lane.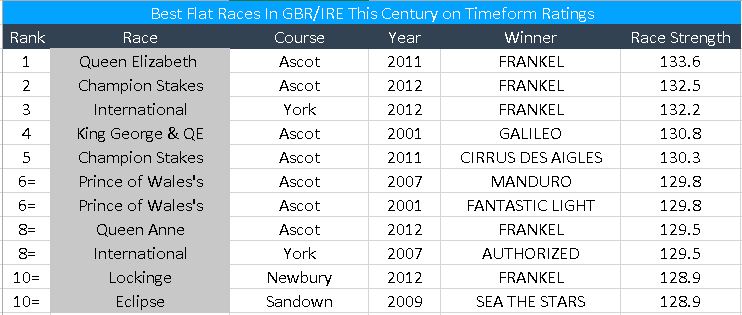 Two names dominate: Frankel and Ascot, and especially Frankel at Ascot.
That Queen Elizabeth Stakes in 2011 saw him run a 143 performance figure in beating Excelebration (133), Immortal Verse (121), Dubawi Gold (123) and Dick Turpin (120) by clear margins. Excelebration would have been a world-leading miler in almost any other era while Immortal Verse had beaten Goldikova in a Group 1 the time before.
👀 A #ChampionsDay classic - Frankel's victory in the 2011 Queen Elizabeth II Stakes (sponsored By QIPCO) pic.twitter.com/7x74AyOU8b

— Ascot Racecourse (@Ascot) 19 October 2018
The Queen Elizabeth Stakes and Champion Stakes came to the fore after British Champions Day was created at Ascot in 2011, but before that the King George VI and Queen Elizabeth Stakes at the same course had been pre-eminent, earning top billing on race strength every year between 2001 and 2004 inclusive. That 2001 edition saw Frankel's Dad, Galileo, beating Fantastic Light.
The year 2000 was the last time an age-restricted contest – The Derby won by Sinndar with a race strength of 128.5 – came out on top in Britain. Incidentally, Cracksman's latest Champion Stakes win comes in at sixteenth place in British Flat races this century.
Research in this area in the last century is rather more difficult. Timeform's database started in 1992, though its world-renowned Racehorses annuals and definitive ratings pre-date that by 45 years. Nonetheless, I think I know the identity of The Best Race Ever Run (by the above methodology), and it will come as little surprise to those of my generation.
The 1986 Prix de l'Arc de Triomphe was the crowning glory for Dancing Brave, the 140-rated winner of the 2000 Guineas, Eclipse and King George, not because he won with remarkable ease but because he beat in-form rivals of remarkable quality.
Having come with a devastating run down the outside, Dancing Brave had a long-looking length and a half to spare at the line over the 136-rated Prix du Jockey-Club winner Bering, with 132-rated Triptych (one of the best mares of all time) a further half-length back in third, the exceptional Derby and Irish Derby winner Shahrastani a short-head back in fourth and the International Stakes winner Shardari in fifth.
By my reckoning every one of the first 12 in a field of 15 ran to 120 or higher on Timeform performance ratings. The race strength comes out at a remarkable 136.9.
This was truly a race for the ages. It is very likely there has never been a better one.