The nights are drawing in and winter is just around the corner, though whether this promises to be a winter of discontent or a winter of contentment for a racing fan may depend on their relationship with jump racing and the ubiquitous arm of the Flat that is all-weather.
Where jump racing is concerned, one unavoidable aspect is the attritional nature of the sport. Horses and jockeys fall by the wayside in individual races and sometimes more permanently. Falls and unseatings are part and parcel of the experience of a jockey riding over obstacles, and as such they can be subjected to analysis.
Initially, I set out to establish which jockeys had "good" or "bad" records of falling and unseating, as had been suggested to me on Twitter. But, along the way, it became clear that this is a much bigger subject.
In order to come up with figures which are not simple statements of fact (but of limited practical value) it is necessary to establish the influence of various other factors on those jockey attrition rates, and to allow for those various factors in coming up with figures which put jockeyship into a more meaningful context.
A jockey's tendency to fall or be unseated will be affected by his or her tendency to ride in races in which there are more such incidents. In order to have something approaching a level playing field in the first place, I considered only handicap chases, in both Ireland and Britain, covering a five-year period from May 1st 2009 to April 30th 2014.
The first port of call was to consider field size. It may seem self-evident that larger fields lead to more chaos and more falls and unseatings, but the BHA, for one, demurred on this when discussing field size and The Grand National.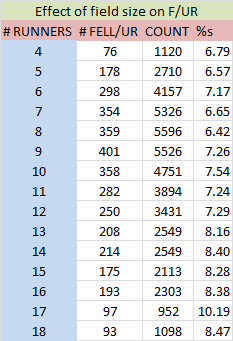 The evidence looks compelling for normal values. It is a similar story for more extreme ones (not shown), but smaller samples lead to greater variance. The message is clear: "larger fields result in higher %s of fallers and unseateds, all other things being equal".
I then considered the apparent effect of distance on these attrition rates, viewed as the factor by which actual falls/unseateds occurred compared to expected falls/unseateds.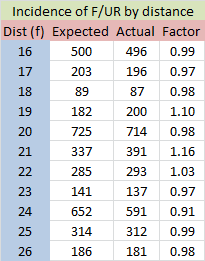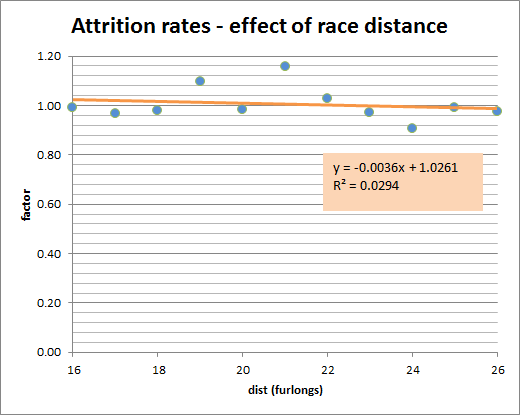 Somewhat to my surprise – though presumably not to those more versed in these matters – the distance of a race appeared to have a negligible effect on the likely incidence of fallers (again, the message was similar, though more varied, for more rarely used distances beyond 26 furlongs, which are not shown).
While horses have more obstacles to negotiate at longer distances, they do so at a slower average pace. It would appear that the two cancel each other out to a very large degree.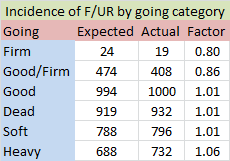 The apparent effect of going on attrition rates is also surprisingly (to me) small. Attrition rates drop on ground firmer than good, and increase on heavy going, but not by large amounts. Intermediate going can be treated as equivalent.
A far greater influence on the likelihood of fallers and unseateds is the identity of the course itself, of course. The following shows the top six and bottom six courses for handicap chase fallers and unseateds in Britain and in Ireland, after the figures had been normalised for field size, going and distance.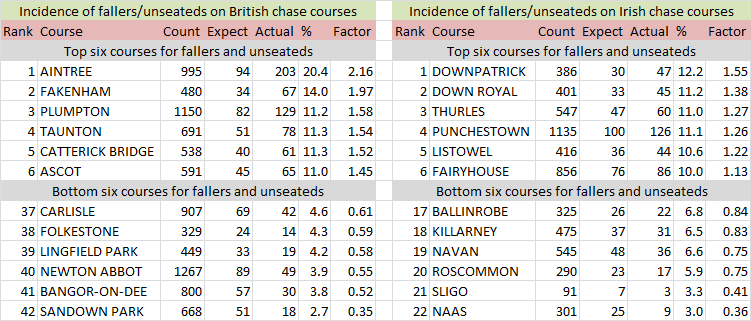 A low "factor" value does not necessarily mean that a course (like Sandown) is an easy course to jump. In an example of feedback, it may well be that it is perceived to be (and possibly even is) a difficult track to jump and that a disproportionate number of good jumpers show up there.
That said, the appearance of Aintree at the top of the British list should be no surprise, given that it includes the Grand National Course as well as the more forgiving (but still taxing) Mildmay Course.
I did not separate the two Aintree tracks, nor the Cross Country courses at Cheltenham and Punchestown, in this survey. This was an oversight, but one that is unlikely to make much difference to an assessment of jockeys who have ridden lots of horses (and fallers/unseateds) at lots of tracks in the period under review.
That will be covered in part two.