I can only imagine the plume of smoke issuing from his cigar as Sir Mark Prescott puffed furiously while watching Kenichi Ikezoe being carted by Sea of Heaven for fifteen of the sixteen furlongs of last year's Shergar Cup Stayers, and losing out by a neck.
I'm all for the Shergar Cup, as in a constant calendar of conformity it's one meeting a year that does something different, not to everyone's taste, but it's only a take-it-or-leave it special on an otherwise monotonous menu. Going beyond convention should put it beyond reproach for the necessary contradictions, of the team element in an individual pursuit, of the fun and flippancy of a serious business, of the jockey spotlight in an equestrian sport, and of the 'girls' team in gender-sensitive climate.
The pitch-perfect marketing makes it clear what the Shergar Cup does and what it is, the same game played differently, less horseracing and more race-riding, flaunting the jockeys, some more familiar than others to us, and some more familiar than others to the surroundings, thereby reducing the grumbling factor when one gets it wrong, like Kenichi Ikezoe.
It's invitation only, and the various riders from various jurisdictions around the world have to earn their spot, via volume or value of wins. Racing is all about winning, but good jockeyship isn't, as all the rider can reasonably do is get the best out of their horse, with the add-ons of awareness and adaptability which can maximise their chance of getting to the line first.
Timeform's renovated run-to-form metric accounts for a wider range of rider skill than simple strike-rates ever can, especially as it's harmonised with the digital data from the reporting team, and it enables calculated comparisons not just between riders, but between seasons. In other words, you can chart which jockeys are getting better.
So, on this weekend when riders are front and centre at Ascot, featuring some international high-rollers, let's celebrate jockeys in a different way by revealing who the stats say are the most improved riders of 2016, measuring this season against the data from the previous three (had to have at least 100 rides in each), using the revolutionary run-to-form metric.
[2014-16 = 51.2% of rides ran to form; 2017 = 62.8%]
The Shergar Cup welcomes riders from the wider world, but the wider world can be equally welcoming – and empowering – to a British or Irish jockey, and it's probably more than just coincidence that Charles Bishop's stats are so much better since a winter stint in Australia. Incidentally, he was with Chris Waller (trainer of Winx) over there, at the same time as Leigh Roche, whose run-to-form ratio has likewise jumped up (by 5.5%) this season.
The why of Bishop's improvement is interesting, but the how is the insightful part, and a glance at his rider radar on the Timeform dashboard tells a significant story. The first visualisation below is Bishop's radar for the last five years combined, and the second is this season only: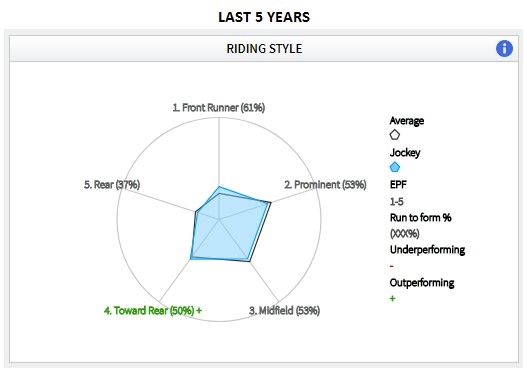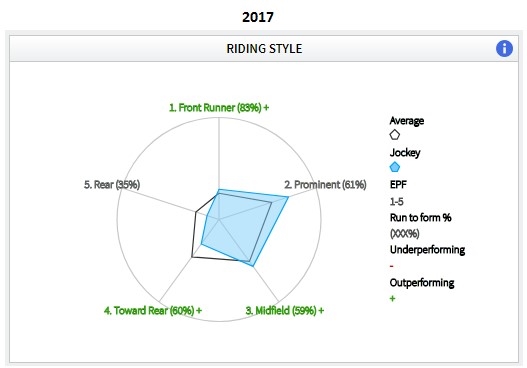 The outlined pentagon underneath is the 'average' rider in terms of style, but just look at blue of Bishop's radar to see how much it's skewed towards prominent tactics this year compared to previously, very much for the better according to the stats, though other aspects have improved alongside, as denoted by the green (RTF% above the norm) in three of the five race positions as classified in our EPFs (Early Position Figures).
Bishop's transition has turned on tactics, developing more of a style this season, possibly an upshot of what he learned in Australia, but all round his game has improved, so that he's now in the top twenty amongst UK and Irish jockeys for the frequency with which his rides produce their best.
WEEKEND WATCH: Amelia Dream, 5.40 Lingfield, Saturday.
There are two interlinked angles with Amelia Dream in this mile-and-a-half handicap: firstly it's the first time Bishop will have ridden her, and secondly it's a small-field affair which could turn tactical, a scenario which Bishop has exploited time and again this year.
[2014-16 = 55.3%; 2017 = 64.1%]
In some ways, Murphy doesn't fit in this list, as far more than an improved rider he's an improving rider, and perhaps the improving rider, already with a job to prove it, looking destined to be champion jockey one day. Interestingly, Murphy and the current champion, Jim Crowley, are the only ones in the top ten (for RTF%) to have ridden in over 500 races this year, a testament to both for maintaining such high standards amid such high volume.
To be riding that many horses, and cajoling or convincing almost two-thirds of them to do their best, shows both the expertise and ethic of Oisin Murphy, who also had a grounding and rounding spell in Australia, and he's still only 21.
WEEKEND WATCH: Naval Warfare, 4.50 Newmarket, Saturday
Murphy has a score to settle with Naval Warfare, who races in the Qatar maroon but has done his winning so far without him. His radar, like Charles Bishop's, shows an increasing trend (and a positive proficiency) towards prominent tactics, which could be just the job here, in a six-runner race begging to be taken by the scruff.
[2014-16 = 48.8%; 2017 = 57.5%]
Riding demands confidence, and confidence is generated by being in demand, as McDonald increasingly is, riding for 68 different trainers so far in 2017. But it's an accumulating association with one stable in particular that's propelling him to new heights, Mark Johnston giving him over 100 rides this year, McDonald becoming a big part of a big team.
Comparing the median ratings of his rides from 2016 to 2017, again information available on the dashboard, it clearly shows that the quality – and not just the quantity – of his mounts is on the up, across all age ranges. In short, he's getting the opportunity to ride better horses, and grabbing it, a total of 70 wins putting him as high as eighth in the British table for the whole year.
2016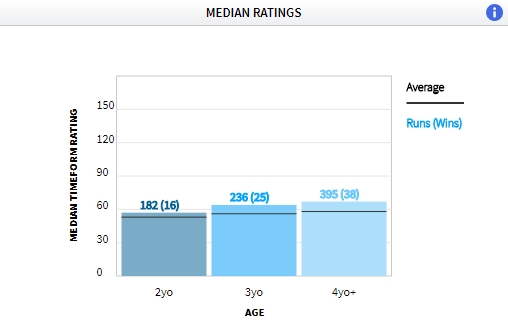 2017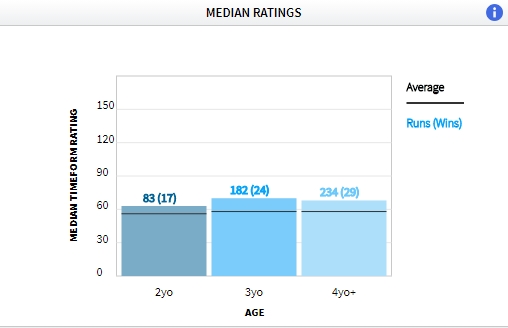 It may be the case that McDonald isn't so much an improved rider as one who's now able to showcase his talent to a fuller extent, but, either way, his uplift of virtually 9% in the ratings hit rate marks him out from the crowd, and trainers everywhere are noticing it.
WEEKEND WATCH: Julie Foxtrot, 2.00 Newmarket, Saturday.
Of his 70 winners (and counting), seventeen have been aboard two-year-olds, and 45% of the newcomers he's partnered have finished in the first three. Juliet Foxtrot, a first-time juvenile for Charles Hills, has plenty going for her on paper, by Dansili and from a precocious family, all her racing relatives successful as youngsters.
[2014-16 = 45.6%; 2017 = 53.8%]
This is a good illustration of the mining magic of the Timeform data, as the surface statistics for Carroll's year of wins (19) and strike-rate (just 7%) don't read that well, yet he comes in as high as twelfth amongst Irish riders on the fuller and fairer barometer of run-to-form ratio, up notably on previous seasons.
Carroll was champion apprentice in Ireland in 2009, when he also won the Ebor aboard Sesenta for Willie Mullins, since when he's averaged around 30 winners per year, on track for a similar score again this time, but his statistical spike this season is worth flagging up, to highlight that he's still seeking - and making - improvements. Carroll is probably at now where P. J. McDonald was a few years ago, as a very effective and efficient jockey whose true talents are somewhat hidden from view.
WEEKEND WATCH: Cosy Club, 7.55 Tipperary, Friday.
It was only last month that Cosy Club shipped over to make all at Ayr, under the same claimer who asked a little too much of him in a bigger and better race at Galway a week ago. Carroll is called up now, facing a tall order in another full-on field, but, as the stats show, he's better than most at getting the best out of a horse.
[2014-16 = 52.1%; 2017 = 59.9%]
He's not all that long out of the apprentice ranks, so by nature he's still improving, but his run-to-form returns are that good – in the top twenty amongst all British jockeys – that he deserves a special spot on this list.
Born in Zimbabwe, and another geed-up graduate of the Chris Waller finishing school, Muscutt is slowly but surely making waves in Britain, based with Marco Botti. His seasonal radar (below) makes for interesting reading, almost a tactical tracing of the 'average' jockey, but he's especially good with waiting rides, as the green outperforming figures indicate on EPFs 3, 4 and 5.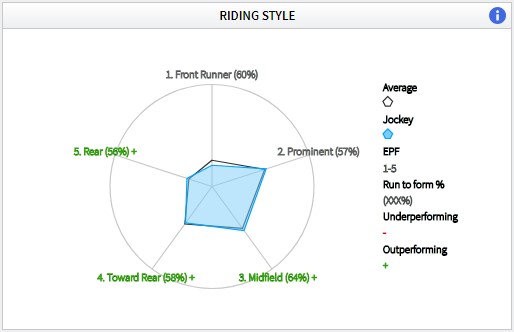 For an embryonic rider, Muscutt's figures in various departments are about as good as it gets. He's tall on size but also on talent, and the breakthroughs are coming, as are the international opportunities…
WEEKEND WATCH: Fanciful Angel, Arlington Million, Saturday.
He's a big price, but it's a big shot, and one Muscutt has earned after forming a fine partnership with a tricky customer. Fanciful Angel will be coming late and fast, which is just the job for this up-and-coming rider.