For centuries, astronomers believed that a star had one explosion and that was that, a one-time matter of time-meets-matter detonation, a cosmic cycle that gave absolute meaning to the term flash and burn.
Then along came iPTF14hls, a supernova that didn't do what a supernova should, scientifically speaking, as after its big bang, and the subsequent dim, the star paused rather than collapsed and gathered itself for another flare-up. The discovery was made in 2014, the same year that Lady Aurelia was born, whose career compared thematically with that of iPTF12hls, for hitting the bizarre and bombastic beats.
If the recently-retired Lady Aurelia had burnt out after her formidable flash in the Queen Mary, then we'd have regarded - and disregarded - her as an athletic abnormality, as an electrical storm and not her eccentrical norm. That's what made the second fireball, in the King's Stand a year later, so meaningful and memorable, branding Lady Aurelia into Royal Ascot folklore, for breaking borders, boundaries and land-speed records.
If once is chance and twice is coincidence, three times makes it a positive pattern, and Lady Aurelia did indeed run remarkably – against the odds and against the clock – for a third time, in last summer's Nunthorpe, but powering up when she did, and where she did, left her vulnerable to the mask-wearing Marsha, who robbed her in the last stride, not that Dettori knew.

The nose between them at the line meant the difference between winning and losing, and, in old-school thinking, the difference between a good ride and a bad one. Assessment and analysis of jockeyship has come a long way since simple win/loss strike-rates were the one and only barometer, and Timeform has put a lot of time and resource into establishing and, moreover, enhancing its run-to-form calculation which provides a fuller and fairer picture of the patterns and power of horses, trainer and indeed jockeys, as, regardless of finishing position, getting the most out of his or her mounts is all a rider can reasonably do.
Timeform's revolutionary run-to-form (RTF) metric is plugged into our digital database, making it more than a mere numbers game, as the interpretive input of the reporting team is factored into every and any given performance, incorporating such influences as tactics, traffic and track position.
So much going into the ciphering means there's more coming out, more clarity, more colour and more confidence in the RTF percentages, enabling comparisons between riders and between seasons for the same rider, helping to identify the improvers.
We did this last year, around the same point, and the five rising riders highlighted then were Charles Bishop, Oisin Murphy, P. J. McDonald, Gary Carroll and Daniel Muscutt, each of whom has continued their upward trajectory this season, by an average of 4.2%, as much as 5.7% for the elite-entering Murphy.
Let's look at what the seasonal data, compared against the previous three years (100+ rides in each to qualify), says about those riding a momentous wave of momentum in 2018, some less surprising, and requiring less explanation, than others, starting with…
1. DONNACHA O'BRIEN (+11.5%)
[2015-17 = 66.4% of rides ran to form; 2018 = 77.9%]
Nepotism, it is said, sometimes can be a lose-lose situation. Sometimes, maybe, but not at all times, and keeping it in the O'Brien family has been a win-win scenario for Aidan, Joseph and now Donnacha. Irish author Stuart Stafford said: "No one remembers how you got a chance, they only remember what you did with it." There are sinkholes in that sound bite, as opportunity knocks less loudly than the opportunity-knockers, but there's truth in the sentiment that cynical accusation makes way for critical appreciation, and this is one talent contest that Donnacha O'Brien is winning.
He's at the very top of the seasonal standings, getting the best out of virtually four-fifths of his rides, clear of Doyle, Dettori and Moore, who are all hovering around the 70% mark, O'Brien in action more frequently than Dettori, and not much less than the other two. But it's the process, which can be seen via his riding radar, using unique Timeform data, including EPFs (Early Position Figures), that illustrates just what a complete jockey Donnacha now is: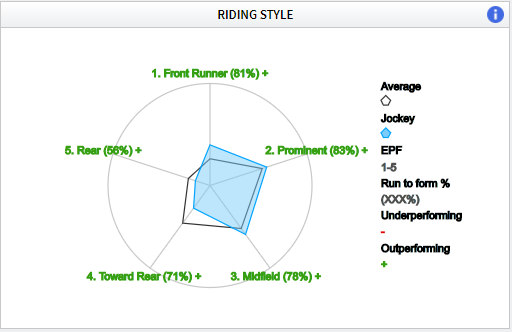 O'Brien's style (blue pentagon) tends towards the front of the field more than the 'norm' for the whole riding population, represented by the black outline, but the fact that the RTF percentage of each and every strategy – from the front (EPF 1) to the back (5) – is in green tells you that he's outperforming the 'average' jockey in every department, and an all-green screen like his is achieved only by the cream of the crop, generally the preserve of those who've been around a lot longer than him.
Of course, the family force is strong in this one, and all bar two – yes, two – of his rides in 2018 have come outside of the O'Brien clan, either Aidan or Joseph, but it's a two-way street, a case of the jockey sometimes making a trainer look good and not only the other way around.
That Donnacha O'Brien is in a position of privilege isn't in doubt, but that he's a top rider isn't either, measuring up on every metric against other jockeys equally fortunate on firepower as him.
WEEKEND WATCH: Forever Together, 5.30 the Curragh, Saturday.
O'Brien is reunited with Forever Together, and Forever Together is reunited with a mile and a half, for the Irish Oaks. Expect a ride that plays up her stamina, first-time cheekpieces looking part of the plan.
🗣 "He can do things with horses I don't understand, he brings out massive improvement and I don't know how he does it."
O'Brien & O'Brien keep it in the family with Forever Together's Oaks win.

Full replay and reaction 👉https://t.co/Jg2LvsSyiHpic.twitter.com/s5jbx2baqA

— Racing UK (@Racing_UK) June 1, 2018
2. RORY CLEARY (+11.3%)
[2015-17 = 37.6%; 2018 = 48.9%]
The black-and-white picture of his strike-rate – 7% in 2018, and an average of 4.3% for the previous four years – doesn't shout so much of an improved rider as Rory Cleary's Timeform-driven numbers do, showing a significant spike this season.
He has got the maximum out of virtually half of the horses he's ridden this season, all the more commendable considering that three-quarters of them have been handicappers, for 54 different trainers.
The hows and whys of his upturn aren't easily describable from the available data, other than a slight shift towards racing nearer the pace this year, with his RTF percentages up notably for EPFs 1, 2 and 3, and his improvements may be more to do with application as much as approach, but, whatever the reason, Rory Cleary, who's in his early-thirties, is riding more efficiently and effectively than he has for years, worthy of flagging up, which is what this study is all about.
3. STEVIE DONOHOE (+10.4%)
[2015-17 = 45.6%; 2018 = 56%)
He's in the top thirty of British jockeys this year for the frequency with which his mounts run to form, and it's not a small sample size, as he's had over 280 rides, which is more than 15 ahead of him on the list have had.
His Timeform dashboard reveals one area of specific strength for Donohoe, and that's in staying races (as can be seen below), something which marks him out from the crowd.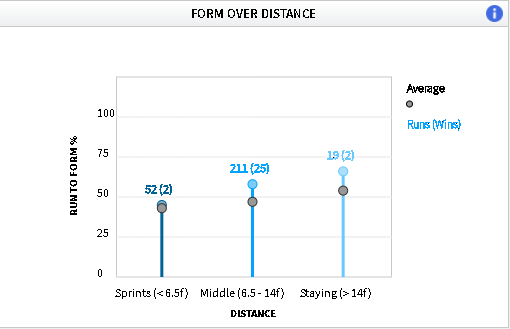 It could be argued that races in excess of a mile and a half turn all the more on tactics and timing, and his specialist skill in that department, in recent seasons and not just this one, speaks of a switched-on jockey, but across the board in 2018 Donohoe's percentages have gone up, never short on rides but never better on the RTF scale.
WEEKEND WATCH: Newlands, 2.25 Newbury, Saturday.
It's the most competitive race of the weekend, but it's over two miles, which is Stevie's specialist subject. Newlands never got into the Duke of Edinburgh Stakes at Royal Ascot, on his British debut for Charlie Fellowes, but he's had a little more time to acclimatise, plus a little help from the handicapper (dropped 3 lb), and he has the right man for the job on board.
4. EDDIE GREATREX (+9.3%)
[2015-17 = 48.2%; 2018 = 57.5%]
It's no surprise that someone at Eddie Greatrex's stage of his career is improving, but it's the rate he's improving that earns him a spot on this hit list, operating this season at a RTF rate almost 10% higher than the previous three combined.
He's getting better opportunities on better horses, a point illustrated by the bottom-left graphic, relating to the median ratings of his mounts in 2018, illustrates that point, especially with the two-year-olds, reflecting the benefits of teaming up with the fast-forward Archie Watson in particular.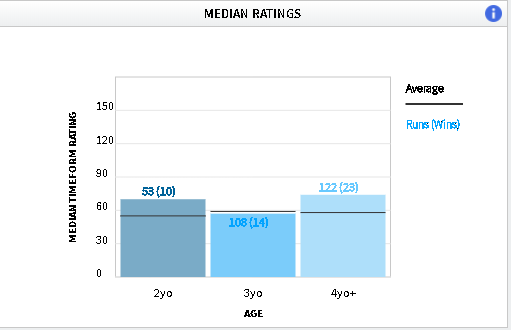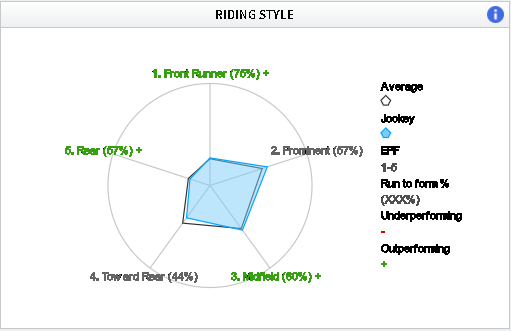 And Greatrex's radar on the right-hand side shows the green-lit guile of a jockey who's performing much better than the professional average from both the front and the back, telling a tale of an aware and adaptable all-rounder, as it does with Donnacha O'Brien.
The stats say that Greatrex is a grabber, of chances and of races, and he's potentially on his way to the top.
WEEKEND WATCH: Tin Hat, 3.35 Newbury, Saturday.
Eve Johnson Houghton was part of the propulsion behind Charles Bishop last year, as she is with Ed Greatrex in 2018, and together they're chasing the big pot of the Super Sprint with Tin Hat, whom Greatrex steered into a fine fifth in a full-field Windsor Castle, showing the sort of speed that will get him far at Newbury – he's third-top in the race on Timeform ratings.
5. DAVID NOLAN (+8.6%)
[2015-17 = 55.6%; 2018 = 64.2%]
It's not just the improved RTF% this year, as the facts behind it suggest that David Nolan is the jockey punching most above his weight, in Britain or Ireland. Given the make-up of his rides and races, Nolan should be sitting around fortieth or even fiftieth in the run-to-form table, alongside the other riders who deal predominantly in bread-and-butter handicaps like him, and yet he's as high as twelfth in the list.
75% of Donnacha O'Brien's rides this year have come in non-handicaps, comprising conditions races where quality of horse (and trainer) counts all the more. 75% of Nolan's rides have come in handicaps, where it's an open fight, therefore that much harder to get the best out of the mounts.
Undervalued by some, but not by all, Nolan has a good link-up with both Richard Fahey and David O'Meara, though then as more a support jockey, and the same was true last year, yet he's taken his numbers to a new level in 2018, proof of a rider at the very top of his game, and arguably near the top of his profession.
WEEKEND WATCH: Mujassam, 6.50 Hamilton, Saturday.
For a horse who had a Timeform squiggle not so very long back, Mujassam has been turned inside out, and that may be to do with the magic of Nolan and not just O'Meara. Mujassam is fresh from a hat-trick, all under Nolan, and the pair will take some stopping going for four in a row on Saturday night, both the horse and rider in the form of their life.