I went to work on Monday. Went to work again on Tuesday. I was working right through Wednesday; and on Thursday, Friday and Saturday. I chilled on Sunday.
Craig David's 7 Days was number one in the week I joined Timeform, in August 2000, only I didn't 'chill' that Sunday, nor on many of the Sundays in the nineteen years since, because Timeform, for me, was, and still is, something more than merely a job. Looking back, it's not over-egging it to say it was akin to finding a soulmate, because I thought I loved racing, but Timeform absolutely loves racing, and once you connect to the patterns, the procedures and the pedigree of Timeform, and its ingrained way of approaching analysis, there's not much else you think about, or want to think about.
Going for seventy years, and accumulating over seventy years, Timeform uses the past to power the present, adhering to the principals and practices established by Phil Bull, but augmented by modern thought and technology, meaning Timeform is more robust, and more relevant, now than it ever has been, and, on my last day, here's eight slightly sentimentally-loaded reasons why that's the case, if Timeform was an acronym.
T is for time. Phil Bull was looking into sectional times shortly before his death in 1989. Thirty years on, and sectional times are still the exception, rather than the rule, in British racing, despite the greater awareness and appetite, though Timeform has taken upon itself the painstaking process of recording the data manually, day in day out, to understand its significance and to spot the significant. And it's not only sectionals but also wider time analysis – something that more and more is manifesting in the mainstream – that always has, and always will, set Timeform apart in assessment of performance, literally putting the 'time' into Timeform.
I is for intent. The intent at Timeform to be better, to do better and to analyse better is as refreshing as it is reassuring. There's confidence but no complacency, there's sureness but no self-satisfaction, and there's the intent on improvement, as part of…
M is for modernisation. Its heritage is the horsepower for Timeform, but the vehicle itself is ever-evolving, as is the fuel, and the innovative means of both assimilating and assessing data is a feature and the future of Timeform, powering a website that's unparalleled for the breadth and depth of insightful information, for metrics and measurements that have the heft of history but the clarity of the cutting-edge conclusions.
E is for education. It's a blinkered view, because it's the only view I've experienced, but in terms of the education in racing you get at Timeform, to paraphrase Sir Henry Cecil, it's the best I've ever had, the best I've ever seen, and I'd be very surprised if there's ever been anything better. Everybody who enters the realms of the editorial department at Timeform reaps the benefit of that education, and Timeform reaps the benefit thereafter.
F is for foundations. It has been mentioned already, but the fundamental foundations laid in the distant past is the reason Timeform is still so resonant and relevant today, because the cornerstones of calculating racehorses is, centrally, the same then as now. The means and method might have changed over time, as the world has, but the pillars of performance have stood tall, and have stood the test of time, which is why nobody at Timeform ever minds when it's sometimes labelled as…
O is for old-fashioned. Sleepy Hollow. Timewarp. The nicknames are acknowledged, but there's a knowledge that fashioning certain things the old way is something to celebrate, at least when marrying the old of 'foundations' with the new of 'modernisation.' It's a recurring theme, but it's the special ingredient of Timeform, in that even after 70 years, it's not growing old but still growing up.
R is for R & D, or Research And Development, which researches and develops Timeform data in a way it has never before been done. At least half of the articles I have written in the last couple of years have been constructed in conjunction with the R&D team, who make symphonies out of the statistical sheets of musical notes. The R&D department is modern-day Timeform's not-so-secret weapon.
M is for memories, from a purely personal perspective, indulgent but important, none more important than the emergency meeting on June 19th 2012, prompted by Frankel's earthquake in the Queen Anne, producing the highest rating in Timeform history.
And being a tiny part of Timeform history is the thing of which I'm incredibly proud. Timeform has a lot to say, and to have helped say a few words of it has been a pleasure and a privilege.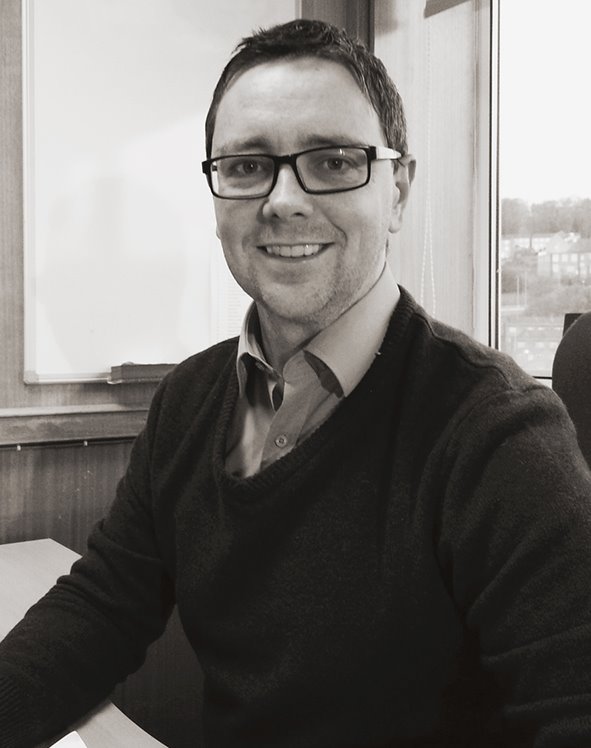 * editor's note * Whilst the black and white picture above makes it look as though Jamie has passed away, he hasn't - he's just gone to Sky Sports Racing and his twitter handle is now @LynchySSR. However, Jamie will be sorely missed here at Timeform, and everyone at the company would like to pass on not just their thanks for everything that he's done, but their best wishes for the next (uniquely verbose) chapter of his life.