Aintree protests 'robustly condemned' by BHA chief Julie Harrington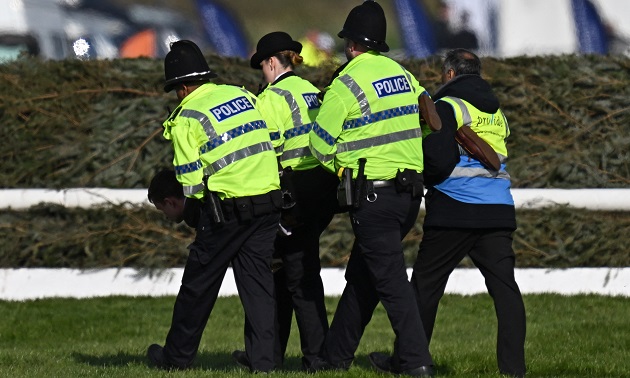 By Timeform, Sunday 16 April
British Horseracing Authority chief executive Julie Harrington has "robustly condemned" the actions of protestors who delayed the Grand National – and also announced a "painstaking" analysis will take place in an attempt to understand what caused three fatalities over the three days of the meeting.
Sandy Thompson's Hill Sixteen suffered a fatal fall at the first fence in the National – which was delayed by around 15 minutes after animal activists got on to the track – adding to the deaths of Dark Raven earlier in the afternoon and Envoye Special on Thursday.
"Our thoughts are with everyone connected to the horses who suffered fatal injuries this week. No one will be more affected by this news than the trainers, owners and stable staff who have provided these horses with first-class care and attention throughout their lives," Harrington said in a statement.
"The BHA and Aintree racecourse will now analyse the races in painstaking detail, as is the case every year, to build on our existing data and help us understand what caused these incidents.
"British racing works tirelessly to improve the sport's safety record and reduce avoidable risk. Every incident is reviewed by the BHA alongside the racecourse and other bodies. As a sport we have for years shown great determination and commitment to improve welfare standards by taking measured scientific, evidence-based, regulatory and education-based steps.
"It is for this reason that the fatal injury rate in the sport has reduced by over 1/3 in the last 20 years, to 0.2% of runners."
Reflecting on the protestors on the course, Harrington said: "We respect the right of anyone to hold views about our sport but we robustly condemn the reckless and potentially harmful actions of a handful of people in disrupting the race at a time when horses were in the parade ring.
"Those involved in British racing are rightly proud of our sport and the role it plays in providing an unparalleled quality of life for horses bred for racing. Love and respect for horses is at the heart of everything we do.
"The Grand National is and always will be an iconic sporting event and the actions of a small number of people will do nothing to diminish its huge and enduring international appeal."
Jockey Club chief executive Nevin Truesdale believes racing needs to be pro-active in the debate with activists.
"What this has done has bring the issues the sport was facing to the fore and allowed us to get out there and talk about them confidently – because we should," Truesdale told Racing TV's Luck On Sunday.
"We should be out there talking about the measures we've taken, how much care these horses get, the changes we've made over the years, not just at Aintree, but everywhere and we should be proud of that."
Truesdale and his team had employed a huge security presence, but it was still not enough to prevent some protesters from getting on to the track.
"We should be out there calling the protestors what they are, which is law breakers. The impact they had on the horses yesterday would have been completely at odds with that they are trying to achieve," he said.
"We should be telling our story positively, that is what we should be doing. We don't want this to become a war of words as that doesn't seem to cut through to these organisations. What we should be doing is engaging with the more rational organisations like World Horse Welfare and the RSPCA, all of whom can see the changes we've made and who continue, rightly, to put us under pressure to make more changes.
"I was with Roly Owers (World Horse Welfare chief executive) yesterday on the radio and I agreed with pretty much everything he said and those are the people we should be working with as a sport whilst telling our story.
"A site of that size and that layout is very difficult to completely secure. You could never look people in the eye and say 'that can't happen'."
On protestors making it on to the course despite their intentions being well publicised, Truesdale said: "I actually walked it yesterday morning and even then we had hi-vis policeman out on the other side of those fences.
"I think the police and our security teams deserve immense credit for the effort they put in, they did as much as they possibly could but the reality is we were never going to prevent that on a site of that size and layout. I thought it was dealt with extremely efficiently and well but we will continue to review security as we always do.
"The fact there was only a 15-minute delay is a tribute to everyone involved.
"We need to review the whole thing over the next few weeks, it would be wrong to give specifics this morning. The BHA team will do that and come up with any recommendations as they have done every year. We should be setting the tone and saying we will not rest until we continue to reduce fatality rates. I'm sure there's plenty we can come up with."
Related Horse Racing Links
Latest odds for today's racing

Grand National 2023 News
News for the 2023 Grand National at Aintree. Stay up to date with the latest stories on the horses and the betting.