Online
Timeform has a range of online data sets which have been shown to increase betting volumes and frequency.
Standard Data
The Timeform Standard data set enhances bookmaker content via online and mobile platforms in order to induce betting activity for both recreational and seasoned punters. The analysts at Timeform have put in the form study to make betting quicker and simpler for the customer and significantly increase bet activity. Built on a real-time API, the content is technically simple to deliver multi-platform and allows data to be accessed earlier compared to market rivals.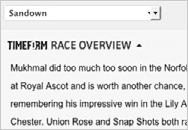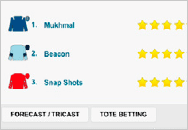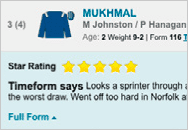 Premium Ratings and Flags
Timeform has an international reputation for accuracy and objectivity, and its ratings are widely accepted as a definitive assessment of racing merit. 'Flags' are an evolution of Timeform's long-standing practices. Collectively they represent a unique set of modern and useful innovations to give punters even more of an edge.
Timeform Smart Stats
Timeform Smart Stats have been developed in order to enable the horse racing punter to make an informed bet. Smart Stats are not tips in themselves, but they offer a depth of information that may not be immediately accessible without hours of research and their clear visual expression means that they are easy to understand for punters at all levels of sophistication.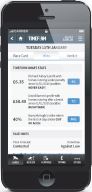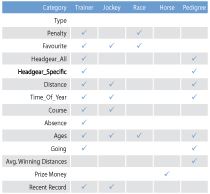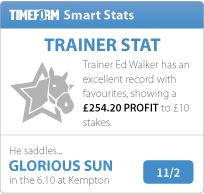 NEW! Smart Stats Live
Taking the Smart Stats concept and adding up-to-the-minute insights and calls to action. As well as being targeted to expose stimulating content to engage bettors, Smart Stats Live has been specifically designed so that bookmaking partners can easily integrate their own live prices.
Greyhounds
Greyhound racing is a sport in which time is pivotal. Timeform have remodelled time calculations, eradicating seldom-questioned industry standards, and leading to an enhanced product output. The shared API for horse racing, greyhounds and other sports, makes multi-channel integration simple for commercial partners and provides them with comprehensive bet-inducing coverage.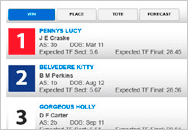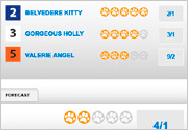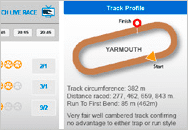 Bookmaker Trading Tools
Over the years Timeform's content has been an essential tool for trading teams to set markets. Utilising the timeform.com website, trading teams can obtain access to the very best Timeform has to offer, including the renowned ratings (adjusted to horse race weights) and post performance analysis. Bookmakers may also take advantage of Timeform's historical horse ledger to track individual performances over time and tissues for early market making.