Horse-by-horse guide: Henry de Bromhead on his Cheltenham Festival team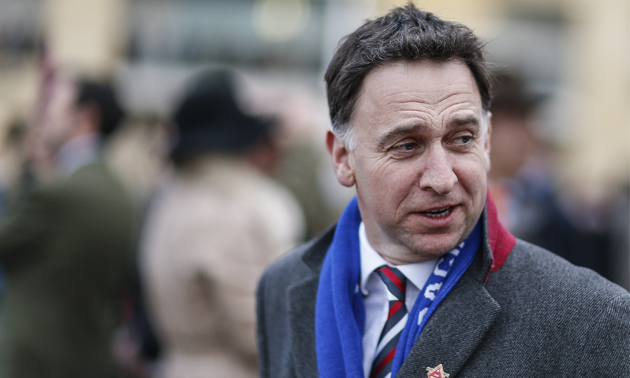 Posted in: Cheltenham Festival Tips

Henry de Bromhead offers a horse-by-horse guide to his team for the graded races at this year's meeting.
Ballyadam (Supreme Novices' Hurdle and Ballymore Novices' Hurdle)
"I would imagine we're leaning towards the Supreme with Ballyadam, but we'll keep our options open. We also have Irracible and Champagne Gold but I'm not sure yet – we haven't firmed up on anything yet. I'd say Irracible would go for the Supreme, he's in the County Hurdle but he'll probably go for the Supreme."
Captain Guinness (Sporting Life Arkle Trophy)
"He's brilliant and is in great form. It was a bit of silly fall in the Irish Arkle at Leopardstown at the second last, but he's been in great form since and he schooled really well the other day, so I'm happy with him and I'm looking forward to running him – I think it will really suit."
Honeysuckle (Champion Hurdle)
"She's going for the Champion Hurdle. That's the plan, she seems in good form and all is good. We were delighted with her at Leopardstown winning the Irish Champion Hurdle. She looks very effective over anything really. All the judges say her last day was her best performance so far. She looks very good over any trip between two to two and a half [miles], thankfully. She's an amazing mare and we feel very lucky to have her."
Honeysuckle is just too good 🙌

Honeysuckle wins the Chanelle Pharma Irish Champion Hurdle at @LeopardstownRC

Watch LIVE:
📺 @ITV4
📱 https://t.co/HGM9TtXkhB#ITVRacing pic.twitter.com/SfLeOE9QOk


— ITV Racing (@itvracing) February 6, 2021
Aspire Tower (Champion Hurdle)
"Aspire ran really well at Christmas and we decided to go straight to the Champion Hurdle from there. I'm very happy with him. He's in great form and we've put him away for the Champion Hurdle.
Jason The Militant (Champion Hurdle)
"Jason The Militant ran really well when he won the Red Mills Hurdle very impressively the other day, so we'll see with him. He's probably a bit more dependent on ground, as long as there's good ease, he'll probably want soft ground. He's brilliant. He's done really well and we're delighted with him. Soft ground is important to him so we'll monitor the ground. He'll definitely want it soft if he's to go."
Minella Melody (Mares' Hurdle)
"The Mares' Hurdle is the plan at the moment. She's in great form and worked well yesterday. She's a lovely mare and has just been unfortunate to have met Concertista twice this year, but we're hoping for a good run."
Bob Olinger (Ballymore Novices' Hurdle and Supreme Novices' Hurdle)
"I'd be leaning towards the Ballymore with Bob Olinger, but we haven't discussed it with his owners yet. He seems great and we're delighted with him, and hopefully Cheltenham will suit. He's had three runs and he won his Grade 1 at Naas – the Lawlor's is a really good race – so I didn't feel any need to go to the Dublin Festival with him. He's a good moving horse and works well on good-ish ground, so hopefully he should be fine [if the ground came up quicker]."
Eklat de Rire (Brown Advisory Novices' Chase)
"He's two from two so far and is lovely. He's done nothing wrong this year, and he won his Grade 3 the other day very impressively. He jumps his fences really well, touch wood, and we'll find out how good he is there and see if we can give Monkfish a race. [Monkfish] has obviously been super impressive, but our lad has been very good as well, so we'll see on the day. My one concern would be if it's very good ground, so some rain would be welcome."
Put The Kettle On (Champion Chase)
"She loves it over there. She's just come alive since she started going there and just keeps improving all the time. Obviously she had the option of the Mares' Chase but we've decided to go with the Champion Chase. I suppose the records of Arkle winners are so strong and we've got our mare's allowance so we've said we'll give it a go."
"She was brilliant in the Shloer [at Cheltenham's November Meeting] obviously and then she ran very well at Leopardstown. We were planning to go to Kempton but obviously with COVID we weren't allowed to travel, so we were never convinced Leopardstown was going to be ideal for her. But she still ran really well. As we all know she just loves Cheltenham, so hopefully that'll improve her a couple of pounds as well."
Superb jumping sees Put The Kettle On win the Racing Post Arkle Trophy Novices' Chase

A third #CheltenhamFestival winner for @AidanColeman 👏

Watch live now!
📺 @ITV
📱 https://t.co/fJXuj4d6h6 pic.twitter.com/CMWMUhh0xJ


— ITV Racing (@itvracing) March 10, 2020
Notebook (Champion Chase)
"I suppose [his poor efforts at Cheltenham] would have to be [a concern] now, in fairness. But he's a very good horse. The first year he ran, he ran in the Ballymore and he's never looked as good over a trip as he has since we dropped him back to two miles. Last year, yes, he was disappointing having set off favourite. He's coming here off the back of one less run than last year so hopefully that will stand to him. He's a bit fresher and I would say the better the ground the better his chance."
Balko Des Flos (Glenfarcas Chase and Ryanair Chase)
"I'd say we're leaning towards the Cross Country with him, but he's in the Ryanair so we'll see – we haven't really firmed up on that as yet. I think he'd love the cross country fences, we've done a fair bit with him to just try and freshen him up and he's really enjoying it. Obviously it would be his first time doing it and he'd be dropped in at the deep end, so we'll see."
Envoi Allen (Marsh Novices' Chase)
"He's a gorgeous horse and we feel very fortunate that Cheveley Park have sent him to us.
"It's obviously not the circumstances of how you'd like to get horses, but these are the horses everyone's trying to get and I feel fortunate that Cheveley Park have decided to send them to us. The three that are entered for Cheltenham include Envoi Allen and he seems great.
"They came down and they looked great when they arrived here, so it's just a case of trying to tick them over and not let the change of regime upset them too much. If we can do as good a job as Gordon [Elliott] has done with them, we'll be delighted.
"They arrived on Tuesday evening, and we're just letting them settle in. They're cantering away. You wouldn't be working them but they're hacking away and they're great.
"It is a big change for them and you try and keep it as simple as possible but it is a big change. But they seem good and they've settled in really well, so we'll just tick them over and try and get them there in good shape."
⭐️ Envoi Allen - what a monster

Blessed with a Rolls Royce engine, racing's latest superstar will bid to remain unbeaten in 2021 - BRING IT ON! 👏 pic.twitter.com/KcKDouSmbI


— Racing TV (@RacingTV) December 31, 2020
Chris's Dream (Ryanair Chase)
"He was a bit unfortunate to be just chinned at Down Royal in the Champion Chase by The Storyteller, but he's great and I think we'll have a go in the Ryanair. He's done really well and has been brilliant for us, and I think he could run well."
Telmesomethinggirl (Mares' Novices' Hurdle and Coral Cup)
"I'd say we're learning towards the Mares' Novices' Hurdle. She had a lovely run at Leopardstown on her first run back after a break, and she's freshened up really well."
Magic Daze (Parnell Properties Mares' Novices' Hurdle)
"She's a lovely mare and you're obviously taking a little chance with her as she's fairly unexposed, but she's a gorgeous mare and has got a great appetite for it. She loves the game, she goes a real good gallop and although it's a tough old race to call. She's in good form and we're happy with her."
Quilixios (Triumph Hurdle and Boodles)
"Quilixios is in both the Fred Winter [Boodles] and the Triumph. I haven't really firmed up on that as yet, so we'll discuss that with Cheveley Park at the time and see what we'd like to do. Quilixios seems good. We're only hacking away but he seems to have taken it in his stride.
Related Horse Racing Links
Latest odds for today's racing