Pertemps Final 2022 Racecard
The Pertemps Final is another typically competitive handicap race at the Cheltenham Festival. This Grade 3 (formerly a listed race) is run on the New Course over three miles and has 12 hurdles to be jumped. It takes place on the third day of the Festival and is open to horses aged five or older.
2:10 Thu 17 Mar PERTEMPS FINAL

Distance: 23f 213y Age: 5yo + Prize: £100,000 Going: Gd/Sft

Analyst's Verdict

Gordon Elliott has a fine record here and his DUNBOYNE looks primed to make it a fourth win in the past five seasons. This low-mileage son of Yeats has enjoyed no luck in running on his last two starts in Leopardstown handicaps and arrives on a very workable mark. Winter Fog shaped really well on his debut for Emmet Mullins and is feared most, with Alaphilippe and Folcano high on the shortlist.
ENTRY
FORM
SILKS
HORSE
JOCKEY & TRAINER
AGE
WGT
ODDS

1


1.

SIRE DU BERLAIS (FR)


J:

Mr R. James


T:

Gordon Elliott, Ireland

10


11-12

Dual winner of this race before fine second in Stayers' here in 2021. Struck into when fourth in 3m1f Warwick handicap in January, and a bold showing is very much on the cards again.

2


2.

BALLYANDY


J:

Finn Lambert


T:

Nigel Twiston-Davies

11


11-6

Arrives on a hat-trick after taking 3m handicap wins at Fakenham and Chepstow last month. Up another 5 lb but he's not taken lightly in his current mood.

3


3.

DALLAS DES PICTONS (FR)


J:

Mr H. C. Swan


T:

Gordon Elliott, Ireland

9


11-0

Looked to be running into form until only fourteenth of 24 in handicap at Leopardstown (24f) 40 days ago. No surprise to see him bounce back now.

4


4.

GO ANOTHER ONE (IRE)


J:

Kieren Buckley


T:

John McConnell, Ireland

10


11-0

Very useful Irish hurdler/chaser who arrives on back of good fourth in 3m Musselburgh handicap last month. No forlorn hope eased 1 lb now.

5


5.

THE JAM MAN (IRE)


J:

M. P. Walsh


T:

Ronan M. P. McNally, Ireland

9


11-0

Very useful hurdler who was in excellent form until only seventeenth at Leopardstown 40 days ago. Sort to bounce back here.

6


6.

SASSY YET CLASSY (IRE)


J:

Davy Russell


T:

Gordon Elliott, Ireland

8


10-12

Resumed winning ways at Punchestown in November and excellent neck second of 21 to Futurum Regem at Navan (20f) following month. Needs considering after her break.

7


7.

HONEST VIC (IRE)


J:

Richard Patrick


T:

Henry Daly

9


10-11

C&D winner who wasn't disgraced back in this sphere after a spell chasing when fifth in handicap at Huntingdon. More is needed here, however.

8


8.

THIRD WIND


J:

Tom O'Brien


T:

Hughie Morrison

8


10-11

Useful 3m winner last term who posted good third at Warwick (25f) in January. Raced too keenly when below-par third in Rendlesham at Haydock last time, but not discounted if he's more tractable here.

9


9.

TULLYBEG (IRE)


J:

Denis O'Regan


T:

Gordon Elliott, Ireland

7


10-10

In cracking form this autumn when scoring at Navan and Gowran before good fifth in 3m handicap here. Shouldn't be underestimated after his break for top Irish yard.

10


10.

DAME DE COMPAGNIE (FR)


J:

Aidan Coleman


T:

Nicky Henderson

9


10-9

Well supported when winning Coral Cup here in 2020. Mixed form over fences/hurdles since, and poor sixth in Wincanton handicap hurdle last time. Needs a big step forward.

11


11.

STONEY MOUNTAIN (IRE)


J:

Gavin Sheehan


T:

Jamie Snowden

9


10-9

Scored over 3m at Newbury in November but he came in only eighth over C&D in January. Lots more is required after his break.

12


12.

MILL GREEN


J:

Nico de Boinville


T:

Nicky Henderson

10


10-8

Got back on track after a spell chasng iwhen second in 3m handicap at Haydock last month. Seventh and sixth in past two runnings of Martin Pipe here, so he needs considering.

13


13.

ALAPHILIPPE (IRE)


J:

Paddy Brennan


T:

Fergal O'Brien

8


10-8

Useful winning staying novice last term who very much caught the eye after 10 months off when strong-travelling fifth in handicap at Warwick in January. Tongue tied. Ready to take a big step forward.

14


14.

WINTER FOG (IRE)


J:

P. Townend


T:

Emmet Mullins, Ireland

8


10-8

Lightly-raced winner for Daniel Murphy who showed much improved form on yard/handicap bow when second of 27 at Leopardstown at Christmas, collared only late on. Hooded. Still unexposed at 3m. Player.

15


15.

WHATSNOTOKNOW (IRE)


J:

D. J. O'Keeffe


T:

M. F. Morris, Ireland

7


10-7

Arrives on a long losing run, but he put up his best effort of the season when fourth of 24 in 3m handicap at Leopardstown last month. Needs another step forward to get back to winning ways here.

16


16.

IF THE CAP FITS (IRE)


J:

Mr Ben Bromley


T:

Harry Fry

10


10-7

Really smart hurdler/chaser at his best but he seems not so good nowadays. Blinkered when fair fifth of 17 in Sandown handicap last time, yet others still appeal more.

17


17.

FOLCANO (FR)


J:

Jordan Colin Gainford


T:

Gordon Elliott, Ireland

7


10-6

Progressive sort who posted excellent fourth in first-time blinkers in Navan handicap in December (20f). No surprise to see a bold showing now his stamina is drawn out much more.

18


18.

PILEON (IRE)


J:

Ben Jones


T:

Philip Hobbs

8


10-5

Back to winning ways at Sandown before fair seventh over C&D in January. Also runner-up in Martin Pipe in 2020, so he's not entirley dismissed after his break.

19


19.

BORN PATRIOT (IRE)


J:

K. C. Sexton


T:

Peter Fahey, Ireland

6


10-5

Winless since his debut, but he comes here on back of solid runs in 3m handicaps here and at Sandown. Much respected.

20


20.

COEUR SEREIN (IRE)


J:

Jonjo O'Neill Jr.


T:

Jonjo O'Neill

8


10-5

Usefu hurdler/chaser who posted good second of 6 in handicap hurdle at Exeter (23f) last month. Blinkers are reached for with more needed if he's to go one better now.

21


21.

KANSAS CITY CHIEF (IRE)


J:

Miss Victoria Malzard


T:

Neil Mulholland

13


10-5

Veteran but better than ever this term, and he garnered a third success in 3m Plumpton handicap only three days ago. Respected turned out quickly under a 5 lb penalty.

22


22.

DIDTHEYLEAVEUOUTTO (IRE)


J:

Niall Houlihan


T:

Nick Gifford

9


10-4

In cracking form without winning this term until turning in a rare poor effort when last of 12 in 3m Haydock handicap in November. Sort to bounce back after a break.

23


23.

THE COB (IRE)


J:

Kielan Woods


T:

Ben Pauling

8


10-4

Three-time winner last season who got back on track in first-time cheekpieces when fourth of 17 at Sandown last month. Possibilities.

24


24.

DUNBOYNE (IRE)


J:

J. W. Kennedy


T:

Gordon Elliott, Ireland

7


10-4

Low-mileage 7-y-o who has shaped really well in 3m Leopardstown handicaps on last 2 runs, suffering poor run each time. Will relish this test of stamina. Major contender for yard with fine record.

Betting Forecast : 15/2 7.5 WINTER FOG, 8/1 8 DUNBOYNE, 9/1 9 ALAPHILIPPE, 12/1 12 SIRE DU BERLAIS, 14/1 14 TULLYBEG, 14/1 14 FOLCANO, 22/1 22 SASSY YET CLASSY, 25/1 25 BALLYANDY, 25/1 25 THE JAM MAN, 25/1 25 PILEON, 28/1 28 MILL GREEN, 28/1 28 BORN PATRIOT, 33/1 33 HONEST VIC, 33/1 33 THIRD WIND, 33/1 33 DALLAS DES PICTONS, 33/1 33 COEUR SEREIN, 40/1 40 GO ANOTHER ONE, 40/1 40 IF THE CAP FITS, 40/1 40 WHATSNOTOKNOW, 50/1 50 DAME DE COMPAGNIE, 50/1 50 DIDTHEYLEAVEUOUTTO, 50/1 50 STONEY MOUNTAIN, 66/1 66 KANSAS CITY CHIEF, 80/1 80 THE COB, 497/1 497 REMASTERED, 498/1 498 SMALL PRESENT
The Pertemps Final was first run in 1974 as a replacement for the George Duller Handicap Hurdle - it used to be called the Coral Golden Hurdle Final. In order to qualify for the Final of the series, horses have to have placed in the first six on at least one occasion in a Pertemps Hurdle Race (Series Qualifier) since the start of the current season.
The most successful horse in the race's history is Willie Wumpkins who won it over three consecutive years (1979-1981). Since the turn of the century, the most successful horse in this race is Buena Vista , who won it twice (2010 and 2011).
Two jockeys are tied as the leaders – Jim Wilson (jockey of Willie Wumpkins) won it three times, while Davy Russell won it three times in three years (2016, 2017, 2018) on three different horses (Mall Dini, Presenting Percy, Delta Work). The 2019 renewal was won by the well-backed favourite Sire du Berlais.
The leading trainer is Jonjo O'Neill who has won this race four times with Danny Connors (1991), Inching Closer (2003), Creon (2004) and Holywell (2013).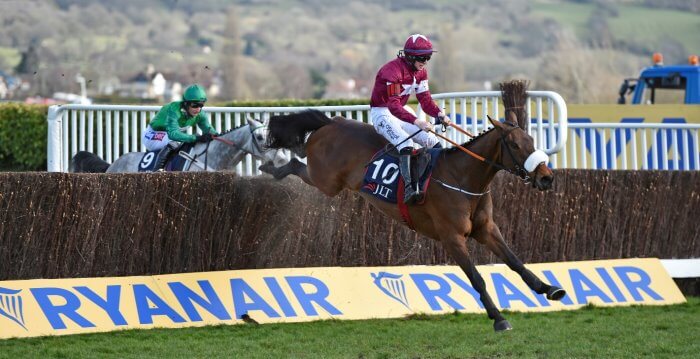 Pertemps Final 2022 FAQs
What is the distance of the Pertemps Final?

3 miles
How many obstacles are jumped in the Pertemps Final?

12
What day of the festival is the Pertemps Final?

Day 3
What time is the Pertemps Final?

14:10
What weights are carried for the Pertemps Final?

As it is a traditional National Hunt handicap hurdle, weights range from 11 st 12 lb for the top weight, to 10 st for the bottom weight.
What is the purse for the Pertemps Final?

£100,000 (2019)
Who is the leading jockey in the Pertemps Final?

Davy Russell is the leading active jockey. He is tied with Jim Wilson for the all-time leading jockey.
Who is the leading trainer in the Pertemps Final?

Jonjo O'Neill
Who won the Pertemps Final?

You can check out our Pertemps Final results page here to see a list of previous winners.
Where can I compare the odds for the Pertemps Final?

Click the link to visit our Pertemps Final Odds Comparison page.