Fulke Walwyn Kim Muir 2022 Racecard
This National Hunt Chase is named after two people. Firstly it bore the name of Kim Muir, a cavalry officer who died during World War II, and then in 1991 Fulke Walwyn, was added to the name in honour of his achievements as a trainer, which included 40 winners at the Cheltenham Festival.
5:30 Thu 17 Mar FULKE WALWYN KIM MUIR

Distance: 26f 0y Age: 5yo + Prize: £75,000 Going: Gd/Sft

Analyst's Verdict

The Elliott stable has a good record in this and FRONTAL ASSAULT has very much the right profile having got his mark from 3 runs over shorter trips whilst leaving the impression this sort of stamina test will very much play to his strengths. Fellow handicap newcomer Ain't That A Shame is feared most. School Boy Hours and Smoking Gun complete the shortlist in what could be an Irish domination.
ENTRY
FORM
SILKS
HORSE
JOCKEY & TRAINER
AGE
WGT
ODDS

1


1.

FRONTAL ASSAULT (IRE)


J:

Mr R. James


T:

Gordon Elliott, Ireland

7


11-12

Allotted his handicap mark over fences based on 3 starts at up to 21.5f and leaves the firm impression he'll have more to offer in this sphere now stepping up to 3m+. Obvious claims.

2


2.

FAKIR D'ALENE (FR)


J:

Mr H. C. Swan


T:

Gordon Elliott, Ireland

7


11-11

Disappointed in a valuable handicap at the Dublin Racing Festival but he'd looked progressive when winning a maiden and handicap prior to that. No surprise to see him bounce back.

3


3.

AIN'T THAT A SHAME (IRE)


J:

Mr Ben Harvey


T:

Henry de Bromhead, Ireland

8


11-11

Maiden hurdle winner last season and better form (smart) when placed on all 3 starts in maiden chases this term. Good chance there's more to come now handicapping. High on the shortlist.

4


4.

JANIKA (FR)


J:

Mr Ben Bromley


T:

Nicky Henderson

9


11-10

Grade 2 chase winner in 2019/20. His seventh of 16 in Grade 3 course handicap on New Year's Day shows ability is still there but he was pulled up at Doncaster since. Blinkered first time.

5


5.

CAT TIGER (FR)


J:

Mr David Maxwell


T:

Paul Nicholls

8


11-9

Classy chaser who recorded a career best when edging ahead late on in 3m Ascot handicap in January. 6 lb rise means another career best will be needed if he's to follow up.

6


6.

SCHOOL BOY HOURS (IRE)


J:

Mr D. O'Connor


T:

Noel Meade, Ireland

9


11-9

Finally put it all together and got off the mark over fences on return at Christmas, landing red-hot 28-runner 3m Punchestown handicap from Ben Dundee, jumping better. Clearly dangerous.

7


7.

ELEGANT ESCAPE (IRE)


J:

Miss Thomasina Eyston


T:

Colin Tizzard

10


11-7

Welsh National winner in 2018. Proved he retains a useful level of ability when third at Taunton in January but pulled up in a veterans' event at Exeter since.

8


8.

SMOKING GUN (IRE)


J:

Mr J. J. Codd


T:

Gordon Elliott, Ireland

9


11-7

Landed a nice prize at Fairyhouse in November and bounced back from a poor run in the Thyestes when third back at Fairyhouse last month.

9


9.

MISTER FOGPATCHES (IRE)


J:

Mr P. W. Mullins


T:

P. A. Fahy, Ireland

8


11-7

Punchestown winner last spring. Another solid effort in a competitive handicap when third of 18 in the Thyestes at Gowran last time. Should give another good account.

10


10.

ALMAZHAR GARDE (FR)


J:

Mr M. J. M. O'Sullivan


T:

Charlie Longsdon

7


11-6

Profile is starting to look rather patchy, but he's capable when on-song, including chasing home Omar Maretti at Catterick (25f) latest. Well held in this last year. Blinkers replace cheekpieces.

11


11.

MISTER COFFEY (FR)


J:

Mr Sam Waley-Cohen


T:

Nicky Henderson

7


11-4

Progressed into useful hurdler last term. Similar form in 3 chases at up to 2½m this winter (well-held second in Grade 1 latest). Still has room for improvement in jumping but interesting up in trip.

12


12.

LORD ACCORD (IRE)


J:

Mr Jack Hendrick


T:

Neil Mulholland

7


11-4

Bumper/dual hurdles winner who impressed when making a successful chase debut at Uttoxeter (22.5f). Added a small-field win at Taunton in December but last of 3 at Doncaster since.

13


13.

MINDSMADEUP (IRE)


J:

Mr Finian Maguire


T:

Matthew J. Smith, Ireland

11


11-4

Resumed winning ways back chasing at Down Royal in October and bettered that when second of 13 over 25f here in November. That form has worked out well but he is 7 lb higher back from a break.

14


14.

COME ON TEDDY (IRE)


J:

Mr William Biddick


T:

Tom George

8


11-4

Useful staying handicap hurdler who made perfect start over fences at Uttoxeter (2½m) in December. Pulled up in Grade 2 Dipper here on New Year's Day but back on track when second at Newcastle since.

15


15.

OMAR MARETTI (IRE)


J:

Mr Dale Peters


T:

Alex Hales

8


11-4

Dual point winner with an impressive 4-5 record under Rules, winning small-field handicap chases around 3m on his last 2 starts. Up 5 lb in a more competitive scenario but is unexposed.

16


16.

MINT CONDITION


J:

Miss Gina Andrews


T:

Jennie Candlish

8


11-3

Three-time hurdle winner and Haydock win in December shows he's equally as good over fences. However, he did run poorly when pitched into a competitive handicap last time. Cheekpieces go on now.

17


17.

THE MIGHTY DON (IRE)


J:

Non Runner


T:

Nick Gifford

10


11-2

Useful chaser at his best for all he belts the odd one, as was in evidence when second at this venue in November. Disappointing in a hurdle/chase.

18


18.

GLENLOE (IRE)


J:

Mr B. O'Neill


T:

Gordon Elliott, Ireland

11


11-1

Close second in Pertemps Hurdle at 2018 Festival. Only respectable third when warm favourite for 23f Punchestown handicap chase under Derek O'Connor in January but still no surprise if he goes well.

19


19.

ROCCO (IRE)


J:

Mr Zac Baker


T:

Nigel Twiston-Davies

9


11-1

Ended losing run when game winner of the Badger Beer at Wincanton but has been pulled up on both runs since. Back to that winning mark but leap of faith required.

20


20.

CHAMBARD (FR)


J:

Miss Lucy Turner


T:

Venetia Williams

10


11-1

Hans't finished out of the first 3 in 5 outings this term, gaining a third win in 3-runner affair at Huntingdon 11 days ago. 5 lb penalty in a much deeper race now.

21


21.

LARRY


J:

Mr Freddie Mitchell


T:

Gary Moore

9


11-0

Looked as good as ever when landing Ascot Grade 3 handicap in October. Not so good since, but only 1 lb above that winning mark.

22


22.

RIGHTPLACERIGHTIME (IRE)


J:

Miss M. O'Sullivan


T:

Emmet Mullins, Ireland

7


10-11

Won 3m Fairyhouse maiden in November. Good second in handicap hurdle at the Dublin Racing Festival in February. Let down by jumping in chase there last time but yard's runners here always respected.

23


23.

POWERSTOWN PARK (IRE)


J:

Mr Tommie M. O'Brien


T:

Sam Thomas

9


10-11

Quickly resumed progress when notching a second win of the season at Hereford 45 days ago. A lot to like about how he did things on that occasion and should remain very competitive after a 6 lb rise.

24


24.

RED INFANTRY (IRE)


J:

Mr Tristan Durrell


T:

Ian Williams

12


10-10

Recorded a pair of respectable efforts before Christmas and now back on the same mark as when landing the Grimthorpe at Doncaster last term. Suspicion he may prove vulnerable to younger legs, though.

25


25.

DIDERO VALLIS (FR)


J:

Mr James King


T:

Venetia Williams

9


10-8

Useful chaser who ran well when second in handicap at Ludlow (3m) in December but hasn't fired since, including at Sandown last week. Blinkered first time.

Betting Forecast : 9/2 4.5 FRONTAL ASSAULT, 15/2 7.5 AIN't THAT A SHAME, 12/1 12 SCHOOL BOY HOURS, 12/1 12 SMOKING GUN, 12/1 12 MISTER COFFEY, 18/1 18 MISTER FOGPATCHES, 20/1 20 GLENLOE, 20/1 20 COME ON TEDDY, 20/1 20 OMAR MARETTI, 22/1 22 RIGHTPLACERIGHTIME, 22/1 22 FAKIR D'alene, 25/1 25 CAT TIGER, 28/1 28 POWERSTOWN PARK, 40/1 40 CHAMBARD, 40/1 40 MINDSMADEUP, 40/1 40 JANIKA, 50/1 50 ELEGANT ESCAPE, 50/1 50 DIDERO VALLIS, 50/1 50 LARRY, 50/1 50 LORD ACCORD, 66/1 66 ROCCO, 66/1 66 MINT CONDITION, 66/1 66 ALMAZHAR GARDE, 100/1 100 RED INFANTRY
The Fulke Walwyn Kim Muir Handicap Chase takes place on the third day of the Festival and is for amateur riders. The riders compete on the New Course at Cheltenham, over a distance of about three miles and one and a half furlongs – with a total of nineteen fences jumped.
The event was established in 1946 and it was originally called the Kim Muir Amateur Riders' Steeplechase. It was introduced by Mrs Evan Williams and was named in memory of her brother, Kim Muir, a cavalry officer who lost his life during World War II.
The name of Fulke Walwyn was added to the title in 1991. This was in honour of the highly successful trainer, whose 211 victories at Cheltenham included 40 at the Festival.
There are two horses who have won this race twice – Chu-Teh (1967, 1968) and Glyde Court (1985, 1986).
The most successful jockey in the Fulke Walwyn Kim Muir Challenge Cup is  Jamie Codd  who won on  Character Building  (2009),  Junior  (2011),  The Package  (2015) and  Cause of Causes  (2016).
We have to look back further to find the winning trainer – Fred Rimell, who took his first victory in 1951 – won this race a total of four times. Mighty Fine (1951), Gay Monarch II (1955), Nicolaus Silver (1961), and Double Negative (1977).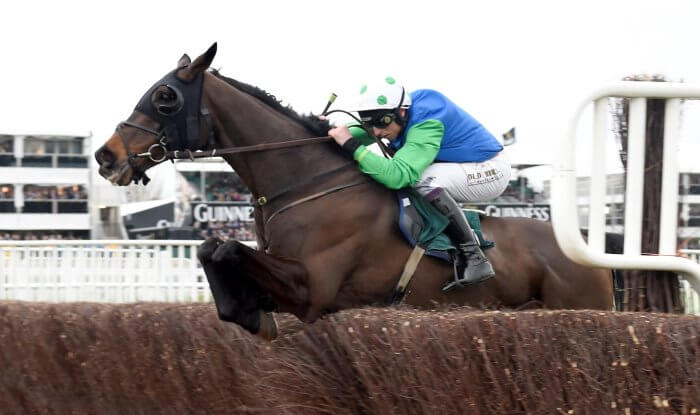 Fulke Walwyn Kim Muir 2022 FAQs
What is the distance of the Fulke Walwyn Kim Muir?

3 miles and 1 ½ furlongs
How many obstacles are jumped in the Fulke Walwyn Kim Muir?

19
What day of the festival is the Fulke Walwyn Kim Muir?

Day 3
What time is the Fulke Walwyn Kim Muir?

17:30
What weights are carried for the Fulke Walwyn Kim Muir?

As it is a traditional National Hunt handicap chase, weights range from 11 st 12 lb for the top weight, to 10 st for the bottom weight.
What is the purse for the Fulke Walwyn Kim Muir?

£70,000 (2019)
Who is the leading jockey in the Fulke Walwyn Kim Muir?

Jamie Codd
Who is the leading trainer in the Fulke Walwyn Kim Muir?

The active trainers with the most wins are Nicky Henderson and David Pipe who have won this race twice – but Fred Rimell is the all-time leader with four wins.
Who won the Fulke Walwyn Kim Muir?

You can check out our Fulke Walwyn Kim Muir results page here to see a list of previous winners.
Where can I compare the odds for the Fulke Walwyn Kim Muir?

Click the link to visit our Fulke Walwyn Kim Muir Odds Comparison page.